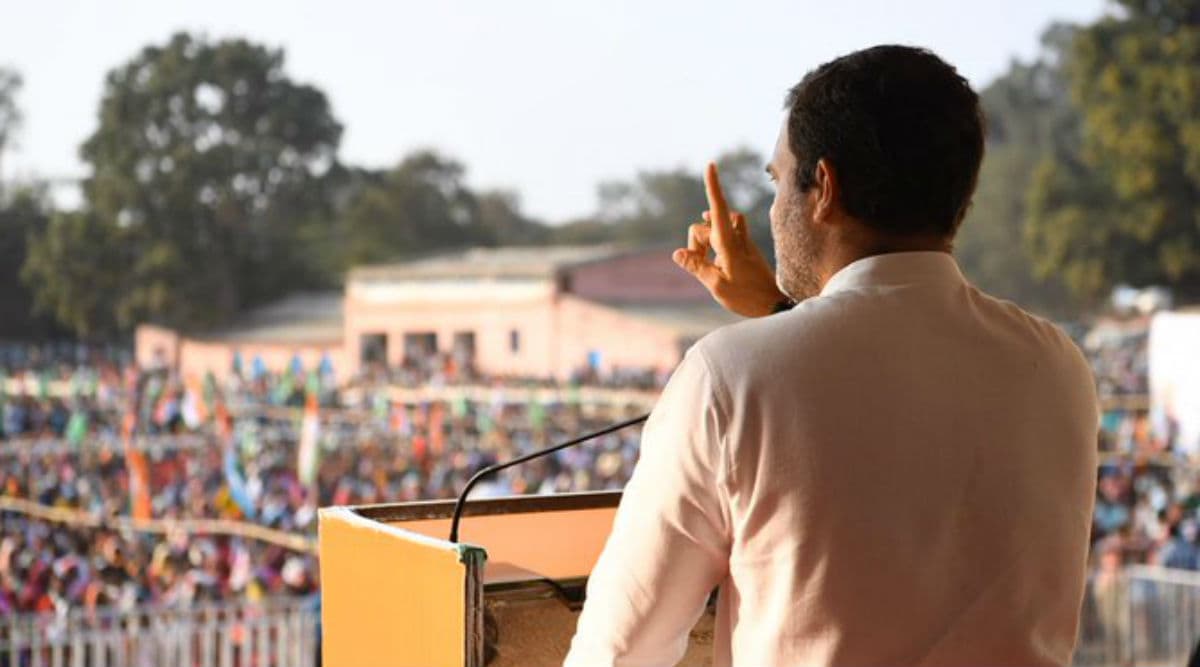 Ranchi, December 2: Former Congress President Rahul Gandhi on Monday hit the campaign trail in Jharkhand where the second phase of polling for assembly elections will be held on December 7. Addressing a rally in Simdega, Rahul Gandhi took on the ruling Bharatiya Janata Party (BJP) over farmers' issues. The Congress MP said that if he party comes to power in Jharkhand, a loan waiver will be announced for farmers of the state. Jharkhand Assembly Polls: Congress Fields Devendra Singh Bittu from Panki.
"There is no shortage of wealth in Jharkhand and Chhattisgarh but the common people, tribals are not benefiting from it. The BJP government is exploiting Jharkhand in the same way as Chhattisgarh. But Congress will change this as it did in Jharkhand," Rahul Gandhi said. "During BJP government in Chhattisgarh, lands were taken away from tribals and given to industrialists. We brought tribal bill, forest rights law and ended BJP's tyranny. For the first time in history, lands were taken back from Tatas and given to tribals," he added. Jharkhand Assembly Elections 2019: Close Contest Between BJP And JMM-Congress-RJD Alliance, Says C-Voter Opinion Poll.
Rahul Gandhi promised farm loan waiver and assured to create jobs for unemployed youths if the Congress comes to power. We ensured farmers get the right price to paddy in Chhattisgarh and waived loans in the Congress-ruled states. We will protect the water-forest-land of the tribals of Jharkhand. We will waive off farm loans and ensure employment for the youth of Jharkhand," he said. He further slammed the Modi government over 'Make in India' campaign and demonetisation.
Rahul Gandhi's Speech in Jharkhand:
LIVE: Shri @RahulGandhi addresses a public rally in Simdega, Jharkhand.#झारखंड_राहुल_संग https://t.co/c4RS3SoeEC

— Congress (@INCIndia) December 2, 2019
"Wherever Prime Minister goes, he talks of 'Make in India'. However, not a single youth of Jharkhand got employment from this," Rahul Gandhi claimed. "Modi did demonetisation saying he wanted to deal with black money. However, mothers and sisters of Jharkhand had to bear the brunt and stand in bank queues. No dishonest people were seen in that line, all honest people had to face trouble," he added.
For the five-phased Jharkhand assembly polls, the Congress has formed an alliance with the Jharkhand Mukti Morcha (JMM) and the Rashtriya Janata Dal (RJD). According to the seat-sharing arrangement, the JMM will contest the bulk of the seats - 43 - in the 81-member house, the Congress will fight 31 and the RJD seven. Polling for the first phase of elections was held on November 30. The other polling dates are December 7, 12, 16 and 20 while counting will be held on December 23.