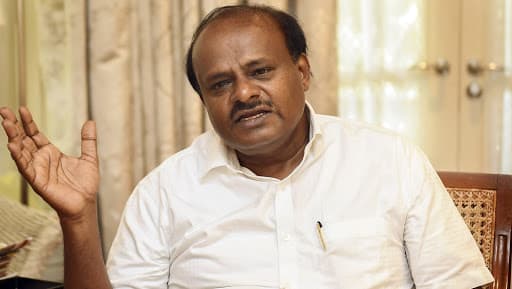 Bengaluru, July 10: With 13 'adamant' lawmakers of the ruling JDS-Congress dispensation denying to meet Karnataka Congress senior leader and minister DK Shivakumar in Mumbai, two more MLA - Dr K Sudhakar and MTB Nagaraj - have resigned on Wednesday. The information was disseminated by state Assembly Speaker KR Ramesh Kumar. With this, the JDS-Congress coalition tally declined to 103, if the resignations are accepted.
Speaking about the latest development, the State Assembly Speaker said, as quoted by ANI, "Today 2 more MLAs have resigned, Dr K Sudhakar and Mr MTB Nagaraj. As in the case of other MLAs, the law will take its own course. The law cannot deviate from person to person, it is uniform for one and all." DK Shivakumar Gets Momos From Mumbai Hotel, But No Entry, As He Waits Outside in Rain to Meet Rebel Karnataka MLAs
Earlier on Wednesday, another Janata Dal-Secular lawmaker Srinivasa Gowda was spotted at the Bengaluru airport on Wednesday. This report of MLA waiting outside the airport has ignited the speculations of another jolt in waiting for the ruling party.
Seen carrying a suitcase, the JDS leader kept the suspense on and refused to respond to questions from reporters about his destination. Not uttering a single word, Gowda departed with his luggage, while BJP's BY Vijayendra was seen present at the airport then. Due to this, the speculation was ripe that Gowda might be en-route to Mumbai hotel, where other rebel MLAs are staying.
Earlier in the day, despite waiting outside the Mumbai hotel, the rebel MLAs refused to meet him, while the booking of a room by DK Shivakumar was cancelled citing some "emergency", as their guests were not abandoned. Later, Shivakumar was seen relishing the momos. Congress-JDS Coalition Fears Losing Majority, Here's The Number Game.
The strength of the Karnataka assembly is 224. The Congress and the JDS together have 118 members along with one BSP and one Independent member. The magic number is 113, excluding the Speaker who casts his vote only in the event of a tie. If the 13 resignations are accepted, it will bring the coalition's numbers down to 105 and the majority mark in the assembly from 113 to 106. The BJP, which has 105 legislators, reportedly wants to reduce the total strength of the assembly to 207 in order to claim a simple majority in the House.