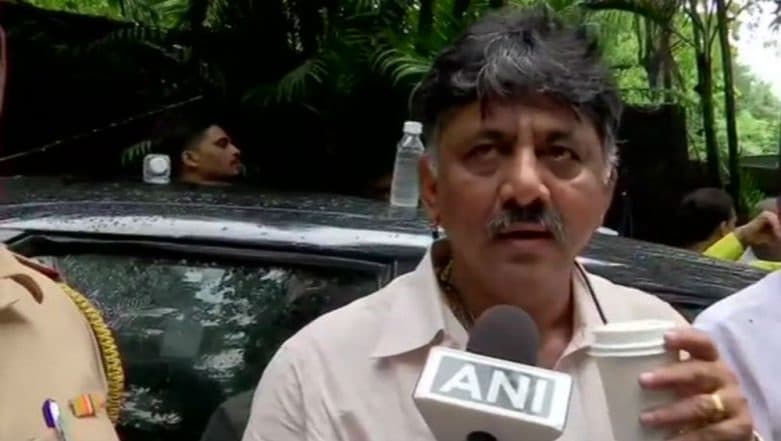 Mumbai, July 10: Karnataka Congress senior leader and minister DK Shivakumar has been waiting outside a Mumbai hotel where rebel MLAs are staying. The hotel management, which cancelled the booking of a room by DK Shivakumar citing some "emergency", did not abandon their guest. While Shivakumar was waiting in rain outside the hotel, he was offered a plate of momos reportedly by the management.
Later, Shivakumar was seen relishing the momos. The Congress troubleshooter was stopped from entering the hotel by Mumbai Police after rebel legislators sought protection alleging threats from him. He told policemen that he had booked a room and wanted to "relax" with his "friends". "We can get you coffee," a policeman responded. Shivakumar was soon seen sipping coffee from a paper cup.
Waiting outside the hostel, the Congress leader claimed that he is in the city to meet his "friends" as "their heat is beating to meet him". "I'll not go without meeting my friends. I can't go by you (rebel Karnataka MLAs not ready to meet him), they'll call me. Their heart will break. I'm in touch already, hearts of both of us are beating," Shivakumar told reporters. Congress-JDS Coalition Fears Losing Majority, Here's The Number Game.
Calling Shivakumar, who is adamant on meeting the rebel legislators, a "drama", one of the Congress MLAs, Ramesh Jharkioli, told ANI, "He is doing a drama. We have no intention to meet him (Shivakumar). We are not interested in meeting him. He is now saying 'we are friends', so was he sleeping from last one year."
"We don't intend to insult DK Shivakumar. We've faith in him but there is a reason we have taken this step. Friendship, love and affection are on one side, with gratitude and respect we request him to understand why we cannot meet him today," another legislator B Basavaraj said.
The 13-month old Congress-JDS government slumped into crisis following the resignation of 10 MLAs from the membership of the state Assembly last week. Independent MLA H Nagesh also withdrew support from the government on Monday. Latest to join the bandwagon was Congress leader Roshan Baig, who resigned from his membership of state Assembly on Tuesday.