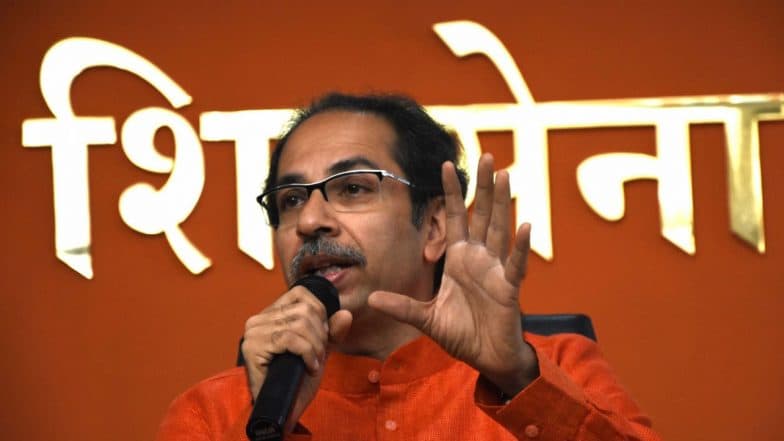 Mumbai, November 10: The Shiv Sena on Sunday once again showed no sign of budging from its demand of taking Chief Minister post. After Maharashtra Governor Bhagat Singh Koshyari invited the Bharatiya Janata Party (BJP) for forming the government in the state, Udhhav Thackeray met party MLAs lodged in The Retreat hotel in Mumbai's Malad on Saturday. Maharashtra Government Formation: From BJP-Led Minority Government to Shiv Sena-NCP-Congress Alliance, List of Likely Political Scenarios.
According to a report published in India Today, Thackeray told his MLAs that this time, the CM will be from the Shiv Sena. Meanwhile, on Sunday, the Shiv Sena said that it is ready to form government in Maharashtra if no other party does.
Taking a dig at its warring ally, the Udhav Thackeray-led party advised the BJP to accept the governor's offer of government formation. The party also offered an olive branch to the Congress party. It said that the Shiv Sena doesn't consider the grand old party as its enemy. Maharashtra Impasse: Shiv Sena Says Ready to Form Government If No Party Does, Offers Olive Branch to Congress.
Shiv Sena MP Sanjay Raut told reporters, "Everyone wants a stable government in the state. Congress is not an enemy of the state. Our ideologies may be different, that doesn't mean that we are enemies. Many times we have attacked BJP over some issues, that doesn't mean we are enemies. Everyone has contributed to the state." Maharashtra Government Formation: Shiv Sena Should Accept Deputy CM Post For Aaditya Thackeray And Leave CM Chair For Devendra Fadnavis, Says Ramdas Athawale.
However, Congress leader Sanjay Nirupam cautions his party over extending support to the Shiv Sena. He said, "Congress-NCP govt in Maharashtra is only an imagination. If we want to convert that imagination into reality, it won't be possible without Shiv Sena's support & if we take Shiv Sena's support, it will be fatal for Congress."
In the recently concluded assembly elections, the BJP emerged as the single largest party with 105 seats, while its ally Shiv Sena bagged 56 seats. The opposition parties Congress and The Nationalist Congress Party (NCP) won 44 and 54 respectively. The voting for 288-member Maharashtra Assembly took place on October 21.