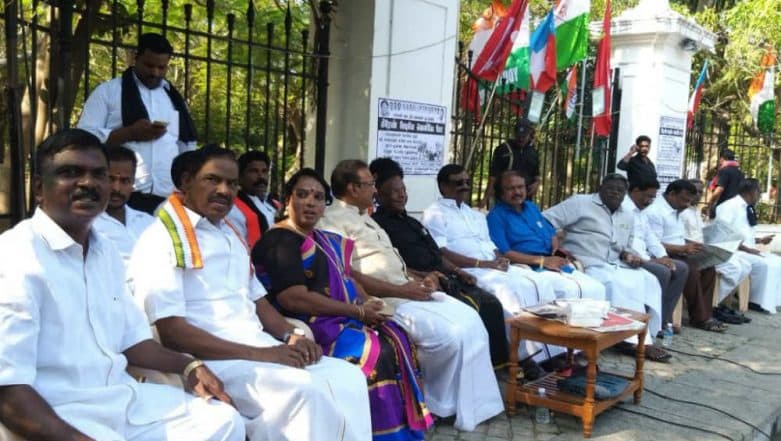 Puducherry, February 18: Puducherry Chief Minister V Narayanasamy, who has been protesting outside Lt Governor Kiran Bedi's residence since February 13, announced to temporarily suspend his dharna late on Monday evening. "We have temporarily suspended our dharna for now," Narayanasamy told reporters after a meeting with Kiran Bedi. The protest outside the Raj Nivas entered the sixth day on Monday.
"Today Dr Kiran Bedi called us for a discussion on the demands on the issues of the people of Puducherry which were raised before her in a letter given on 7 February 2019. We had a 4.5 hours meeting in which we were able to resolve certain major issues of the people," Narayanasamy said.
The 71-one-year-old Naryanasamy and his ministerial colleagues had been sleeping on the road outside the Raj Nivas since February 13 to protest what the Congress leader called the "negative attitude of Lt Governor Kiran Bedi" in approving 39 proposals of the government. Earlier, Bedi had invited Naryanasamy for talks, with the chief minister accepting the invite. Kiran Bedi Vs Narayanasamy: PM Narendra Modi Encouraged Lt Governor to Create Problems For Us, Says Puducherry CM.
"Called for meeting with CM and his colleagues at 6 p.m. today at Raj Nivas. Thank the HCM (Honourable Chief Minister) for acceptance of my proposal of Town Hall meeting where we will place our respective view points in public domain on issues written in his letter to me," Bedi tweeted on Sunday. "Venue suggested by HCM is Gandhi Thidal. A good start for informed grass root democracy which empowers people with certified info via Town Hall meetings," she added.
Bedi had, in a letter to the chief minister on Sunday, pointed out that she had cut short her public engagements in Delhi and returned to the Union Territory to hold a meeting with him to avoid inconvenience to the people of Puducherry "due to your politically motivated agitations". The chief minister on Monday denied her allegation that the agitation was "politically motivated" and said the aim is to ensure that the people's demands were met. (With agency inputs)