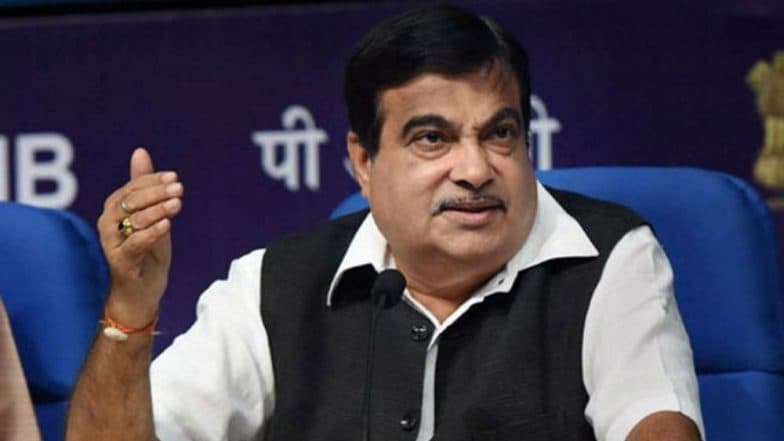 Nagpur, August 18: Union Minister and senior Bharatiya Janata Party (BJP) leader Nitin Gadkari on Saturday warned government officials to be ready to face people's ire if they fail to address their grievances. Speaking at a convention of Laghu Udyog Bharti, an RSS-linked outfit working in the MSME sector, Nitin Gadkari said he had warned RTO officials that if public issues were not resolved, he will tell people to "dhulai karo" (thrash them).
Gadkari said entrepreneurs are being harassed by government officials. He, however, urged entrepreneurs to expand their business fearlessly. "Why we have this red-tapism, why do all these inspectors come, they take 'hafta' (bribe). I tell them to their face, you are (government) servant, I have been elected by people. I am answerable to people. If you commit theft, I will say you are a thief," Gadkari said. Nitin Gadkari Takes Veiled Dig at Shiv Sena, Says 'BMC Has Rs 58,000 Crore in Bank, But Mumbai Gets Flooded Every Year'.
"Today I held a meeting at RTO office here...director and transport commissioner attended. I told them, you solve this problem within eight days, otherwise, I will tell people to take the law into your hands and thrash them (dhulai karo). My teachers have taught me this — throw out the system which does not give justice," the union minister added. Gadkari is known as an outspoken leader. Nitin Gadkari Faints During National Anthem at an Event in Maharashtra's Solapur; Watch Video.
Work or I Will Tell People 'Dhulai Karo', Nitin Gadkari Tells RTO Officials
#WATCH Nitin Gadkari at Laghu Udyog Bharti convention in Nagpur y'day: Aaj mere yahan RTO office ki meeting huyi, aise hi gadbadiyan karte hain, maine kaha ye 8 din mein suljhao nahi to main logon ko kahoonga kayeda haath mein lo aur dhulai karo..logon ko taklif nahi honi chahiye pic.twitter.com/yAoRDqko0V

— ANI (@ANI) August 18, 2019
Gadkari also said delayed payments is a major headache for Micro, Small and Medium Enterprises, adding that he was trying to find a solution to this issue. "The small scale industry producer never gets payments on time. And this tires and finishes him. I am seriously thinking, whether it is private or public sector or government, the payment of MSME should get released in 45 days, and I am trying to take some concrete decision on this," he said.
"So far, MSME have given jobs to 11.50 crore youths, and in these five years I am aiming to add five crores more employment opportunities," Gadkari, who took charge of MSME portfolio in the second term of Modi-led NDA government, said.