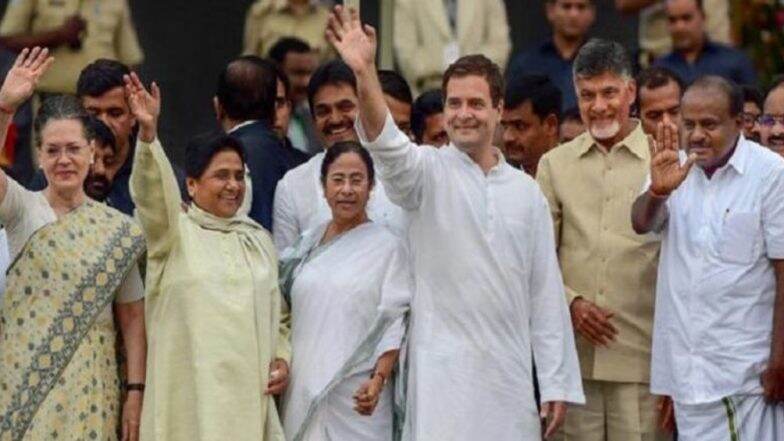 New Delhi, December 10: A day before the results of assembly elections in five states, the opposition will meet on Monday to chalk out strategies for the upcoming 2019 Lok Sabha polls. The meeting will be held in Delhi, has been called by Telugu Desam Party chief and Andhra Pradesh Chief Minister Chandrababu Naidu who has been a strong advocate to bring opposition parties together for 2019 crucial elections. The bigwigs meeting comes ahead of the winter session of the Parliament. Chandrababu Naidu, Mamata Banerjee Assert Opposition Is United, Evade Questions on Face of Anti-BJP Coalition.
It is expected that the meeting would be attended by the United Progressive Alliance (UPA) chairperson Sonia Gandhi, Congress President Rahul Gandhi, Nationalist Congress Party (NCP) chief Sharad Pawar, National Conference (NC) chief Farooq Abdullah, Communist Party of India (CPI) general secretary S Sudhakar Reddy, Communist Party of India (Marxist) general secretary Sitaram Yechury and Trinamool Congress (TMC) supremo Mamata Banerjee is expected to attend the meeting. Pranab Mukherjee to be Face of United Opposition For 2019 Lok Sabha Elections?
Aam Aadmi Party (AAP) convenor Arvind Kejriwal, Dravida Munnetra Kazhagam (DMK) president M K Stalin, Loktantrik Janata Dal (LJD) leader Sharad Yadav and Rashtriya Janata Dal (RJD) leader Tejashwi Yadav are also expected to attend the meeting. Andhra Pradesh CM Chandrababu Naidu Meets Arvind Kejriwal, Sharad Yadav in Delhi; Blames PM Narendra Modi for Crisis in CBI.
During the meeting, the opposition will chalk out a strategy to counter BJP during the Winter session of Parliament starting on Tuesday. "The main agenda of the meeting is to chart the future course of action for forming a non-BJP front," PTI reported quoting a source. The parties are expected to discuss issues related to farmers and rafale deal.
Meanwhile, the BJP national secretary Kailash Vijayvargiya mocked the opposition meeting and said they should first declare their prime ministerial candidate. "It's really good to see opposition parties trying to forge an alliance to fight against us. But, first, let them declare their prime ministerial candidate, then they should dream of fighting against us and ousting us," he said.