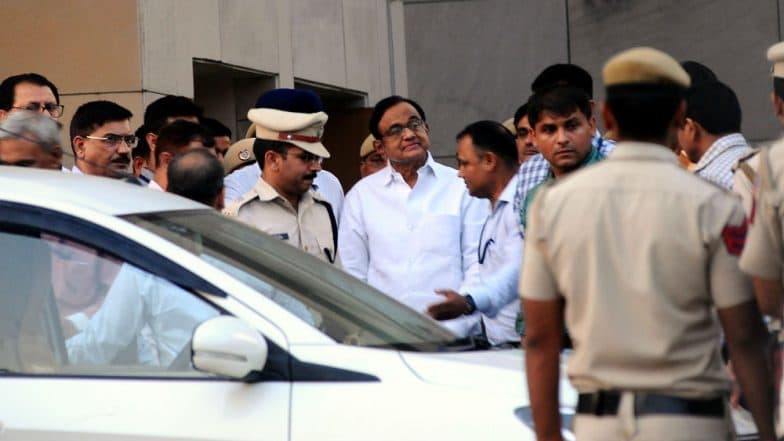 New Delhi, September 5: A special CBI court on Thursday sent former Finance Minister P Chidambaram in judicial custody till September 19 in the INX Media case. It means Chidambaram will stay in Tihar jail for the next 14 days. In Tihar jail, Chidambaram will be put up in a cell and treated like other prisoners. The Congress leader is accused of misusing his position as Union Finance Minister in 2007 while facilitating a huge infusion of foreign funds in INX Media at the instance of his son Karti Chidambaram. Aircel Maxis Case: P Chidambaram, Son Karti Get Anticipatory Bail by Special CBI Court.
Opposing judicial custody, Chidambaram's lawyer and senior Congress leader, Kapil Sibal told the Rouse Avenue court that his client is ready to go to Enforcement Directorate's custody in money laundering case related to INX Media. "They have asked all questions. I (Chidambaram) am willing to go to ED's custody. I should not be sent to judicial custody. I surrender, let Enforcement Directorate take custody, I don't have a problem," Sibal said. P Chidambaram's Anticipatory Bail Rejected by Supreme Court in INX Media Case.
The CBI, however, said that Chidambaram be sent to judicial custody as he is a powerful public person and should not be set free. "The accused is a powerful and influential person, so should be sent to judicial custody," said Solicitor General Tushar Mehta, appearing for the CBI. Sibal countered this saying there was no allegation that Chidambaram tried to influence or hamper probe.
"There is nothing found against me. There is no charge sheet. They say I am powerful and influential. But they have no evidence. There is no evidence of tampering with evidence. Has a witness said anything like that?" Sibal argued. The Solicitor General objected to Sibal's submission saying he is arguing for bail. However, Sibal said, "The reasons given in the application for judicial custody are non-existent. What do you need me for in judicial custody."
When Mehta sought clarification as to for what relief Sibal is arguing the latter said, "I (Chidambaram) am arguing for my release." Earlier today, a Delhi court granted anticipatory bail to Chidambaram and his son Karti Chidambaram in both the ED and the CBI matters relating to the Aircel Maxis case.