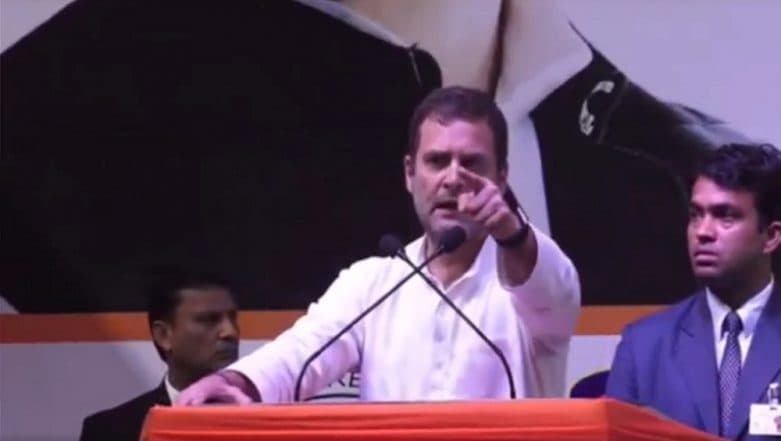 New Delhi, March 11: A day after reports said that the leadership of the Congress and the Aam Aadmi party (AAP) have re-initiated backchannel talks to ink a pre-poll pact ahead of the upcoming Lok Sabha elections 2019, Rahul Gandhi said his party would go solo in the general elections, and wrest all the seven constituencies of the national capital from the Bharatiya Janata Party (BJP).
"I want to tell all Congress party booth workers that now it's up to you. You have to win all seven Lok Sabha seats in Delhi. Tell people that the Congress is the only party that can change Delhi and entire India," the Congress president said while addressing a booth level party workers meeting here. Congress Has 'Secret Understanding' With BJP: Arvind Kejriwal.
His comment puts an end to speculation that Congress was having a rethink about going it solo in Delhi even after Delhi Congress chief Sheila Dikshit had declared that there was unanimity against forging an alliance with the AAP.
Following the announcement, AAP convener and Delhi Chief Minister Arvind Kejriwal had said there are "rumours" that the Congress has a "secret understanding" with the BJP and asserted that his party is ready to fight the "unholy alliance".
At a time when the whole country wants to defeat Modi- Shah duo, Cong is helping BJP by splitting anti-BJP vote. Rumours r that Cong has some secret understanding wid BJP. Delhi is ready to fight against Cong-BJP alliance. People will defeat this unholy alliance. https://t.co/JUsYMjxCxy

— Arvind Kejriwal (@ArvindKejriwal) March 5, 2019
On February 28, senior party leader P C Chacko had met Dikshit and suggested that the party should form an alliance with AAP in the upcoming Lok Sabha polls, said a source.
(With ANI inputs)