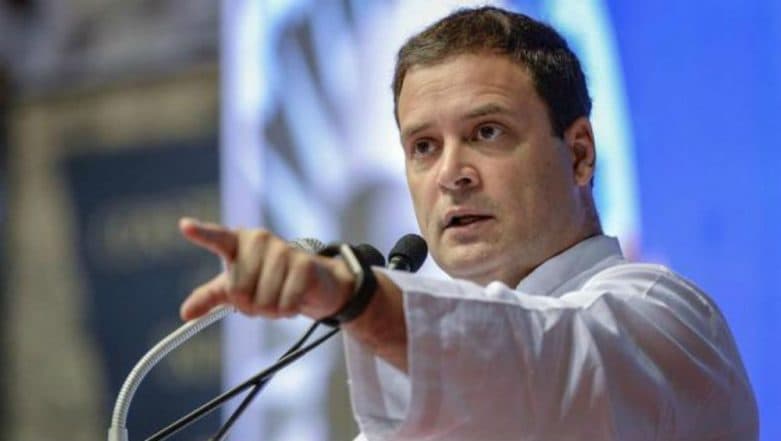 New Delhi, May 14: Congress president Rahul Gandhi on Tuesday responded to Prime Minister Narendra Modi's tirade against his father and late former premier Rajiv Gandhi. While addressing a rally in Madhya Pradesh's Neemuch, the Gandhi scion said he would never stoop low to target the parents of his political rival.
"Modi ji talks with hatred. He insults my father, grandmother, great grandfather. But I will never in my life speak about his family, his mother and father. I will die, but will never insult his mother and father," Rahul Gandhi told the gathering. Narendra Modi Hits Back at Critics: 'Khan Market Gang Has Not Created My Image, You Cannot Dismantle It'
"This is because I am not a RSS or BJP man, but belong to the Congress. I will return him love if hatred is thrown at me...We will defeat Modi ji with love, hugging you," he further added.
Prime Minister Modi, on the campaign trail last month, called Rajiv Gandhi "bhrashtachari no.1". His remarks had drawn flak from across the political circle, with the Opposition parties accusing him of lowering the political discourse to an all-time low.
At the rally in Neemuch, Gandhi also made a veiled reference to the PM's interaction with actor Akshay Kumar in which Modi revealed he loved mangoes as a child and still loves them.
Gandhi said Modi talked about cloud cover "helping" IAF planes evade Pakistani radars during the air strikes and about climbing trees and eating mangoes. "Modi ji, whenever it rains in India, do all aircraft disappear from the radar," he said.
"Clouds and mangoes are being talked about but nothing is being said on issues that matter," the Congress chief added.
(With PTI inputs)