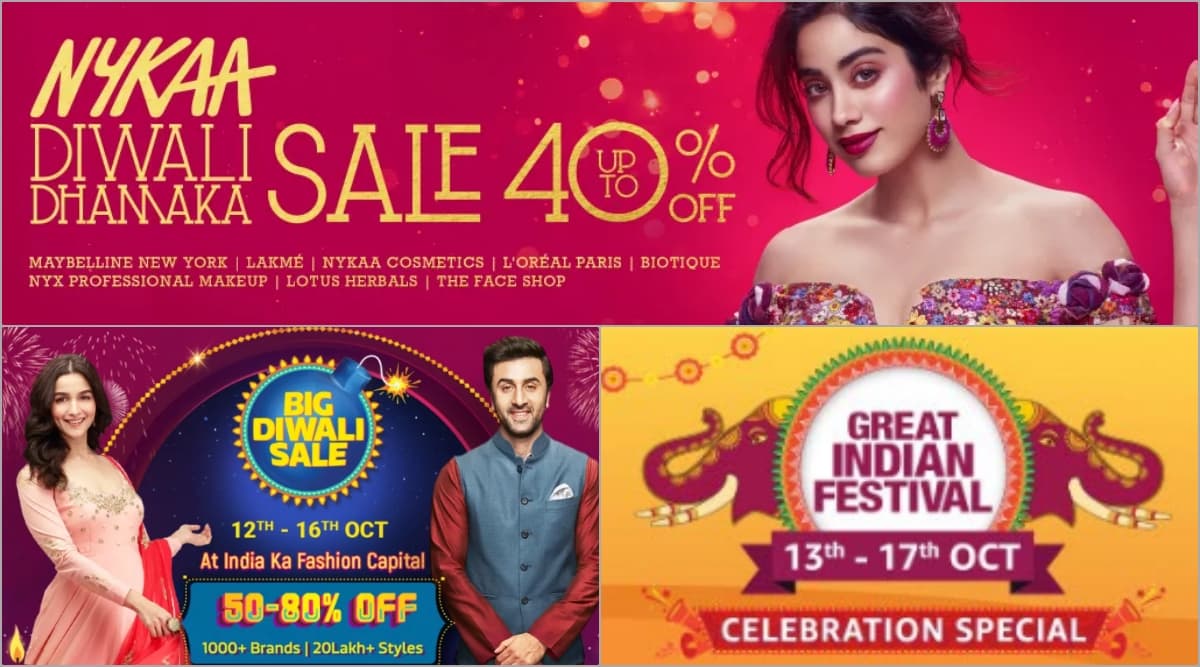 Are you ready for the most amazing time of life? Do not look so confused. We are talking about the Diwali 2019 online sale and offers by leading brands and e-commerce sites. From Amazon Great Indian Festival 2019 to Nykaa Diwali Dhamaka Sale and Flipkart to Bigbasket, there's a whole range of website providing huge discounts. Diwali, the festival of lights celebrated on October 27, 2019, is an important period for businesses to make some quick bucks by capitalizing on the festive mood of the masses. We have been hearing deflating news on the economic front for quite some time now, and Diwali is a perfect opportunity to revive the demand cycle. E-Commerce has been on the forefront of any marketing euphoria that grips our country and this festive period, and it will be no different. From huge discounts to quick shipping, these internet giants know how to get the people to loosen their purse. A look at some of the key dates on which these massive sales go out. Amazon Great Indian Diwali Sale 2019: From Headphones to Projectors, 5 Essential Things You Need to Get Your Hands on This Festival!
Amazon Great Indian Festival 2019
Amazon has a great market share in terms of online shopping, and they have come up with the Amazon Great Indian Festival Period from October 13th to October 17th. A sale dedicated to electronic goods also goes live on October 15th called the Amazon Electronic Sale and end on October 18th. The Amazon Diwali Sale is scheduled to take place between October 25th and October 27th, 2019.
Flipkart Big Diwali Sale 2019
Amazon's fierce rival, Flipkart, is also not behind when it comes to luring customers with massive discounts and other offers. The Flipkart Big Diwali Sale will end today and was live from October 12th. The Flipkart Dhanteras Sale takes place on the auspicious day of Dhanteras, which is on October 25th. The Flipkart Diwali Sale takes place on the October 27th, 2019.
Nykaa Diwali Dhamaka Sale 2019
Mumbai-based multi-brand beauty retailer selling cosmetic and wellness products, Nykaa is providing a crazy 40 percent discount during the festive season. They have come up with Nykaa Diwali Dhamaka Sale 2019 and you have special Diwali offers on brands such as Maybelline, Lakme, Biotique, NYX, Colorbar, Faces Canada, and more.
Limeroad Diwali Sale 2019
It seems there is a lot of competition in the e-commerce sites selling clothing and other merchandise products. Online fashion store, Limeroad has also come up with big festive sale providing a discount on as many as 552969 products in the range of 50 %.
Jabong Diwali Sale 2019
The site famous for selling clothing and other merchandise has brought the Jabong Diwali Sale between October 25th and October 27th. There is a proposed discount of up to 80 % on their clothing line which is a massive opportunity for the buyers.
Myntra Diwali Sale 2019
Just like Jabong, Myntra have gone big on the discount rates offered which touches the 80 % mark. The Myntra Diwali Sale takes place between the October 25th and October 27th, 2019 period.
Bigbasket Diwali Sale 2019
For those ready to gift their friends and relatives the tried and tested dry fruits and sonpapdi combination on Diwali, Bigbasket has huge discounts on their products going on pretty much the entirety of October.
These are not only online retailers and e-commerce sites providing lucrative discounts and offers, but they definitely happen to be the most amazing ones. Happy Diwali Shopping and a Very Happy Diwali 2019!