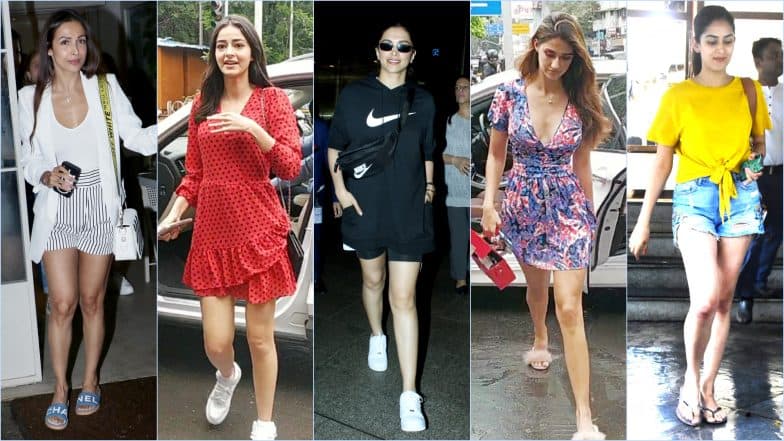 If we sum up this weekend in one word, it has to be BASIC! Bollywood celebrities once again played it safe and just followed the Instagram fashion trend. From Ananya to Tara Sutaria, all we see is the same old things. As the Student of the Year cast got together to celebrate Friendship Day, we couldn't spot one who could give us OOTD inspo or goals. Malaika Arora takes the throne this week by finessing all these newbies with her class style, as ever. Best And Worst Dressed Over The Weekend: Here's How Madhuri Dixit, Kiara Advani, Shahid Kapoor and Priyanka Chopra Fared In Our Style Meter!
Deepika Padukone didn't serve what we always expect of her. The actress' airpost look was just another Kardashian streetwear look. An oversized hoodie with tights. While this might be comfy and a cool look to some, it's redundant at this point. And the fanny pack around the neck made it a Kylie Jenner wannabe look. Diana Penty was here to show how the airport looks are done. Her outfit was the perfect combo of comfy and neat.
Ananya Pandey maintained her cute, girl-next-door persona as she was spotted in a red polka dot dress. The dress is a concoction of all cute things in one, making it a giant mess. Pass! Sunny Leone's mommy duty colourful and youthful outfit makes her look more adorable than ever! Here are our picks for the best and worst dressed celebs over this weekend. We Disapprove of Alia Bhatt, Kareena Kapoor Khan and Parineeti Chopra's Fashion Outings This Week (View Pics).
Best
Malaika Arora
View this post on Instagram
Diana Penty
View this post on Instagram
Mira Kapoor
View this post on Instagram
Sunny Leone
View this post on Instagram
Worst
Ananya Pandey
View this post on Instagram
Disha Patani
View this post on Instagram
Deepika Padukone
View this post on Instagram
Tara Sutaria
View this post on Instagram
That's it for this weekend's list, folks! Come back again next week for more best and worst dressed!