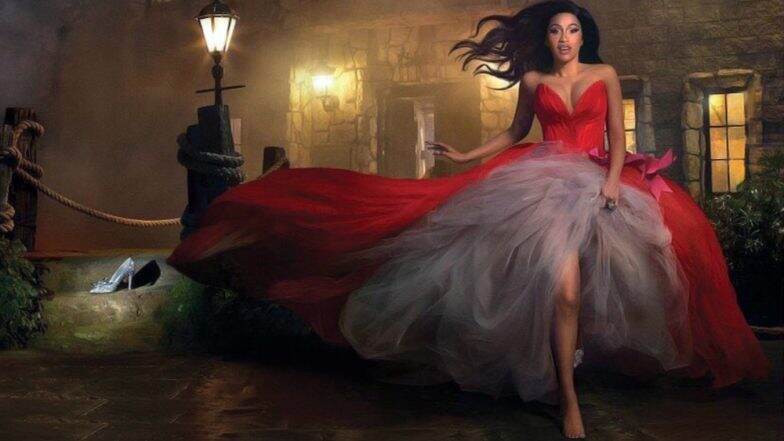 Trust Cardi B to go all out when it comes to fashion as well as controversies. The actress' latest photoshoot with Harper's Bazaar magazine may have been Disney princess-inspired fairytale themed but the rapper makes sure she doesn't shy away from mentioning one of the biggest controversies she was involved in.
In the gorgeous photo-spread of the magazine, Cardi is seen wearing flowing gowns and reprising Disney princesses such as Cinderella, Rapunzel and even the Chinese princess Mulan. Cardi B Gives Us Major Hairstyle and Hair Colour Goals! (View Hot Pics).
For the Cinderella picture, Cardi has intelligently recreated the scene of her shoe-throwing incident with Nicki Minaj at the Plaza party in New York. Just like her paparazzi pictures where she was seen leaving the venue bare feet, Cardi in the photo spread with a gorgeous flowy red gown is seen bare feet while the 'Cinderella shoe' is seen in the background.
Cardi B impresses with her classic fairytale pose:
Thank you so much to Glenda and the entire team for choosing me for the cover of @harpersbazaarus! Who would have thought? pic.twitter.com/imEGbjjV5G

— iamcardib (@iamcardib) February 7, 2019
For the Rapunzel inspired picture, she is seen leaning out of a tower window with her tresses let down, just like the fairytale. She looks absolutely gorgeous and we wonder if she should be roped in for one of the Dinsey inspired films.
Here's Cardi B's Mulan and Rapunzel look on the cover:
"I like to have sex. That doesn't mean I have to have it with everybody."

—@iamcardib talks her sexual persona, fame, and setting a good example for her daughter in BAZAAR's March 2019 issue: https://t.co/iEN0l0tLBd pic.twitter.com/zMd3nTX1zf

— Harper's Bazaar (@harpersbazaarus) February 7, 2019
In the Mulan inspired look, Cardi sports a short blue Kimonoesque outfit wielding a sword in the backdrop of Cherry blossoms.
In her interview with the issue, Cardi states that she feels like fairytale princess because of her rags to riches story. Well, Cardi sure knows how to make the most of the news and when it comes to style, there's no denying that she's one of the most loved by the fashion police.