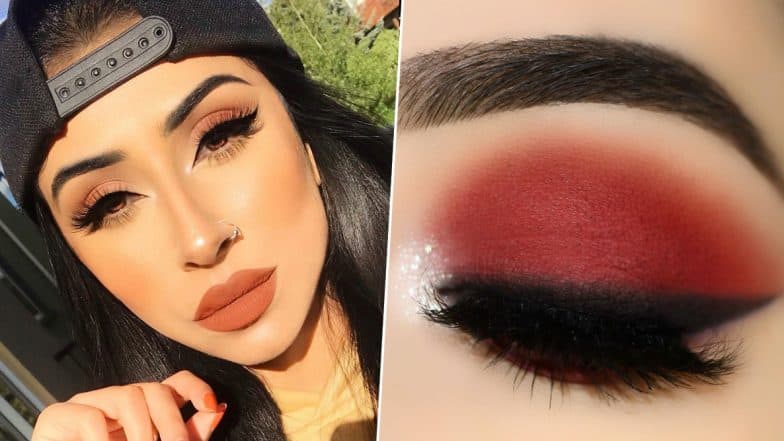 Fall is here! The season of earth-toned colours. Fall means a big mug of warm beverages and dark makeup. It's the time of the year you can embrace your emo side without being judged. In fact, you might get compliments for your dark makeup looks this month. The season inspired makeup looks often have toned of red, orange, burgundy and cranberry. So, keeping the colours of the leaves in mind, let's go over some fall-inspired makeup looks that you can wear whenever you want. From day time fun time with your girlfriends to parties at night, we got your back. How to Get Margot Robbie-Inspired Sunset Eyeshadow Look? Here's Step-by-Step Makeup Tutorial to Rock This Beauty Trend.
If you want to get in the holiday spirit and look season-appropriate, we have some simple makeup looks that will help you fit right in without breaking your bank account. Just a few changes here and there in your daily routine and you're good to go. Makeup Brushes and Their Uses: 6 Essential Brushes You Should Have and How to Use Them for That Model Look.
The Cranberry Smokey Eye
View this post on Instagram
This can be a "one shadow and done" look. You don't need a lot of different shades in this look. But just two brushes and some dedication to blending.
How to Create This Look
Starts by priming your eyelids. Either with concealer or eyeshadow primer. Then start packing on a dark cranberry shade along the lash line, with the help of a flat eyeshadow brush. Stay on the lid only! Once you're happy with the shadow, start by gently blending out the edges. Stay only on the edge and blend slowly. Make sure to cover only a small area at a time. If you want, you can also dip your brush in a light matte shade or your face powder to soften to edges. Add eyeliner if you like and add some mascara.
The Fall Nude
View this post on Instagram
If you're someone who likes to keep their makeup looks hassle-free and straightforward, try this. This look can be considered the "fall nude". It's a lot like nude makeup but with a fall touch.
How to Create This Look
Start by putting on your usual makeup. Go for an orange shade for your transition shade. If you're new, transition shade is what goes above your crease to pull the look together. It's supposed to create a soft gradience in eyeshadow look. Add an orange hue in your look and run it along the lower lash line as well, to make it pop!
The Pumpkin Spice Lips
View this post on Instagram
Fall lip shades easily take the throne for the prettiest lipsticks. The shades are wearable yet add some glam to your look. And you can also wear these lipsticks without any other makeup. A pumpkin spice lipstick is a warm brown with prominent hints of orange.
How to Rock a Pumpkin Spiced Lip
Wear whatever makeup you feel like wearing. Add a beautiful warm brown lipstick with your look. Matte lips work better for fall. And once you're happy with the lipstick, go for a nice, warm bronzer. An almost apricot shade that doubles as a blush at some angles.
These are some of the most effortless makeup looks that will help you make fall-ready without wasting too much time while getting ready and they go easy on your bank account!