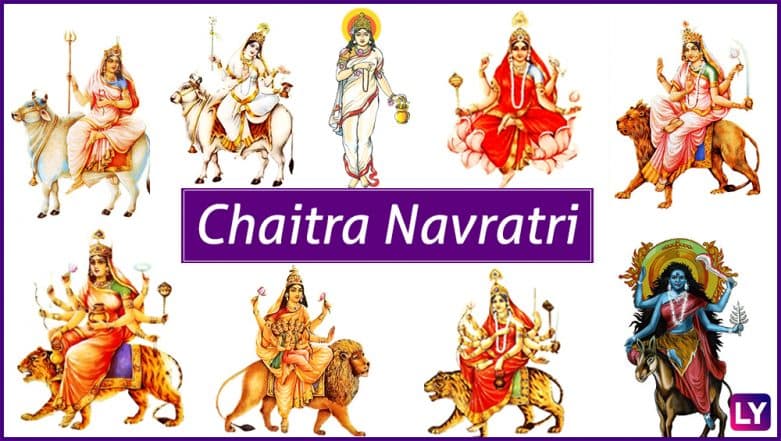 Chaitra Navratri also spelt Chaitra Navaratri will be celebrated from March 18, 2018, and last until March 26. The nine-day long Hindu festival is commemorated in the honour of Goddess Durga and her nine forms called Navadurga. The nine forms of Maa Durga (Goddess Parvati) are Shailaputri, Brahmacharini, Chandraghanta, Kushmanda, Skandamata, Katyayani, Kaalratri, Mahagauri and Siddhidhatri. Each manifestation of the Devi Durga is known by her dedicated name, governing planet, iconography, a mantra for invocation, and the days of worship. Devotees follow shubh muhurat timings right from the Ghatasthapana to please the Maa Durga. The festival celebrations include fasting as it is believed that it can please the Goddess.
The second-most popular Navratri after Sharad Navratri, Vasanta Navaratri is observed in the lunar month of Chaitra, mostly after Holi. As the last day marks the birth anniversary celebrations of Lord Rama, this festival is also called Rama Navratri. Chaitra Navratri will begin from Sunday, March 18, 2018 (Pratipada) and continue until March 26 (Navratri Parana).
The first day of Chaitra Navratri 2018 known as Pratipada will have three events - Shailaputri Puja, Ghatasthapana and Chandra Darshan. Chaitra Navaratri 2018 will begin on the same dates as Gudi Padwa and Ugadi are celebrated in Maharashtra and Andhra Pradesh respectively. Here's a look at a complete calendar and dates of Chaitra Navratri 2018 with shubh muhurat time of the nine-day festival.
Navratri Day 1: March 18, 2018 - Shailputri Puja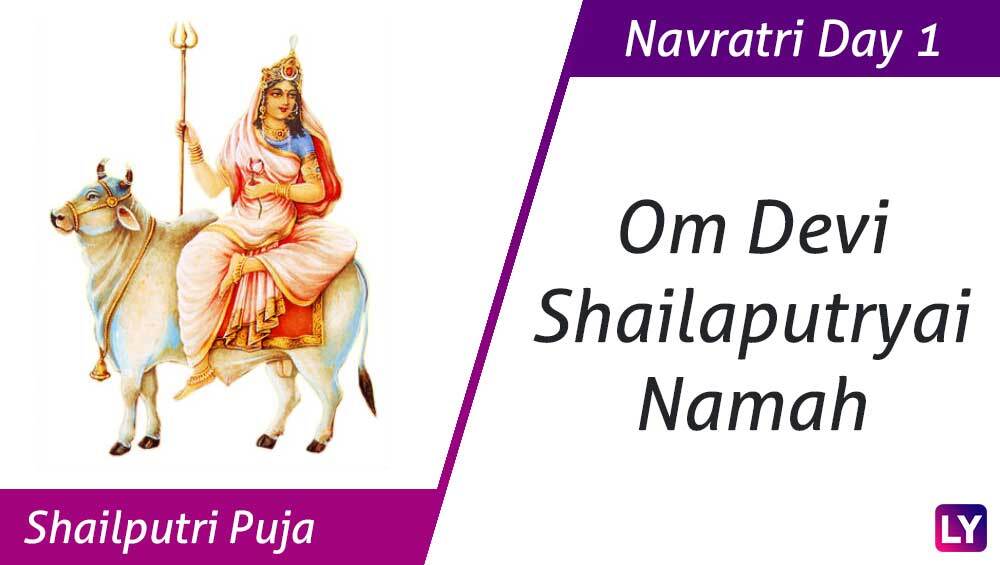 Shailputri Puja marks the beginning of Chaitra Navratri. It will take place on Sunday, March 18 and in honour of Devi Shailputri. She is Devi Sati who is reborn as Shailputri, the daughter of Lord Himalayas. The goddess is identified as sitting on the bull, carrying a Trishul (trident) in her right hand and a lotus flower in left hand. Shailputri Mata rules the Moon, the provider of all fortunes. Devotees must offer her favourite flowers, Jasmine and recite Om Devi Shailaputryai Namah 108 times at each sitting during Navratri to please the Adi Shakti.
On the first day of Chaitra Navratri, devotees will also carry the most significant Hindu ritual – Ghatasthapana. It marks the beginning of festivities with devotees establishing Ghata means "pot or vessel" and invocate Goddess Durga. According to Drik Panchang, Ghatasthapana Muhurta is from 06:31 to 07:46, with duration of 1 hour 15 minutes. On Sunday, Chandra Darshan will also take place. It is the first day of moon sighting after new moon day and devotees observe fast the entire day and break it only seeing the moon after Amavasya.
Navratri Day 2: March 19, 2018 - Brahmacharini Puja
Devi Brahmacharini will be worshipped on the second day of Chaitra Navratri falling on Monday, March 19, 2018. According to the Hindu mythology, she is believed to be the unmarried form of Goddess Parvati born to Daksha Prajapati. Her description as per holy scripts is, "Goddess Brahmchaarini wears white colour clothes, she holds rudraksha mala, lotus flower, kamandalu, in her hands. Goddess Brahmchaarini is the "tapaswani" roop of the goddess... who gives freedom from Kaama and krodh." Devi Brahmacharini governs Mangal (Mars), the provider of all fortunes. Devotees must offer her jasmine flowers while reciting Brahmacharini mantra Om Devi Brahmacharinyai Namah 108 times.
Navratri Day 3: March 20, 2018 - Chandraghanta Puja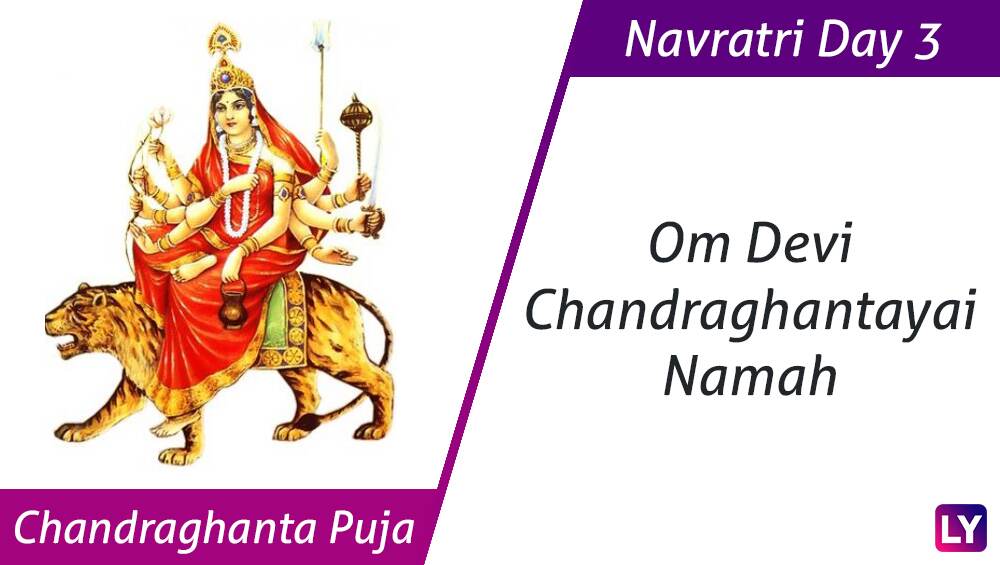 Chandraghanta Puja takes place on the third day of Chaitra Navratri and will fall on Tuesday, March 20, 2018. She is believed to be the married form of Mata Parvati. The third form of Goddess Durga gets her name from the combination of two words – Chandra (half-crescent moon) and Ghanta (bell) meaning - "one who has a half-moon shaped like a bell. Her third eye is always opened and she always ready for war against demons". Devi Chandraghanta is depicted mounting a tigress, with ten hands equipped with sharp weapons and governs Lord Shukra (Planet Venus). This form of Durga is believed to be at calm and blesses her true devotees with peace, bravery and courage. To eradicate themselves of all sins and sufferings, worshippers must offer jasmine flowers and chant Chandraghanta mantra, Om Devi Chandraghantayai Namah, 108 times.
Gauri Teej also known as Gauri Tritiya or Gangaur will also take place on March 20, 2018. The third day of the new moon is celebrated to attain the blessings of Lord Shiva (Gana) and Mata Parvati (Gauri). The colourful festival is mainly celebrated in North Indian states especially in Rajasthan and some parts of Uttar Pradesh, Madhya Pradesh, Haryana and Gujarat. Drik Panchang also states Saubhagya Teej to be observed with married women keeping Saubhagya Sundari Vrat on the day.
Navratri Day 4: March 21, 2018 - Kushmanda Puja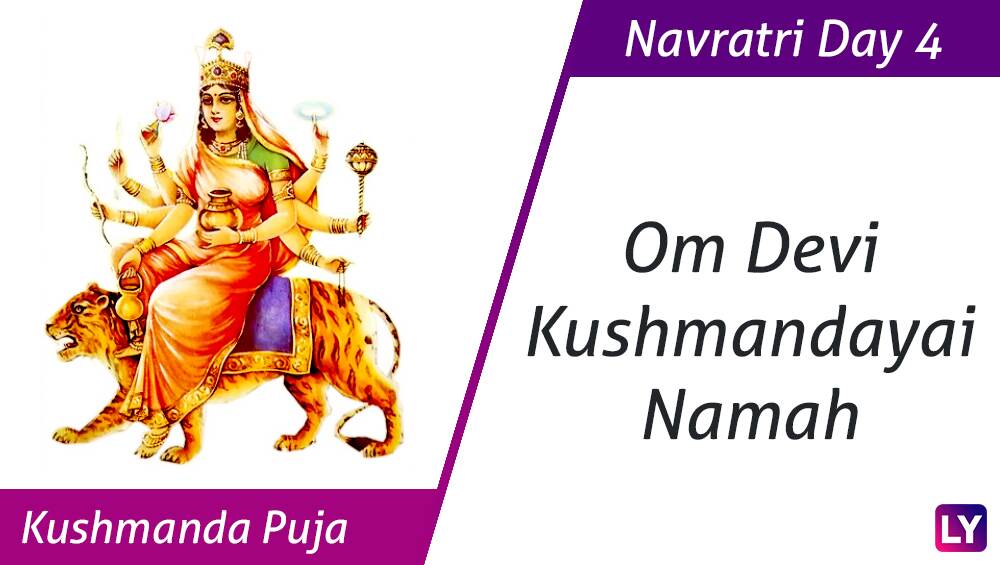 The fourth manifestation of Goddess Durga, Devi Kushmanda will be worshipped next on Wednesday, March 21, 2018. When Mother Goddess started living in the Sun to liberate its energy to the universe, she was referred to as Kushmanda. It is believed this form of Durga created the universe with a flash of her smile. She not only radiates like the Sun but also governs the Lord Sun. Devotees can attain her blessings by offering red-coloured flowers and reciting Om Devi Kushmandayai Namah mantra 108 times.
The Chaturthi after Amavasya or new moon during Shukla Paksha marks Varad Vinayaka Chauth or Vinayaka Chaturthi. Varad means "asking God to fulfil any desire one has" with Lord Ganesh blessing devotees with wisdom and patience to carry out the fast proceedings. Sri Lakshmi Panchami 2018 also falls on the same day and is dedicated to Goddess Lakshmi, the Goddess of wealth and prosperity.
Navratri Day 5: March 22, 2018 - Skandamata Puja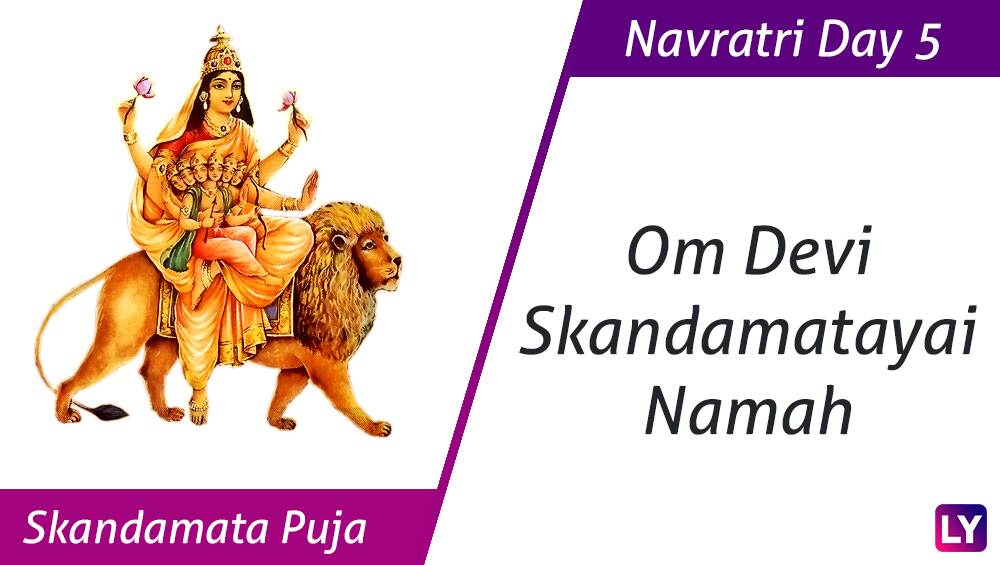 The fifth day is dedicated to the fifth form of Goddess Durga who was known as Devi Skandamata after becoming the mother of Lord Skanda (also known as Lord Kartikeya). Skandamata Puja of Chaitra Navratri will take place on Thursday, March 22, 2018. She is seen carrying Lord Murugan (Lord Kartikeya) on her lap and riding a ferocious lion (when sitting on a lotus flower, she is known as Goddess Padmasana). Skandamata governs Budha, Planet Mercury. Devotees should offer red flowers to please not only Skandamata Devi but also in the process get Lord Murugan's blessings. Om Devi Skandamatayai Namah is her mantra.
Skanda Sashti or Kanda Sashti Vratam will also be observed on the same day. The son of Lord Shiva and Mata Parvati, Lord Skanda is widely worshipped in the southern part of the country. Naag Puja will also take place on March 22.
Navratri Day 6: March 23, 2018 - Katyayani Puja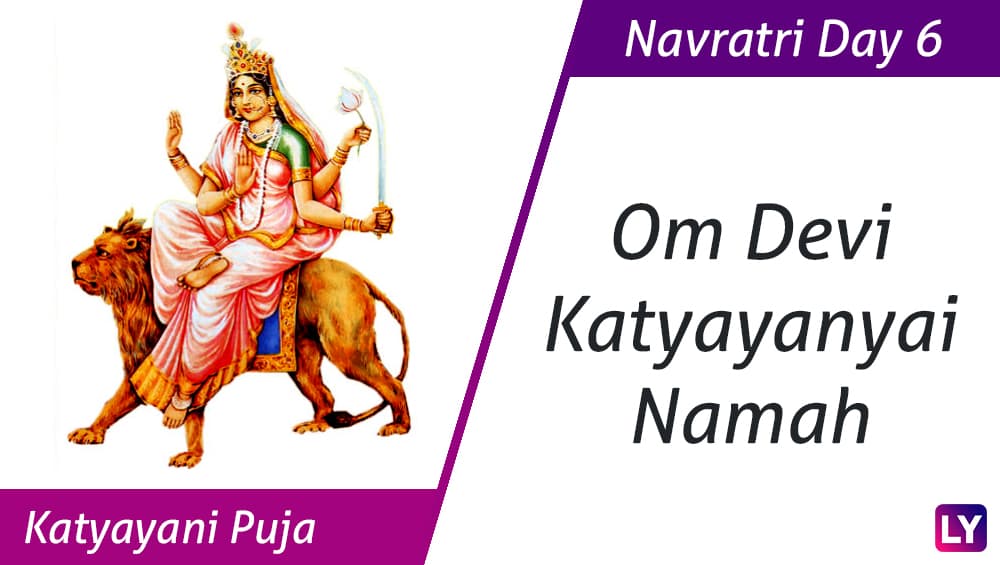 The sixth form of Goddess Durga, Katyayani Mata is the most violent and powerful avatar. She took this form to destroy the demon king Mahishasura. Katyayani Puja will take place on Friday, March 23, 2018. Hindu mythology says Parvati Mata adopted the name Katyayani as she was born at the home of sage Katya. She governs the Brihaspati also known as Deva-guru (guru of the gods) and is the largest planet, Jupiter. Devotees must offer rose flowers while reciting the mantra Om Devi Katyayani Namah 108 times to please Devi Katyayani.
March 23 will also be observed as Yamuna Chhath also known as Yamuna Jayanti 2018. It marks the birth anniversary of Goddess Yamuna as it was on this day the river descended on the earth. According to the Hindu mythology, Goddess Yamuna is worshipped as the consort of Lord Krishna and is celebrated with much pomp and fervour in the towns of Mathura and Vrindavan.
Navratri Day 7: March 24, 2018 - Kalaratri Puja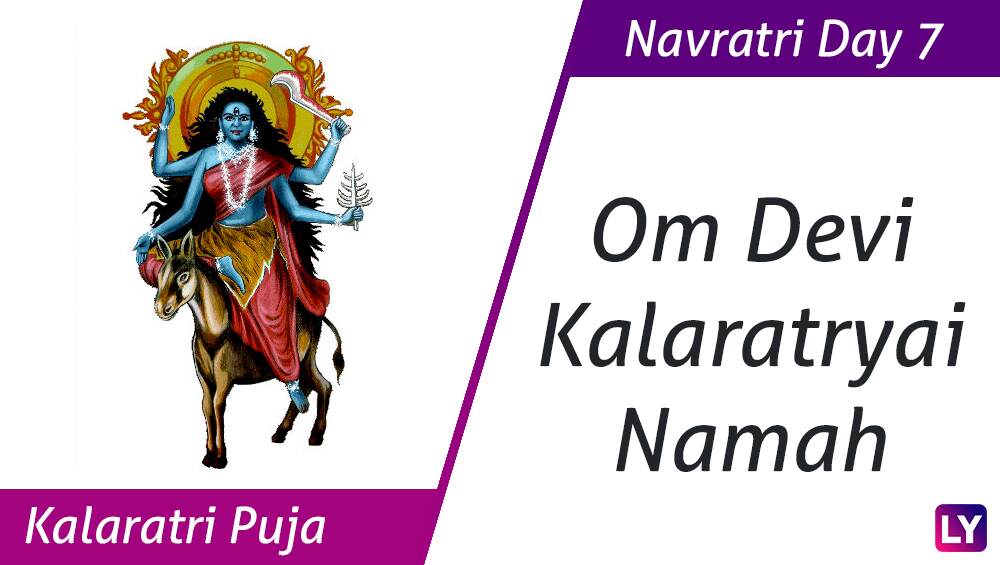 The seventh day of Chaitra Navratri dedicated to Devi Kalaratri will fall on Saturday, March 24, 2018. When Goddess Parvati peeled off her golden skin to kill demons named Shumbha and Nishumbha, she took the fiercest and most violent form called Kalratri. She is also known as Goddess Shubhankari due to her shubh or auspicious powers. Kalratri Mata governs Lord Shani (Planet Saturn). Devotees can offer night-blooming jasmine (Raat ki Rani) while reciting Om Devi Kalaratryai Namah mantra.
Navratri Day 8: March 25, 2018 - Mahagauri Puja, Ram Navami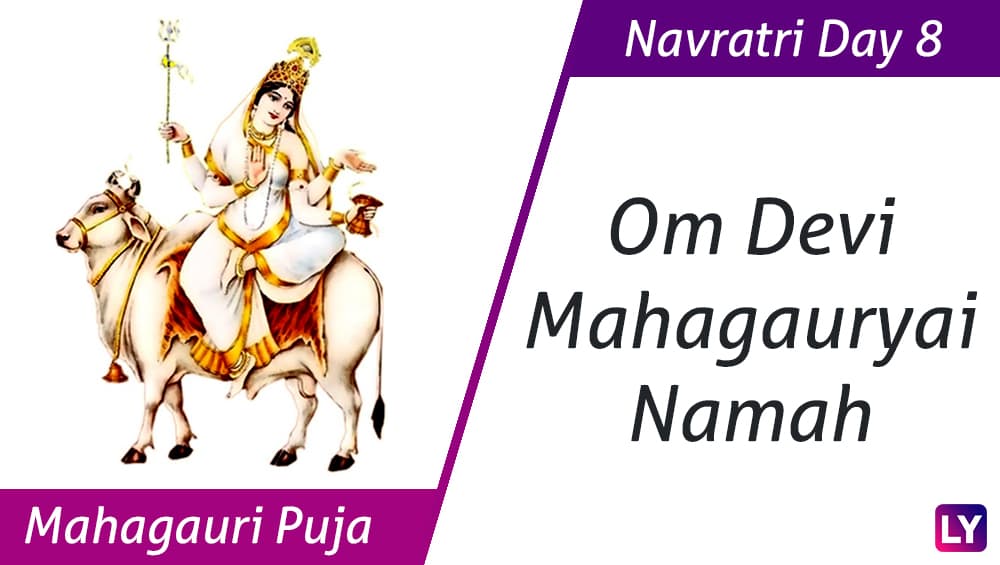 Goddess Mahagauri will be worshipped on the eighth day of Navratri i.e. Sunday, March 25, 2018. According to Hindu mythology, the Goddess Shailputri at the age of sixteen was extremely beautiful with fair complexion because of which she went on to be known as Goddess Mahagauri. Because she is always dressed in white clothes, Mahagauri Devi is also called Shwetambardhara. She governs planet Rahu and is worshipped with night-blooming jasmine (Raat ki Rani). Worshippers pray to Mahagauri Mata reciting Om Devi Mahagauryai Namah mantra.
Ram Navami, one of the biggest Hindu festivals will be celebrated on Sunday, March 25, 2018. According to Drik Panchang, Rama Navami Puja Muhurta is between 11.14 am to 13.40 pm with a duration of 2 Hours 25 minutes while Rama Navami Madhyahna moment is at 12.27 pm (Madhyahna marks the moment when Shri Rama was born.
The day holds another significant occurrence in form of Sandhi Puja. The rituals are carried out at the juncture when Ashtami Tithi ends, and Navami Tithi starts and is believed that Devi Chamunda killed demons Chanda and Munda at this particular time. Sandhi Puja Muhurta = 07.38 to 08:26 with duration of 47 minutes.
Navratri Day 9: March 26, 2018 - Siddhidhatri Puja, Navratri Parana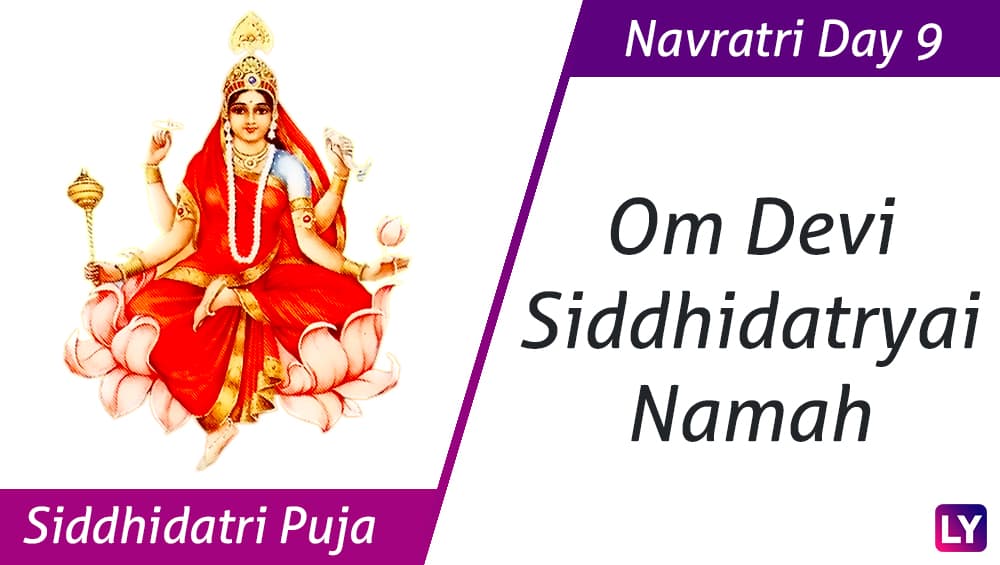 The ninth and final form of Navdurga, Devi Siddhidhatri will be worshipped on the last day of Chaitra Navratri on Monday, March 26, 2018. When Lord Rudra worshipped Adi Parashakti for the creation of the Universe, a formless Supreme Goddess of Power Adi Parashakti appeared from the left half of Lord Shiva. Not only mortal beings but Devas, Demons, Gods pray to Siddhidhatri for blessings. In fact, Lord Shiva has been bestowed with all Siddhis with the grace of Devi Siddhidhatri. She governs Planet Ketu by giving directions and energy to it. Devotees can get long-standing wishes fulfilled by Siddhidhatri's blessings and to do so they must pray with a pure heart. Offer night blooming jasmine (Raat Ki Rani), and chant Om Devi Siddhidatryai Namah 108 times.
As per Nirnaya-Sindhu, the Navratri Parana is done when Navami Tithi is over, and Dashami Tithi begins. It is that time when devotees observing nine-day long (Pratipada to Navami) fast will break the fast as per rituals. As per Drik Panchang, Chaitra Navratri Parana Time is after 06:22 pm on March 26. One must observe fast throughout Navami Tithi. The Navami Tithi Begins at 08.02 on March 25 and end at 5.54 on March 26. Dashami Tithi Begins at 05:54 on March 26 and ends at 03:43 March 27, 2018. Happy Chaitra Navratri!