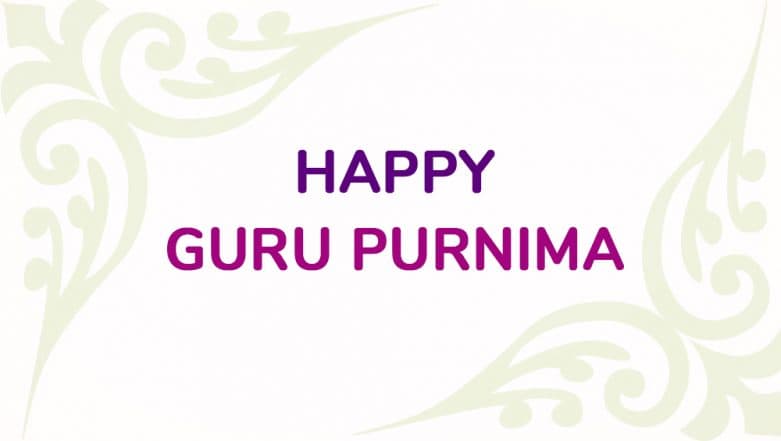 Guru Purnima also was known as Vyasa Purnima is celebrated today in the country. It falls on the full moon day in the Ashadha month of Hindu calendar. The special day honouring teachers is mainly observed by Hindus, Buddhists and Jains. On Guru Purnima, people thank teachers for spiritual guidance and the goodness they embedded in the student's life. Most schools and colleges also mark the day with various celebrations thanking teachers for enlightening the lives of students. Meanwhile, social media has been buzzing with tweets and posts honouring teachers and messages highlight their importance in one's life.
Politicians, celebrities, influencers, spiritual talkers have taken to social media thanking teachers for being a part of their success. Teachers play a big role in moulding individuals and paving way for their success. Guru Purnima is also celebrated in Nepal. People go to temples, seek blessings and also visit their teachers to convey their gratitude.  Guru Purnima 2018 Hindi Wishes: GIF Image Messages, WhatsApp Greetings, Facebook Quotes & SMS to Wish Your GuruThis Guru Poornima
Here are some of the tweets:
'Guru' is the one who helps dispell the darkness of ignorance from the mind. On the auspicious occasion of #GuruPurnima, let us remember and pay our respects to the teachers of both worldly and spiritual wisdom who have touched our lives. pic.twitter.com/OG7kgmvEIc

— Suresh Prabhu (@sureshpprabhu) July 27, 2018
The word Guru is derived from two Sanskrit words gu and ru; gu means darkness and ru means removal of darkness. Hence a teacher is believed to be the one who removes darkness. Guru Purnima 2018: History, Importance, Tithi, Puja Timings of This Auspicious Day Dedicated to Teachers
May your Being blossom to bring Bliss and Beauty to all.

The Boundless Grace of the Guru is upon you.

Love & Blessings#GuruPurnima #SadhguruQuotes pic.twitter.com/sH6lgQ0eiK

— Sadhguru (@SadhguruJV) July 27, 2018
One of the most important person who has a hand in shaping our lives after our parents is our teacher. Greetings on #GuruPurnima

— Mansukh Mandaviya (@mansukhmandviya) July 27, 2018
According to Buddhists beliefs, Lord Buddha gave his first sermon on this day and hence the day came to be known as Buddha Purnima.
On the auspicious occasion of Guru Purnima, may Guru's blessings always shower on you. Have a blessed #GuruPurnima pic.twitter.com/aEvODYE5RL

— Ravi Shankar Prasad (@rsprasad) July 27, 2018
According to texts, five weeks after achieving enlightenment under the Bodhi tree, he went from Bodhgaya to Sarnath, Uttar Pradesh and gave a sermon on a full moon day. Some Hindus observe Satya Narayan Vrat on this day and worship Lord Vishnu.
My greetings to fellow citizens on the auspicious ocassion of Guru Purnima. It is an important day to remember and express our gratitude to all the gurus (Teachers).#GuruPurnima pic.twitter.com/OXxBOKKrbP

— VicePresidentOfIndia (@VPSecretariat) July 27, 2018
Students give cards and flowers to their teachers as a mark of appreciation towards their work. Cultural celebrations showcasing the value of teachers are held at educational institutions. People quote great minds like Gautam Buddha, Dalai Lama to Swami Vivekananda on this day and highlight their way of life. people following a particular spiritual culture and tradition worship gurus to impart knowledge and wisdom related to their beliefs.