We may not realise but we owe a lot to our Gurus who have helped in our formal as well as informal education. The day of Guru Purnima is a day dedicated to the teachers who selflessly transfers the knowledge and make us a good human being. This day has an immense significance for Hindus, Buddhists and Jains and is celebrated not only in India but also in our neighbouring country Nepal. According to the Hindu calendar, it is observed during a full moon day in Ashadha month. Guru Purnima 2018 will be celebrated on July 27. The day is dedicated to not only academic teachers but also those who imparted us with spiritual knowledge. A Guru refers to the guide who enlighten disciples by his or her knowledge and teachings. On this special occasion, an individual looks for Happy Guru Poornima Facebook messages, SMSes, WhatsApp greetings in Hindi and GIF images to wish and pay respect to their teachers to honour and acknowledge their contribution made by them. Guru Purnima 2018: History, Importance, Tithi, Puja Timings of This Auspicious Day Dedicated to Teachers.
Guru Purnima is traditionally observed by Hindus, Buddhists and Jains to admire their chosen spiritual teachers or leaders and express their gratitude. As per Hindu legend, this was the day when Krishna Dwaipayana Vyasa, the author of the epic Mahabharata was born to sage Parashara and a fisherman's daughter Satyavati. Hence, this day is also known as Vyasa Purnima. Buddhists, on the other hand, integrates to commemorate the day when Gautam Buddha gave his first sermon at Sarnath, Uttar Pradesh. Here are some meaningful Happy Guru Purnima 2018 messages and wishes both in English and Hindi along with some beautiful GIF images that you can share with your Gurus for enlightening your path.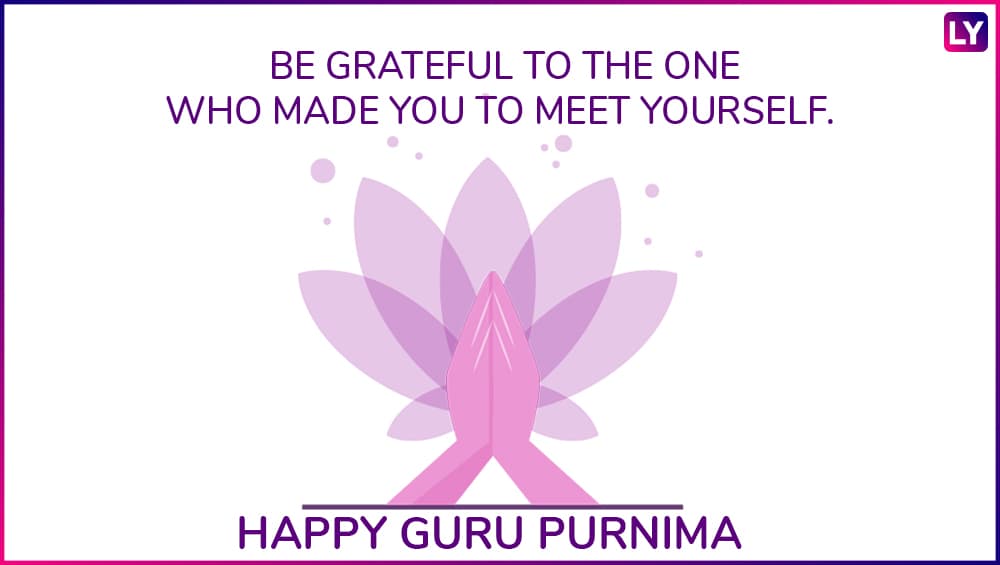 WhatsApp Message Reads: Be grateful to the one who made you to meet yourself. Happy Guru Purnima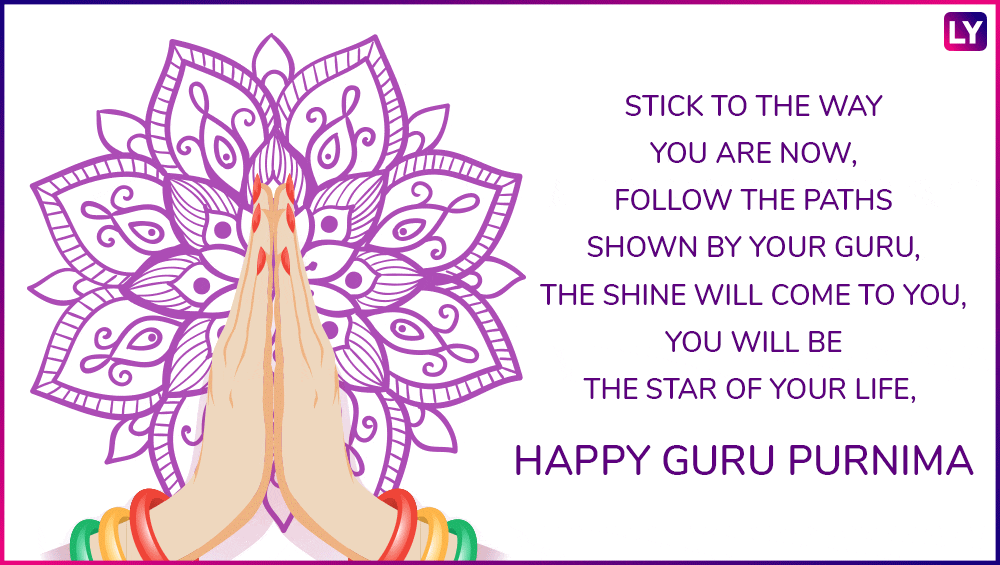 GIF Image Reads: Stick to the way you are now, Follow the paths shown by your Guru, The shine will come to you, You will be the star of your life, Happy Guru Purnima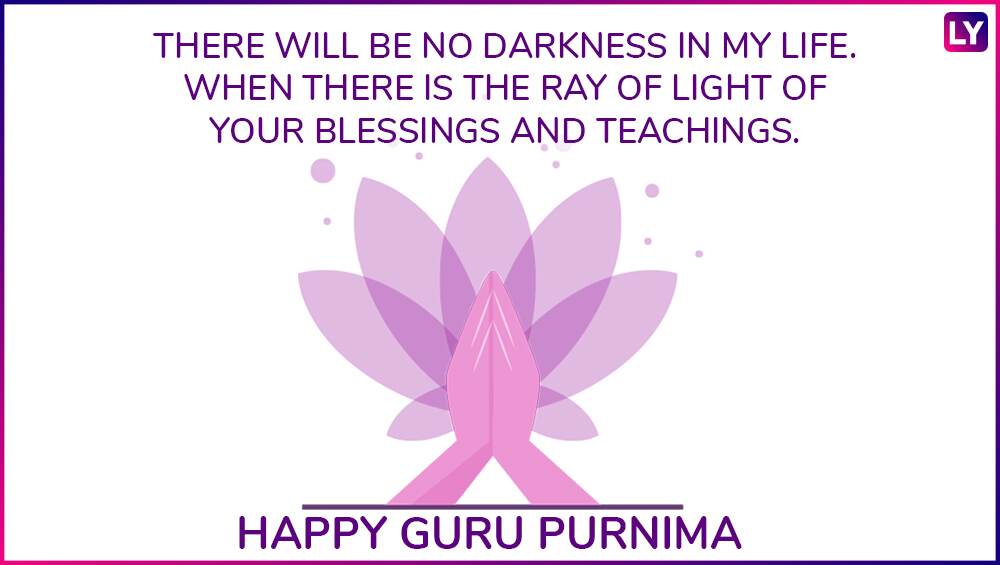 WhatsApp Message Reads: There will be no darkness in my life. When there is the ray of light of your blessings and teachings. Happy Guru Purnima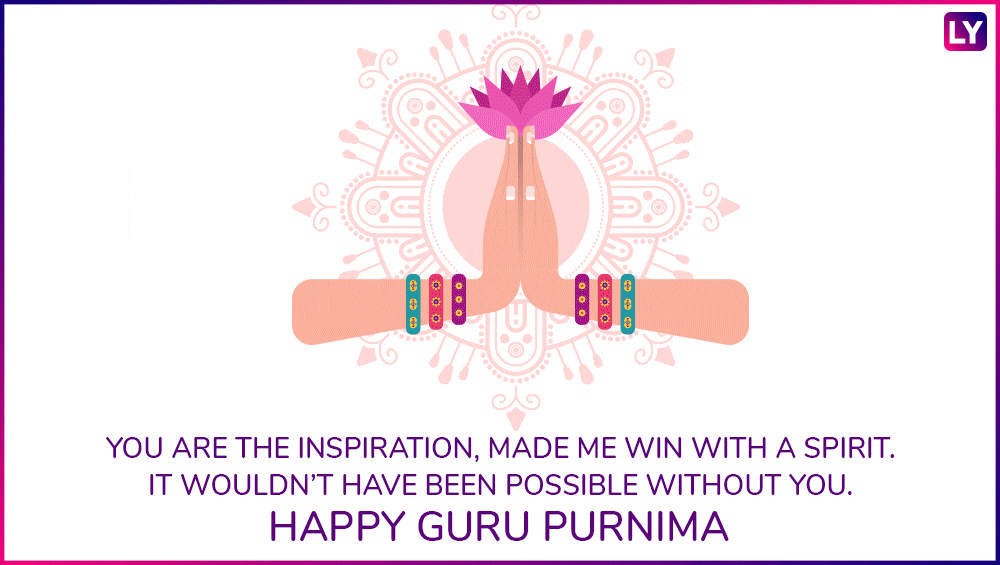 GIF Image Reads: You are the inspiration, made me win with a spirit. It wouldn't have been possible without you. Happy Guru Purnima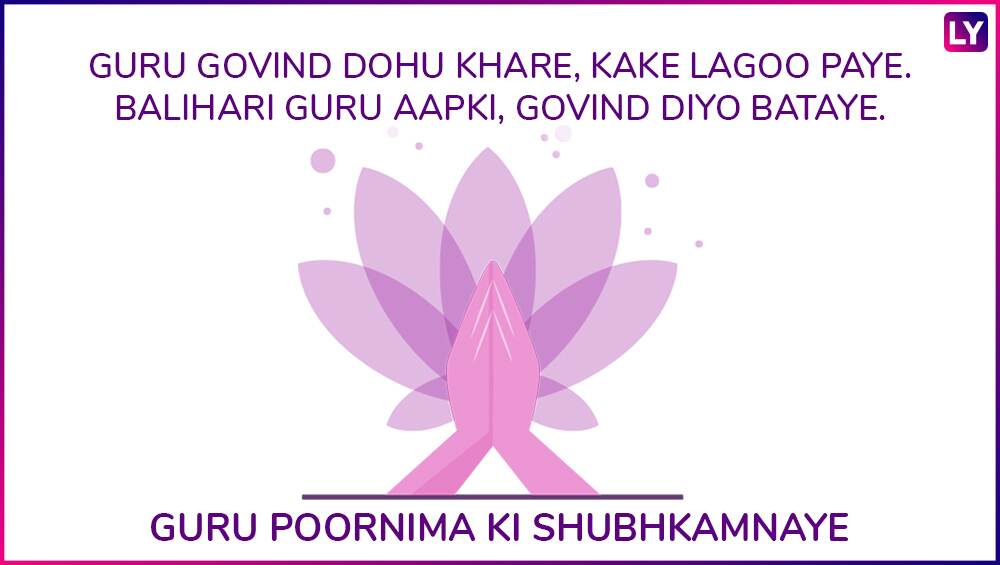 WhatsApp Message Reads: Guru Govind dohu khare, kake lagoo Paye. Balihari Guru Aapki, govind diyo bataye. Guru Poornima ki Shubhkamnaye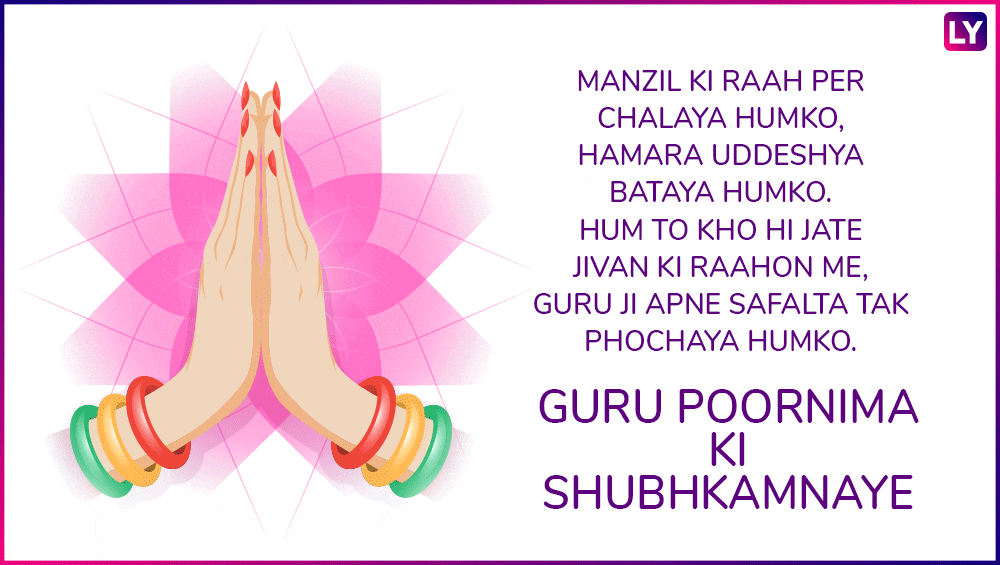 GIF Image Reads: Manzil ki raah per chalaya humko, hamara uddeshya bataya humko. Hum to kho hi jate jivan ki raahon me, Guru ji apne safalta tak phochaya humko. Guru Poornima ki Shubhkamnaye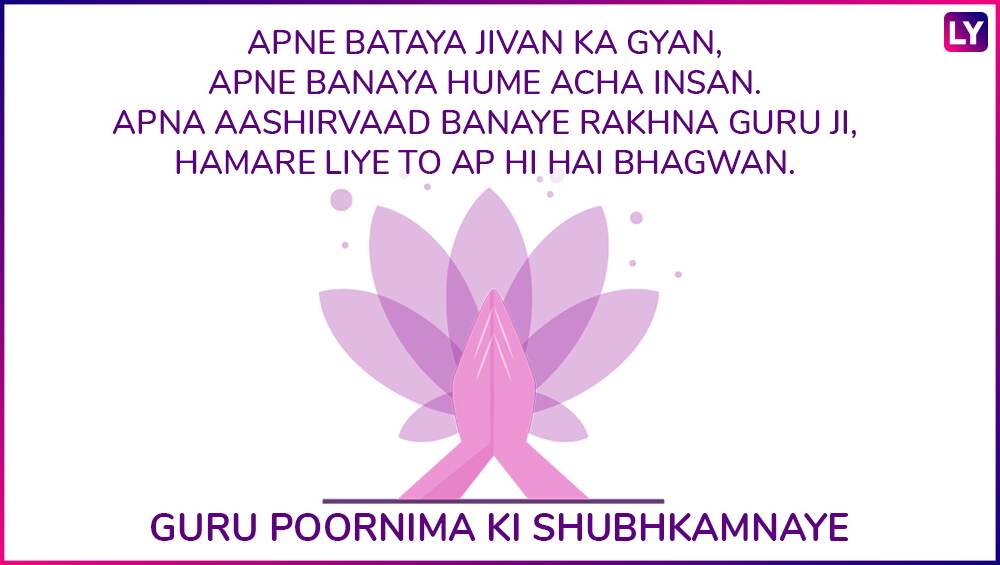 WhatsApp Message Reads: Apne bataya jivan ka gyan, apne banaya hume acha insan. Apna aashirvaad banaye rakhna guru ji, hamare liye to ap hi hai bhagwan. Guru Poornima ki Shubhkamnaye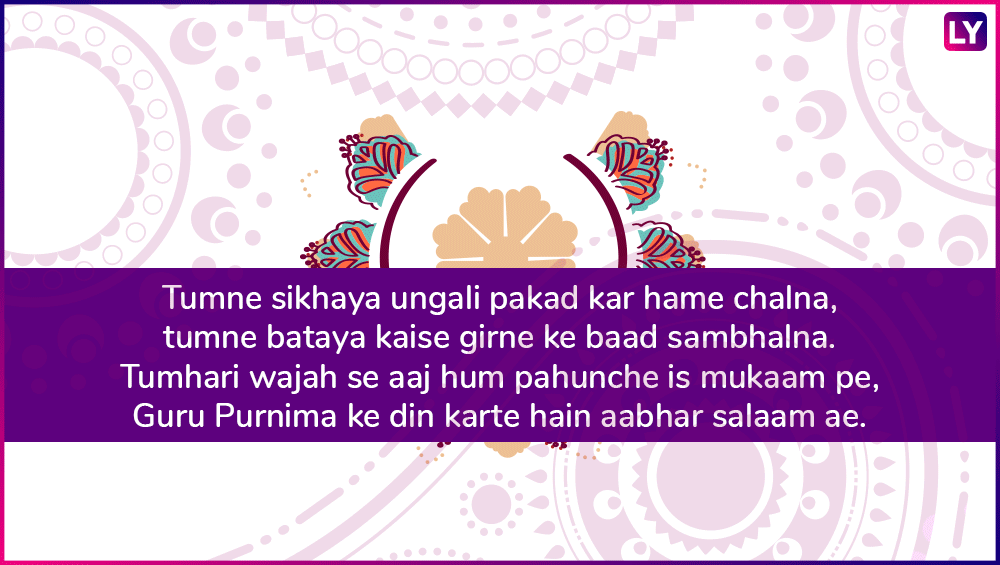 GIF Image Reads: Tumne sikhaya ungali pakad kar hame chalna, tumne bataya kaise girne ke baad sambhalna. Tumhari wajah se aaj hum pahunche is mukaam pe, Guru Purnima ke din karte hain aabhar salaam ae. Guru Poornima ki Shubhkamnaye
Students across celebrate this day by thanking their teachers as well as acknowledging their contribution to the path of learning. Be it your academic teacher, a spiritual guru, parents or even a person you admire, thank them for teaching different perspectives and inspiring you towards new learning experiences. Wish them a Happy Guru Purnima 2018!