February has started the season of love with the ongoing Valentine Week. Starting from February 7, for a week, all couples celebrate small gestures of love on each day. Valentine Week is a time to shower some major romantic vibes. Today is the time to make beautiful and honest promises to your partner. February 11 is Promise Day 2019, a day on which partners make a beautiful promise of love to each other. What better way to share your thoughts and promises by sharing some heartfelt Promise Day messages? People look for Promise Day wishes, pictures and quotes to send across to their loved ones or their partner and greet them for this beautiful day of love. We have compiled Promise Day 2019 wishes, messages, GIF images, WhatsApp stickers, SMS and many more quotes to wish your partner a very Happy Promise Day.  You can also use these Promise Day quotes as perfect captions for your Instagram pictures. Gift Ideas for the 5th Day of Valentine Week That Will Strengthen Your Bond Love!
Promise Day 2019 messages and wishes can be shared through Facebook status and WhatsApp. The messaging app has also come up with the cool 2019 Promise Day stickers and for every other romantic day in the Valentine Week online for you to download. On Promise Day 2019, people promise to their partners to be in their lives forever and love them dedicatedly and with loyalty as long as they will live. Before we step towards Valentine's Day 2019, Promise Day is also a significant celebration, where lovebirds also gift some cute items wrapped in cover showing care and love. Unrealistic Promises That You Should Not be Making or Believing This Year.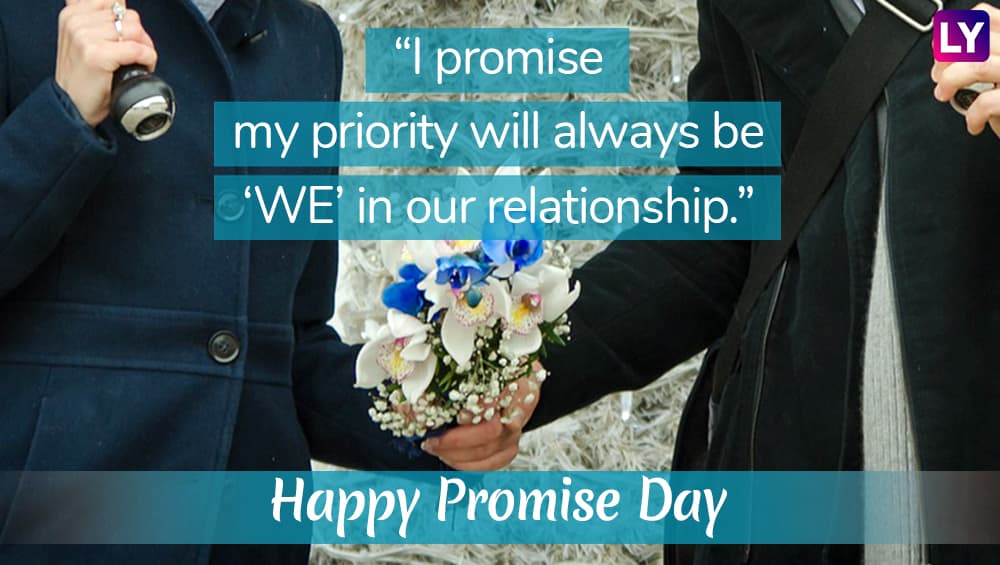 WhatsApp Message Reads: "I promise my priority will always be 'WE' in our relationship." Happy Promise Day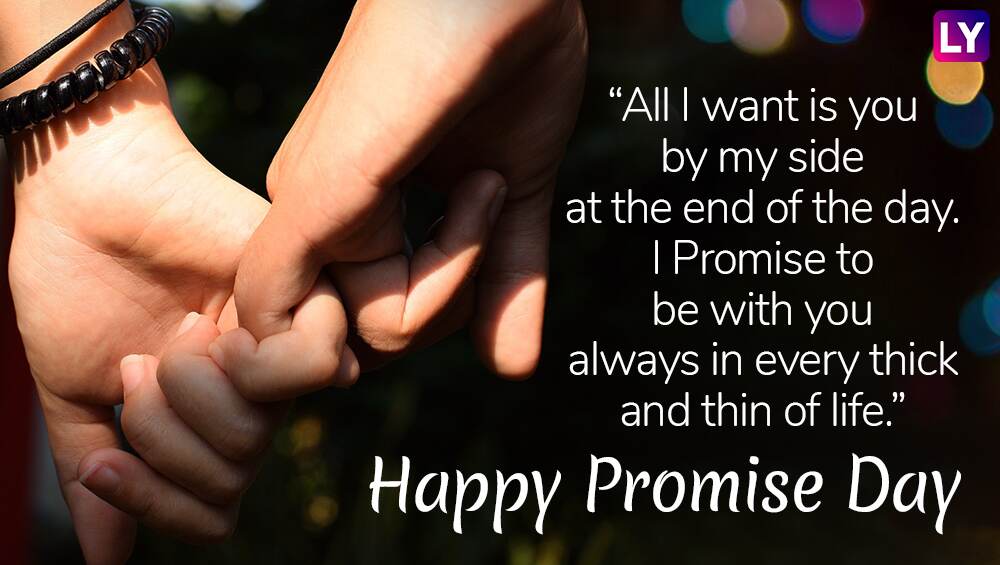 WhatsApp Message Reads: "All I want is you by my side at the end of the day. I Promise to be with you always in every thick and thin of life." Happy Promise Day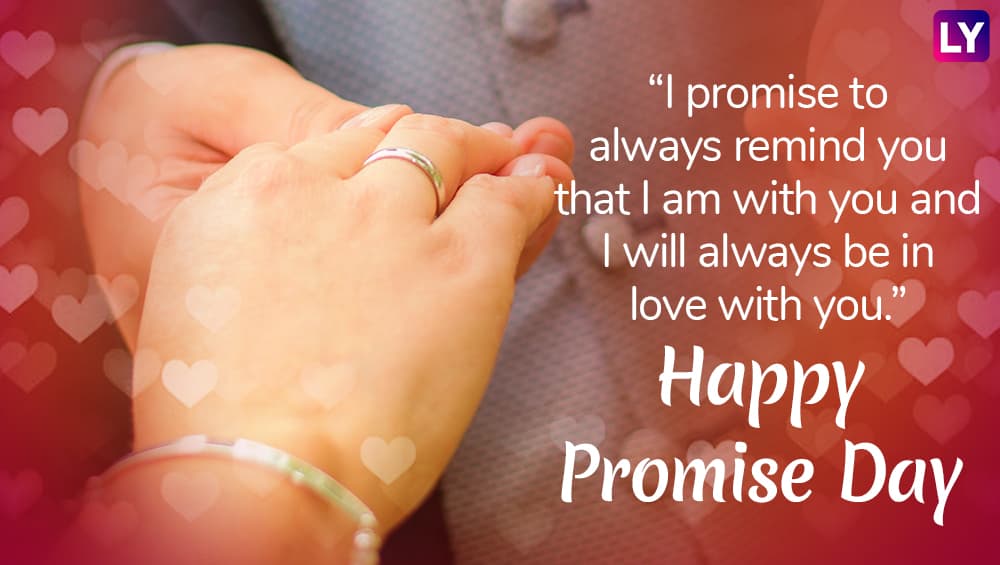 WhatsApp Message Reads: "I promise to always remind you that I am with you and I will always be in love with you." Happy Promise Day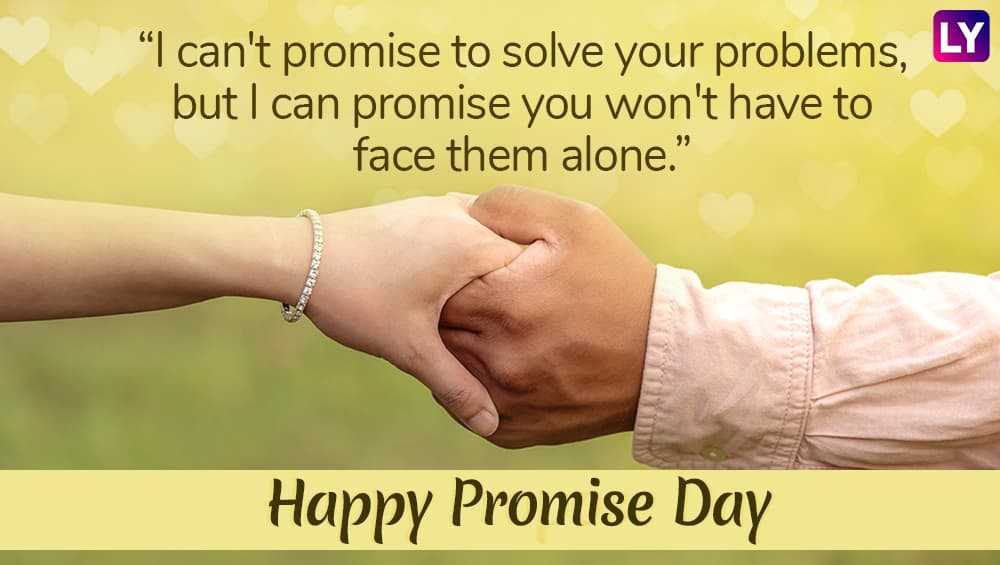 WhatsApp Message Reads: "I can't promise to solve your problems, but I can promise you won't have to face them alone." Happy Promise Day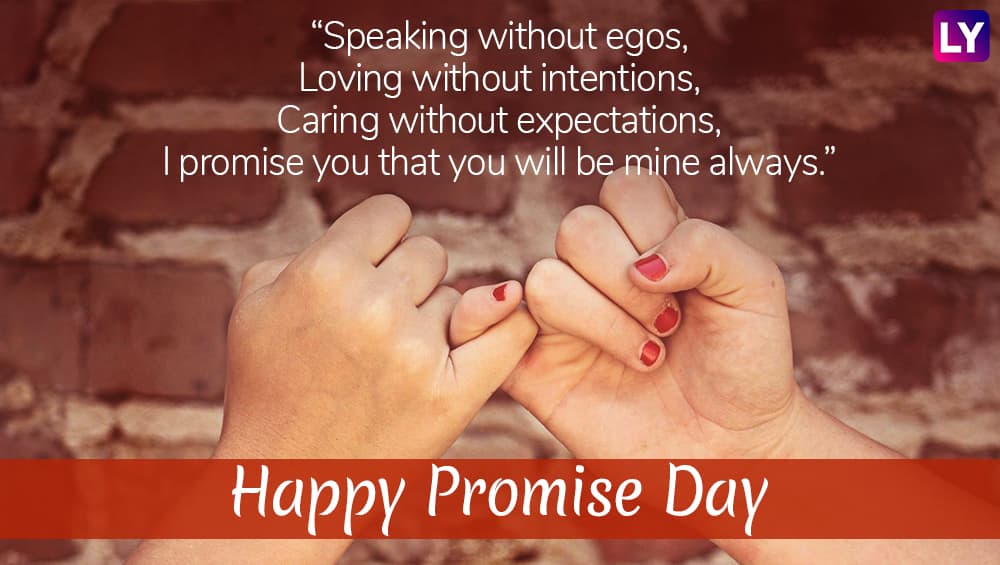 WhatsApp Message Reads: "Speaking without egos, Loving without intentions, Caring without expectations, I promise you that you will be mine always." Happy Promise Day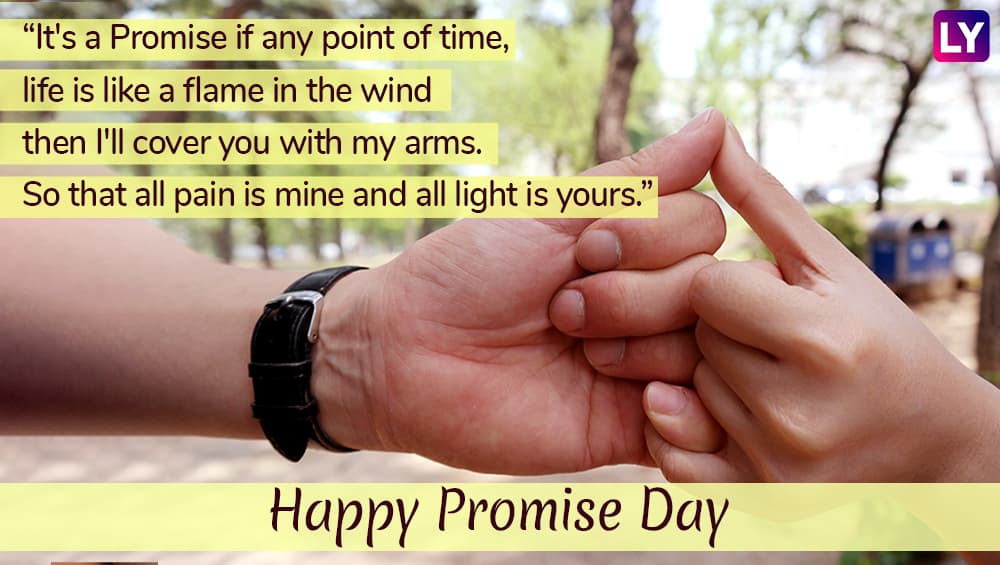 WhatsApp Message Reads: "It's a Promise if any point of time, life is like a flame in the wind then I'll cover you with my arms. So that all pain is mine and all light is yours." Happy Promise Day
Propose Day GIF Image:  "As and when you will need me, I will be there to help you under any circumstances, I promise, I will never leave you and you will never ever feel alone." Happy Promise Day
Propose Day GIF Image: "My love for you will keep on multiplying with each passing day. I will not promise you for a moon, but I promise that you will be the moon of my life and will keep the wheels of my life moving in the shadow of that light." Happy Promise Day
Watch Video of Promise Day 2019 Wishes
How to Download Promise Day 2019 WhatsApp Stickers?
The traditional way of exchanging Promise Day text messages has been taken over by WhatsApp stickers. After the messaging application launched various stickers last year, people just went crazy over it. WhatsApp did not disappoint the couples on Valentine Week as the messaging app has come up with some fresh and funky collection of Promise Day 2019 stickers. You can download them here. These Promise Day 2019 emojis are free and accessible through a different version of an Android device. So, what are you waiting for? Click the above link and make sweet promises to your significant other, this Valentine's Day.
All the days during Valentine Week 2019 holds different significance in the festivity. On Promise Day 2019, make those promises that you can fulfil, not those which are difficult and then by not standing on those vows can ruin the relationship. So, make easy and honest promises to your bae using the above 2019 Promise Day messages most romantically. Happy Promise Day!