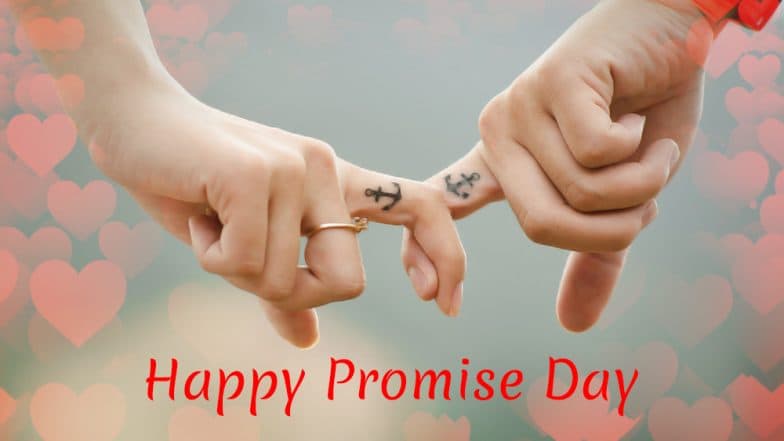 We only make promises to the people who really matter to us; therefore a day dedicated to making promises makes perfect sense in the Valentine week. Promising your better half, a life full of fun, excitement and truthfulness is one way to celebrate the fifth day of Valentine week. The Valentine week celebrates all the different aspects of love- promises, hugs, kisses, roses, chocolates, etc. The Valentine week calendar/list starts with Rose Day on the 7th of February celebrating the "love flower," then Propose Day on 8th of February, Chocolate Day on 9th, Teddy Day on 10th, Promise Day on 11th, Hug Day on 12th, Kiss Day on 13th and finally Valentine's Day on 14th. Today is Promise Day. The day that celebrates promises. Lovebirds make promises to each other, usually about protecting and loving each other forever. While promises don't need a certain day to be made to each other, but Promise Day falls under Valentine's week and signifies promise to be made before the two souls become one. Promise Day Jokes and Wishes Take Over Twitter: Netizens Have Gala Time Posting Happy Promise Day Messages.
However, if you think just the promises are not enough and you are planning to gift your significant other something more, here are a few ideas for you.
Promise Day Gift ideas for Your SOS
Health Insurance- Gift them the promise of protection. Health insurance is a very practical and real gift that you can give your better half and speaks volumes of love and protection and materialises your promise of protecting them.
Something to boost their hobby- Promise them that you will pay attention to their hobbies and interests. Help them materialise their interest by gifting them something they were meaning to buy for themselves but haven't bought yet. For example, They like music? Buy them a musical instrument they always wanted to buy.
A small trip- A little getaway where you and promise them that you will surely make trips in future together solely for your mental health. Isn't that a great gift on promise day?
A great book- In this tech-savvy world people have forgotten the charm of books. Promise each other that you will remind each other to read more.
A video that will help you choose the perfect gift.
No matter what you gift each other, remember that you give it is with all heart and soul, remember that it should be meaningful, something they'll cherish forever.