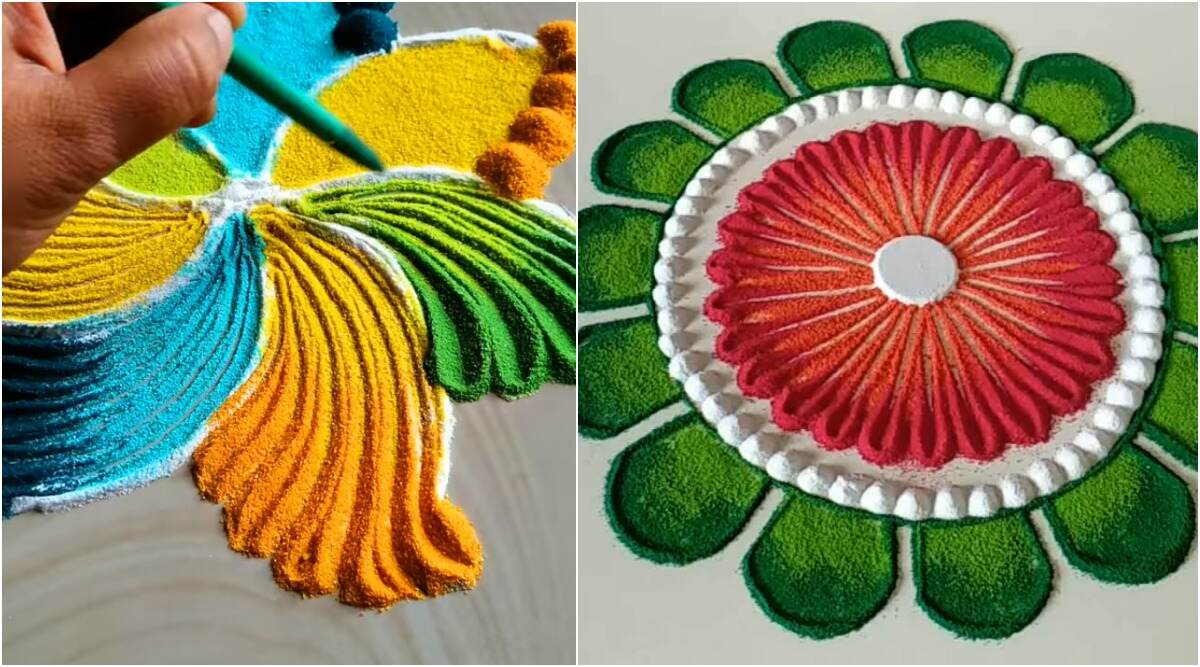 Rangoli is an important part of Diwali celebrations in India. Most households celebrating the festival, put a Rangoli outside their home signifying the traditional custom. Rangoli often takes a lot of time considering the minute detailing of it, however, you can also make it easily using simple steps. And if you are looking for last-minute easy and simple Rangoli designs to adorn your house entrance this Diwali season, then we have got you covered. On Diwali 2019, brighten your celebrations with these latest simple yet beautiful Rangoli designs at home. Easy Rangoli Designs for Diwali 2019: Simple Rangoli Patterns With Colours and New Pookalam Designs With Marigold Flowers for Deepavali (Watch DIY Videos)
Rangoli is an art form made from a mix of colourful patterns and designs is considered auspicious. It can be made in different designs using varying colours and decorative items. It adds a glow to the celebrations and is believed to ward off negative energy and welcome Goddess Lakshmi and Ganesha into homes. You can also make Rangoli designs of animals, birds, scenery, lamps or any object of your choice. Check out some of the simple, easy and beautiful Rangoli designs below. Latest Dot Rangoli Designs For Diwali 2019: New and Easy Rangoli Patterns With Dots and Colours to Decorate Your House This Deepavali (Watch Videos)
Simple And Easy Beautiful Rangoli Design:
This beautiful Rangoli design can be easily made by anyone. Even if you are making Rangoli for the first time, this design will not go wrong. You can make a bigger one and add different colours depending on your choice. The design looks simply stunning after you add the finishing touches to it.
Stunning Rangoli Design in Easy And Simple Steps:
If you are running out of time and want to make a beautiful Rangoli, then this pattern will fix your problem. Using things like earbuds, dispenser, cardboards, you can nail this stunning Rangoli easily. This quick rangoli design is sure to earn you praises this Diwali season.
Simple Rangoli Design Using Spoon:
If you can manage a little extra time, this Rangoli design will look is sure to earn you a lot of compliments. While it looks beautiful with a mix of different colours and patterns, you will be surprised to know that it can be made quite easily. Using spoon you can make this Rangoli pattern this Diwali season.
Easy And Quick Swastik Rangoli Design:
If you are looking for a different and simple Rangoli design, then this pattern will serve your purpose. The above video will help you make a stylish Swastik this festive time.
Easy Rangoli Design For Beginners:
If you want to make a beautiful Rangoli design but was worried about the final results, then you should check out the above video. This quick and easy rangoli design for beginners will ensure your coloured pattern doesn't go wrong.
These simple and easy Rangoli patterns can be made quickly and will not take a lot of time. If you are busy with Diwali arrangements and are worried about managing time for a good Rangoli design then these designs will help you. We wish everyone celebrating a Happy Diwali!