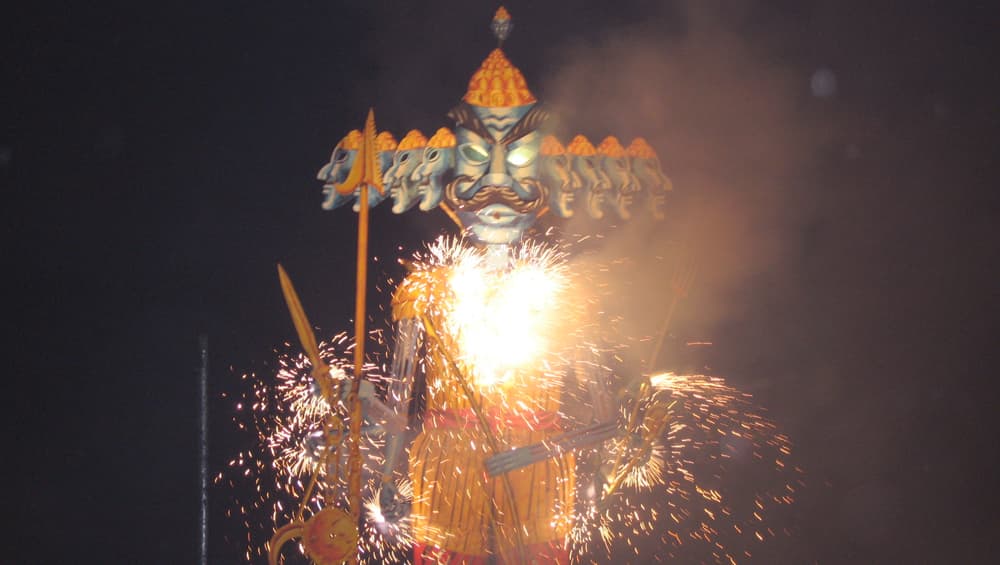 Mysuru, October 8: One of the most iconic Ravan Dahan, or the burning of Ravana effigy, is organised in Karnataka's traditional town of Mysuru. Devotees from across the nation are glued to the Ravan Dahan ceremony in Mysuru on the occasion of Vijayadashami -- the day culminating the end of Dussehra festivities. The live streaming of the Ravana effigy burning could be viewed via the embedded link further below. Ravan Dahan at DDA Ground, Dwarka Live Streaming: Watch PM Narendra Modi Burning Ravana Effigy on Dussehra 2019.
The burning of Ravana effigy is an act to remember Lord Ram's battle against Ravana, the asura king who had taken his wife Sita as a captive. The battle, as narrated in the epic of Ramayana, saw Ram marching with his devotees and followers to the present-day Sri Lanka, and defeating Ravana.
Dasara 2019: Watch Live Streaming of Ravan Dahan From Mysuru on TV9 Kannada
Along with Ravana, the effigies of Kumbhkaran and Meghnath are also burnt on the occasion of Vijayadashami. The effigy-burning is symbolic of the victory of good over evil.
As per the Ramayana, Ram had returned to Ayodhya after slaying Ravana and ending his rule in Lanka. His return to Ayodhya marked the end of his 14-year exile. His return to his birthplace is commemorated in the form of Diwali, which would be celebrated later this month.