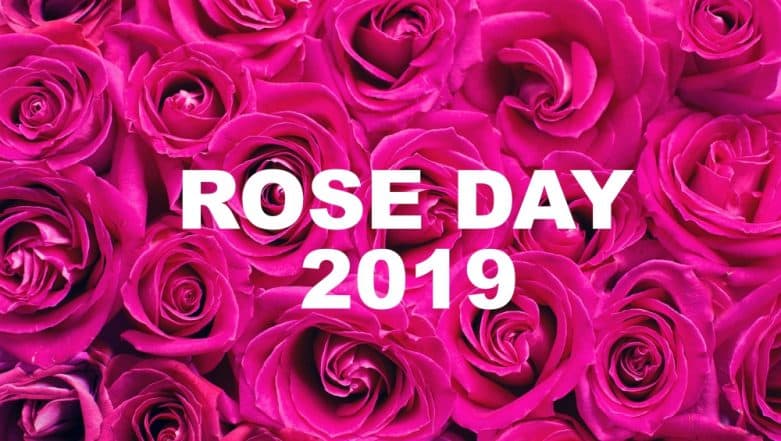 Come February, and the one festivity that is on our mind all the time is – Valentine's Day on February 14. Despite it being originated on foreign land, Indians celebrate with immense passion and enthusiasm. But before Valentine's Day, there is a long list of days in what we call Valentine Week. And it starts with Rose Day. Roses symbolise love and romance and what better way to kick start Valentine's Day celebrations with these beautiful flowers. So, when is Rose Day in Valentine Week 2019? Let us know everything about Rose Day 2019 date, the significance of Rose Day in the run-up to the Valentine's Day 2019. Valentine Week 2019 Calendar PDF Download Online: List With Dates of Valentine's Day, Rose Day, Chocolate Day, Hug Day, Kiss Day to Celebrate the Festival of Love!
Valentine's Day is seen as a celebration by the young lovers. But it dates to the 14th century. In fact, even before that in the 3rd century A.D., Emperor Claudius II executed two men — both named Valentine on February 14. Saint Valentine of Rome was guilty of marrying forbidden couples, mostly soldiers. His martyrdom was widely recognised and honoured and thus began the celebration of romantic love. And roses depict the classic and passionate love. February 2019 Festivals, Events and Holiday Calendar: Valentine's Day to Vasant Panchami, Know All Important Dates and List of Hindu Fasts for the Month.
A bouquet of red roses is all you need to declare your love for your significant one. These sweet-smelling richly pigmented flowers will convey your feelings that you have hidden in your heart for the longest time. Despite the rising popularity of other flowers such as daffodils, carnations, lilies and orchids, there is none like roses. It is no surprise that the first day of a Valentine Week is Rose Day.
Rose Day is celebrated on February 7 annually. It marks the beginning of the festival of love week. It is that time of the year when love is in the air, and people are busy buying these flowers in different colours to convey different feelings they hold for people. You can as many flowers as you want but make sure to hand red roses to just your significant partner (though, we are absolutely cool with how many significant others you have in your life, No Judgements).
In colleges, Rose Day is celebrated with a lot of fervour. You will see lovebirds all around you carrying a bunch of roses or a single rose, depending on how he or she wishes to celebrate the day. The purpose of gifting roses on Rose Day is to convey the person about your tender love and true feelings for them. And most importantly, what they should be looking forward to in the coming days of Valentine Week before Valentine's Day finally arrives. We wish everyone a very Happy Rose Day 2019.