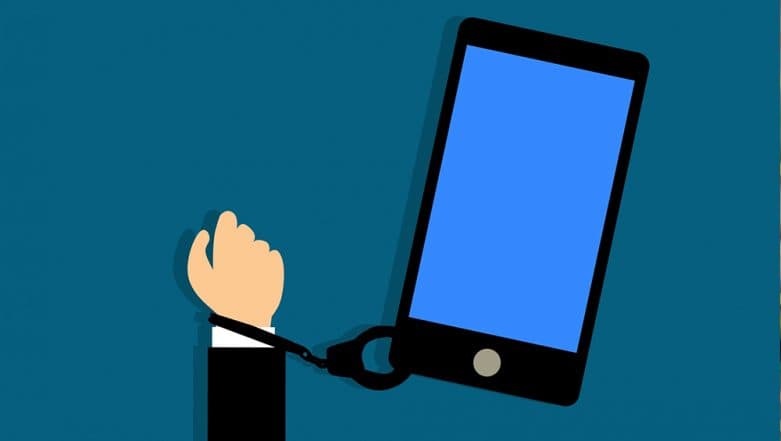 Have you ever wondered how long do you stay on your phone? Well, whether it is hours of Netflix binge or just scrolling down Instagram, you do spend hours on the internet that could otherwise be put to good use. As per 2018 survey, a person checks the phone 56 times on an average and has a screen time of around 220 minutes a day. These are survey results that are calculated on an average, but individually, you very well know how long do you stay on your phone. Lingering on your phone has been known to not only strain your eyes but also worsen your mental health. In fact, our parents may be onto something when they warned us about our phone addiction. Too much screentime may also mess with our abilities to focus and even lose weight. While governments are trying to make an effort to curb smartphone addiction, (Italy that drafted 'no-mobile-phone phobia' law to curb smartphone addiction), it is still not enough.
A study even found out shocking revelations by college students who prefer being deprived of food rather than parting away from their phones. However, while it may sound stupid to look for solutions right where the problem originates in the first place, but your phone might actually have the answers to your phone-addiction problem. Now that there are apps for almost everything, you will be glad to know that there are also apps that can help you achieve find the right phone-life balance. It will not just provide you with a digital detox but also help you get into a practice of keeping your phone away for good.
1. Flipd (iOS and Android)
With creative ways to help you manage your time, Flipd app is said to teach you how to refocus your mind. As per their description, they use research-backed design and pleasant user experience to keep you focused. It helps you keep a track your time well spent and also provides you Wellness Hub that helps you stay motivated and perform your best.  The Side Effects of Smartphone Addiction: How Too Much Texting Can Cause Text Neck Syndrome.
2. Digital Wellbeing (Android)
Another highly recommended app that can help you strike the perfect balance between your personal life and screen time. The app says that it will help you "reflect on your relationship with tech" and also help improve your digital well being. The app provides you with handy tips and tools to make it easier for you to achieve your digital well-being goals. It says to help you with tools to help you understand and manage your tech use.
3. Screen Time (iOS and Android)
This is an app especially designed for the kids to help manage their time. The app is said to give you parental control and is available for both Android and iOS. The app doesn't just manage your kids time spend on their tablets and smartphone but also reminds them of their homework and other tasks.
4. Forest (iOS and Android)
This unique app links your digital detox goals to planting a tree and taking care of you. Which means that it encourages you to plant a tree and engage your time into gardening, so you are able to have some time away from your phone. Apart from keeping you away from the phone, the app also makes you more environment-friendly.
4. Space App (iOS and Android)
The Space App is a personalised behaviour change programme designed to help you think about how you use your phone and how it affects your life.  We want to help you to see the opportunities to put down your phone and to look up at the world around you.
Well, none of this will make any difference if you are yourself not willing to get out of the zone of denial firstly. You'll have to start with accepting that you are doing the wrong thing by spending too much time on the phone. Most people don't even realise how the digital world has taken over them; you might want to start with the basics first.