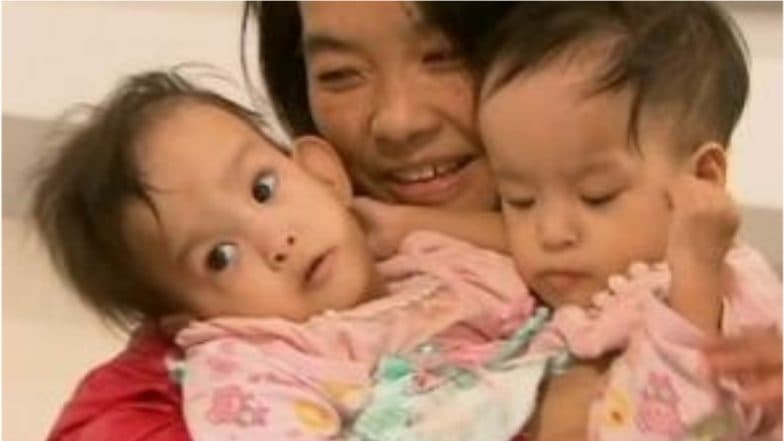 Two 15-month-old girls, Nima and Dawa Pelden are conjoined twins and will be going under a complex surgery on Friday in Melbourne, Australia. The Bhutanese girls are joined at the torso and share a liver and possibly a bowel, doctors say, as reported by BBC. The girls were brought to Melbourne in October to have the surgery, but it was postponed so they could improve their nutrition. The doctors are now confident that they were ready for the operation and the girls were strong enough for the six-hour procedure. The operation will take place at Melbourne's Royal Children's hospital. Two-Month-Old Baby Born with Two Faces in Indonesia! Conjoined Twin Failed to Develop a Body (View Pic).
The operation is being led by Dr Joe Crameri, head of paediatric surgery and he will be assisted by 18 medical staff. Each girl will be designated a separate team to care for her plus nursing and anaesthetic support teams. The surgery was expected to start at 8 am and will be completed by 4 pm this afternoon. Dr Crameri said, "The reality is until the operation starts and ultimately, we get to see what is connecting the girls, we won't really know how long." He also said that the challenges of the surgery would depend on where the girls were connected. He was confident the team they had built could manage the shared liver safely, as reported by The Guardian. The 'unknown' was whether the girls also shared a bowel. If so, it would be divided, he said, and "our challenge will be to reconstruct their abdominal walls to close it over."
The girls and their mother, Bhumchu Zangmo, 38 were brought to Australia from Bhutan by Children First Foundation, an Australian-based charity. Although the mother was scared about the procedure, she had shown calmness so far, BBC quoted Elizabeth Lodge from the charity. The state of Victoria has offered to cover the cost of operation i.e. 350,000 Australian dollars. The family will return to Bhutan after the procedure. In 2009, the same hospital performed a successful operation to separate Bangladeshi conjoined twins.