Pomegranate is one of the tastiest fruit that is also packed with tonnes of nutrients. This fruit also has a unique structure and isn't always very easy to eat. Made up of hundreds of yummy seeds called arils, this fruit is also juicy and crunchy at the same time. Pomegranates aren't just a great source of fibre but also amazing vitamins and minerals. However, we cannot deny that it is one of the sweetest fruits and contain a considerable amount of sugar as well. Rich in healthy bioactive plant compounds, pomegranate is worth intaking the sugar because of the other healthy nutrients that the fruit contains. Want to Lose Weight Faster? Korean Magical Pomegranate-Vinegar Drink is Helping Woman Shed Belly Fat.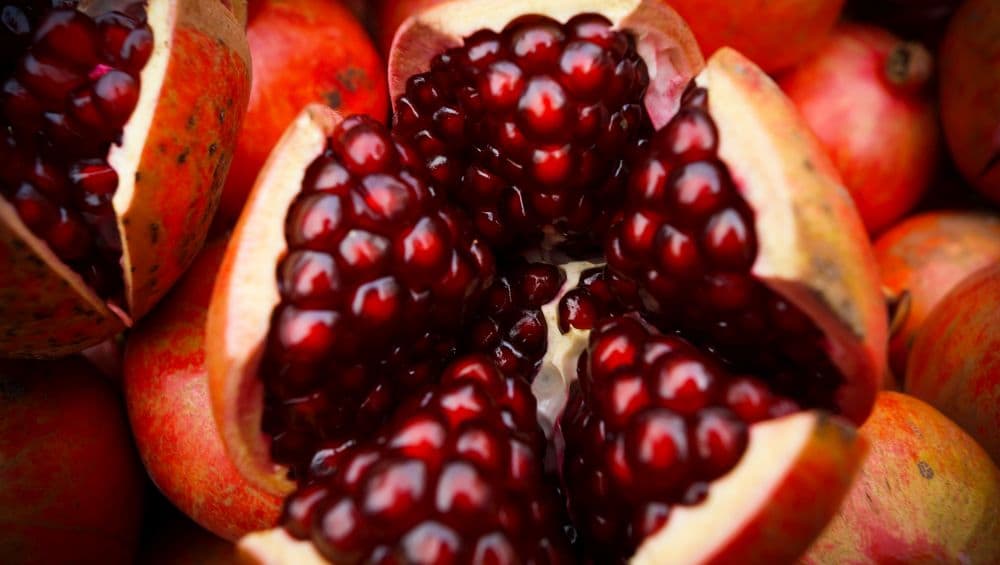 Nutritional content found in one medium size pomegranate
3 grams protein

11 grams of fibre

53 grams of carbohydrate

3 grams of fat

Five grams of protein.

30% of RDI Vitamin C

36% of RDI Vitamin K

Twenty-four grams of sugar and 144 calories.

Cholesterol 0mg 0%

Sodium 5mg 0%

Potassium 363mg 8%
Here are the health benefits of consuming pomegranate
Helps Regulate Blood pressure

Pomegranate can help control the systolic blood pressure in your body if consumed on a regular basis.

Help improve the immune system

Rich in vitamin C and other immune-boosting nutrients, pomegranate can help you fight infections easily. They are also antibacterial and antiviral which means they can help keep common infections and viruses at bay.

Packed with Vitamin

Pomegranate is rich in not only vitamin C but also vitamin E and K. Not only that, but pomegranate is also a great source of folate and potassium.

Help improve your memory

A recent study suggests that consuming pomegranate daily, can help improve your memory and learning power.

Rich in powerful antioxidants

Pomegranate is an excellent source of amazing antioxidants like Punicalagins are known to be one of the mightiest antioxidants. They are found in both the seeds and the peel. Studies believe that Pomegranate has three times more antioxidant activity than red wine and green tea.

Anti-inflammatory

The Punicalagins and other antioxidants found in pomegranate are known to reduce inflammation. They can help reduce inflammation linked to diseases like diabetes and cancers.

Prostate cancer

Studies suggest that pomegranate can help prevent prostate cancer. Regular consumption of fresh pomegranate juice can help slow down the cancer cell reproductions.

Improves sexual performance and fertility

The antioxidants found in Pomegranate are known to impact oxidative stress and are also known to improve fertility. Oxidative stress has been known to be a contributing factor in sperm dysfunction and decreased fertility.

Heart-healthy

Pomegranate is one of the most heart-healthy fruits. Studies suggest that pomegranate can help improve your cholesterol profile and protect LDL cholesterol from oxidative damage, protecting your heart.

Improve Athletic performance and stamina

Looking for a great exercise drink? Pomegranate is what you want. A rich source of nitrates, pomegranate is known to improve exercise performance by increasing blood flow in the body.
Pomegranates contain unique substances like Punicalagins and punicic acid, that make the fruit an amazingly healthy food for you. Their health benefits can be best reaped by consuming it daily. You can consume it in the form of fresh juice or the whole fruit.
(The above story first appeared on LatestLY on Dec 07, 2018 05:52 PM IST. For more news and updates on politics, world, sports, entertainment and lifestyle, log on to our website latestly.com).