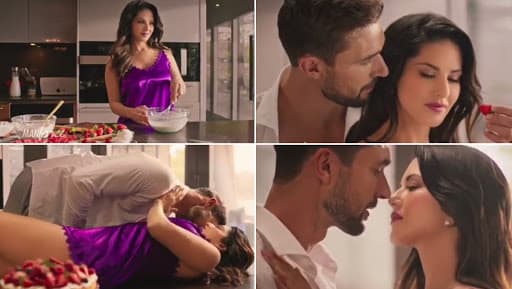 You might be a master at foreplay, but if you are rushing to put on the condom and get to the final act, you could be missing out on a lot of kinky fun. Playing with the condom and prepping for the action can be as exciting as the main event. What if we tell you that you can actually amp up your sexual game by playing with the condom? Do not believe us? Try these sexy ways to put on a condom, and you will blow his mind like never before.
1. Go Hands-Free
Going hands-free can be mind-blowingly hot for your man. With the help of your fingers, just dab a bit of lube onto your lips and then gently place the cap-like part of the condom into your mouth. The outside of the tip should rest on your mouth and you should purse your lips to hold the condom steady. Now wrap your mouth onto his penis guiding the condom into his head and then pucker your lips to slide the condom down in position.
2. Let Your Man Guide You
Let your guy guide you to slide on the condom instead of allowing him to put it solo. Let him unwrap the condom and place it in your hand and lead you to his member. When you have the condom on his head, allow him to place his hand over yours and slide the condom down his shaft together. This makes for a super-hot act, isn't?
3. Add Some Flavour
Instead of rushing with the condom, reach your drawer with your hands and find your favourite flavour. Squirt a few drops into your mouth and then run long, sweeping strokes covering every inch of his penis. Then grab the condom and let him watch the condom glide down his shaft. How to Wear a Condom – Why It's Important to Pinch Your Condom Before Wearing It (Watch Video).
4. Roll It Slow
Sit on his lap and hold the condom up so he can watch you undo the wrapper. While he gazes at you, place the condom on the tip of his penis and taking short breaks, slowly inch it down. You can massage his balls or his backside until the condom is fully on. By the time you are done, he would already be going wild. How To Use A Female Condom: Step by Step Video To Wear The Women's Contraceptive
5. Make Him Impatient
When you have been into a lot of foreplay and you both can't resist anymore, toss the condom his way and ask him to suit up. When he is fiddling and struggling to open the wrapper, come close and stroke yourself making him even more impatient. With your hot moves, he will not be able to open the packet fast enough. That is like a signal that you are ready to get into the play as soon as the condom is on, without any ado.
6. Bring In Your Breasts
This move can be one of the hottest ways to slide on a condom. As you lay on your back, have your man kneeling over you with his legs on both sides of your waist. Now lightly push your breasts together with your arms and place the condom in between your cleavage. Ask him to lean forward and help him to roll the condom into his shaft.  You can also use your breasts to slide the condom onto his penis.  Condom Mistakes: Ways You Are Using the Contraceptive Incorrectly. 
To double up the fun, don't let sex come that easy. Tease your partner by placing the wrapper on hotspots like his chest and his v-cuts. Then unwrap the condom and play with his head before finally putting it down.
(This article is only for informative purpose and shouldn't be substituted for professional advice.)