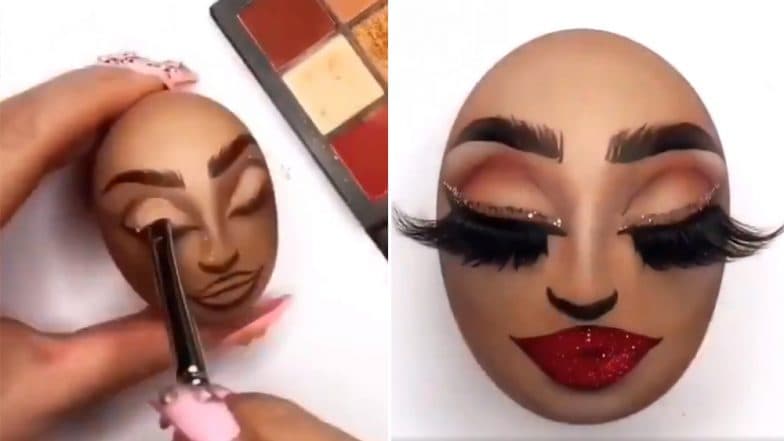 We recently saw a makeup tutorial shown on a potato which was made to look like a real pretty face of a woman using only the makeup products. And now since the time has evolved by only a few weeks, we are witnessing a full-face makeup done on an egg. It is not even shocking, an egg just broke the internet, and now it has made it to the makeup world as well, winning the internet yet again. The egg that recently took Instagram by storm by becoming the most liked picture on the social media. With a whopping 50,004,043 likes on Instagram, the stock image of an egg broke the record of the highest liked photo on Instagram. The record earlier belonged to Kylie Jenner who's the first picture of her baby Stormi has received 18 million likes. However, now it is time to welcome the egg in the beauty world (I just hope this egg doesn't run the presidential election next year.) Makeup Tutorials: Bizarre TikTok Video of a POTATO Getting a Makeover Goes Viral on the Internet.
In the video, the artist that goes by the username @_maripela can be seen using all kinds of makeup products on the egg right from the foundation, eyeliner, lipstick to eyebrow pencil, etc. Take a look at the video of a full face makeup done on an Egg.
یعنی میخوام بگم با این همه ارایش، حتی تخم مرغ هم خوشگل میشه pic.twitter.com/bdM8De1cii

— •نازنینا• (@_maripela) January 19, 2019
However, while we believe it is an art to do a full-face makeup on an egg, the Twitterverse seems cannot stop roasting the video online. Take a look at some of the hilarious reactions the viral makeup video of the egg has received on Twitter.
ROFLing hard!
Me pretending like i don't have a huge ass problem set and deciding to watch twitter videos of someone doing makeup on a egg. pic.twitter.com/Lx95YQ5ldM

— Aiko (@elias_aiko) January 22, 2019
Remember they did surgery on a grape? BTW, 'They Did Surgery on a Grape' and Now There Are Funny Memes on It Ruling the Internet!
broke: they done surgery on a grape

woke: they done makeup on an egg pic.twitter.com/M8hlooPndr

— seán (@thirdeyebarnes) January 22, 2019
Time to leave earth!
this bitch really just put a full face of makeup on an egg... i've seen it all https://t.co/lEjeJDSZGz

— liv (@olivia_coury) January 22, 2019
Same feels...
When you realize an egg in makeup fake lashes is prettier than you are...@weareoneEXO #EXO pic.twitter.com/rLmXxDJ6mU

— Forever💎EXO'ed [semi-hiatus] (@exo_jollo) January 22, 2019
And still looks prettier than me...
Eggsols getting ready to go to an EXO concert pic.twitter.com/n13zJoULcX

— ً (@skinnyIisa) January 22, 2019
Will steal the egg's makeup bag
Same tho. I'm gonna need her makeup list bc mine never looks that good

— 💐💀🖤Cera🖤💀💐 (@thequeenEXOtic) January 22, 2019
Waste of money
I bet not see you put on no damn makeup on a fucking egg if I payed for it https://t.co/K6eWIa2aga

— YAHHH YAHHHH TRICK !!😬😇 (@Makkswell3__) January 22, 2019
Damn, double standards!
So you're telling me it's okay for everyone on the internet to put makeup on an egg but it's wrong when I put makeup on... that makes sense 😂

— Isaac Raygoza (@isaacraygozaa) January 22, 2019
Time has come to die
I just saw someone put makeup on an EGG... this has gone too far I'm DONE pic.twitter.com/6rXHLgTepb

— abigayle (@thepaleabigayle) January 19, 2019
The Twitter user does the full-face makeup. She used liquid foundation, and with a makeup sponge, she blends the whole foundation to smoothen the skin of the egg. And then she adds some definition to the egg's surface by drawing eyebrows and creating an eye-like structure using an eyeshadow.