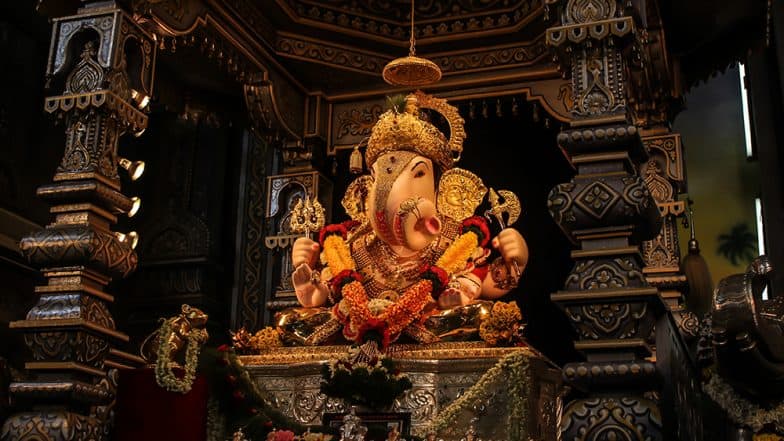 Ganesh Chaturthi or Vinayaka Chaturthi is a 10-day long festival that marks the birth of Lord Ganesha. It is celebrated with large scale celebrations in most parts of Maharashtra. Mumbai and Pune witnesses huge festivities on these ten days where huge pandals are erected. Just like Mumbai receives lakhs of devotees every year, Pune also sees an inflow of tourist of which Dagdusheth Halwai Ganpati is well known. The temple attracts a lot of devotees throughout the 10 days. Dagdusheth Halwai Ganpati has been there for more than 125 years and continues to be one of the most popular Ganpati pandals of Pune. Here's How to Reach Khetwadi Cha Raja on Ganesh Chaturthi. 
The auspicious festival is observed in the month of Bhadra (August-September) as per the Hindu Calendar. The festival begins on Shukla Chaturthi which is the fourth day of the waxing moon period and ends on the 14th day of the waxing moon period known as Anant Chaturdashi. Ganesh Chaturthi 2019 falls on  September 2. Here's How to Reach Ganesh Galli Mumbai Cha Raja. 
Dagdusheth Halwai Ganpati Address: Ganpati Bhavan, 250, Chhatrapati Shivaji Maharaj Rd, Budhwar Peth, Pune, Maharashtra 411002.
How to Reach Dagdusheth Halwai Ganpati?
Dagdusheth is centrally located in Budhvar Peth which is 5km from the railway station and 12km from the airport. It has a congested neighbourhood and often sees traffic jams. During the festivities, the are becomes terribly crowded as people throng the place to catch a glimpse of the Ganpati idol.
The Dagdusheth Halwai Ganapati temple is open from 6 am to 10:30 pm daily, however during Ganeshotav the temple is open from 24X7. The best time to visit the Ganapati temple is early in the morning but the weekends get crowded.
With the place becoming overcrowded during the festivities it is advisable to take extra care of one's belongings. Different kinds of sweets are offered to Ganpati during the 10 days of the festival. Prasad is offered to devotees after seeking Darshan. As the festival approaches, we wish everyone Happy Ganesh Chaturthi!