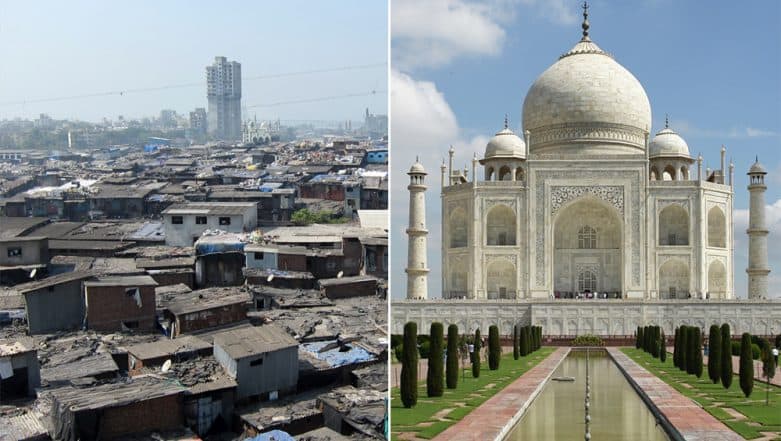 As much as there are talks of not showing off the poverty struck region of Dharavi slums as a touristy experience, it does have its takers in large numbers. There are several organised tours which take one through the Dharavi Slums and this very tour has topped the list of destinations for "Travellers' Choice Experiences 2019- India". So it points out that experiencing a local culture of the place is one of the most exciting experiences for tourists. This experience beats bike ride to Old Delhi and even a train journey to Taj Mahal. Taj Mahal Becomes First Indian Monument to Get a Breastfeeding Room.
The "Top 10 Travellers' Choice Experiences 2019 – World and Asia" has been divided into two categories- World and Asia. The other options in the list were Full day Taj Mahal and Agra tour from Delhi by express train, shopping tour in Delhi, Half-day Bollywood tour in Mumbai, Old and New Delhi full-day combo tour, highlights of Mumbai: private sightseeing tour of Mumbai along with the small group tour to Dharavi Slum in Mumbai. Among all these, it is the Dharavi tour which takes the top slot.
Dharavi slum small-group tour ranked at number 10 in the list of Asia category. The numero uno spot was Best of Ubud Tour with Jungle Swing. Other experiences in Asia category that made it in top 10 were Hanoi street food tour, small-group biking tour in Tokyo, Krabi sunset cruises etc.
These awards were announced by TripAdvisor. This list helps curate and recognize the most liked and bookable experiences in India and the world, decided by the travellers themselves. Dharavi the largest slum in Asia seems to gain more popularity with these tours. More than poverty tourism, it is on the lines of community tourism which showcases the lives and livelihood of the people here.