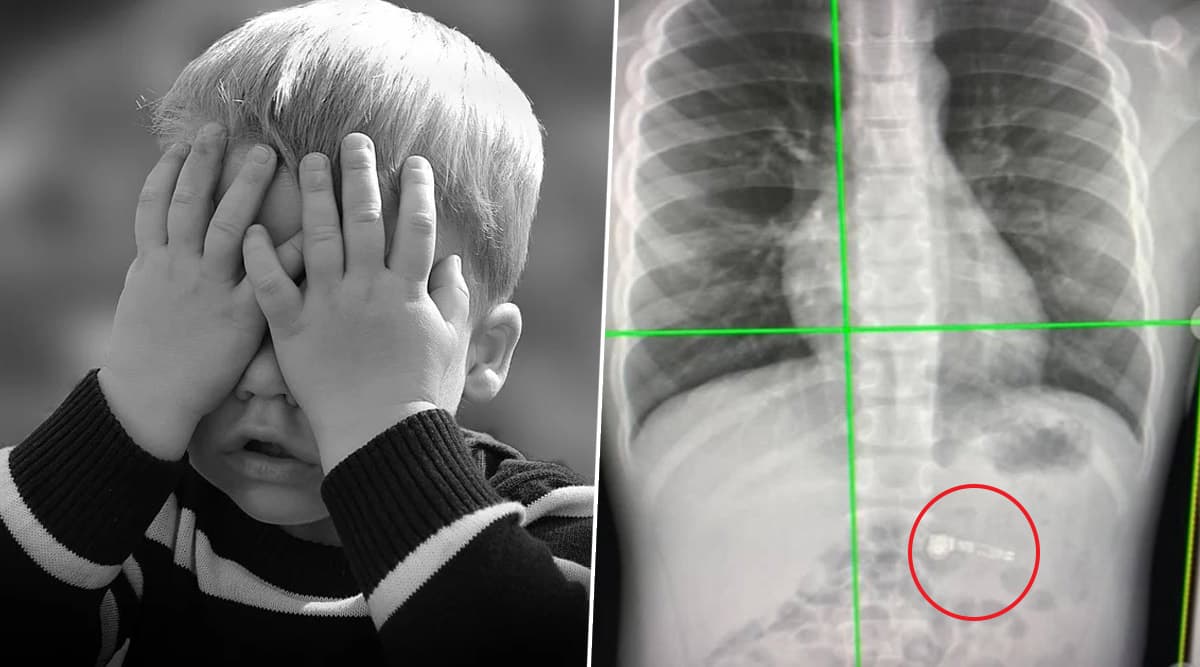 The festive spirit has just gone by and a lot of kids would be happily playing with their Christmas gifts. But someone decided to give their young child a pair of AirPod and it proved to quiet a bad idea when the child swallowed it! The mother of the child rushed him to the hospital but doctors also did not suggest any operation and advised to let it pass naturally through his system! A picture of the XRay which showed the AirPod stuck in his body was shared online and it also serves as a warning to other parents out there. AirPod Straps to Prevent Them From Falling Are Selling Online and Netizens Are Baffled! Check Funny Reactions.
The incident took place in Georgia, when a woman named Kiara Stroud had to rush her son to the hospital as he had swallowed one of the AirPod. He had received them as a Christmas gift during the festive season. Kids are just so curious at that young age but the mother probably did not realise the danger. The child accidentally swallowed one of the wireless earphones. Kiara then rushed him to the hospital and the doctors took an X-ray.
Here's a Picture of AirPod Stuck in Little Boy's Stomach:
A 7 y/o boy got some AirPods for Christmas & a couple days later - he accidentally swallowed one! It's still in his stomach now bc doctors said it's best to let it come out on its own. You'll only see this family's exclusive story on Ch2 Action News. Tune in at 4 & 5pm pic.twitter.com/5n0FR6Kwoz

— Tyisha Fernandes (@TyishaWSB) December 31, 2019
The kid while he knew something was wrong was scared that in case, the phone connects to it, the songs would play! The mother told the reporter of WSB TV, "He was like, 'Mom. I don't want my phone,' because he got a phone for Christmas, as well, and he's like, 'I don't want to be near my phone. I don't want it to connect to my phone and start playing music." She added that he's a crazy kid. As of December 31, the AirPod was still in the child's body and the doctors asked not to worry and let it pass through the system. While Kiara  Stroud has now realised that its too young for the boy to be given these earphones, it also serves a warning to all other parents who would be using them around their kids.
Well, this is not the first time this thing has actually worked. A Taiwanese man swallowed his AirPod while he fell asleep while wearing them on. He tracked it through his device and found there were sounds coming from his stomach. He let it fall off through his excreta and that's not all, also found out that they still worked!