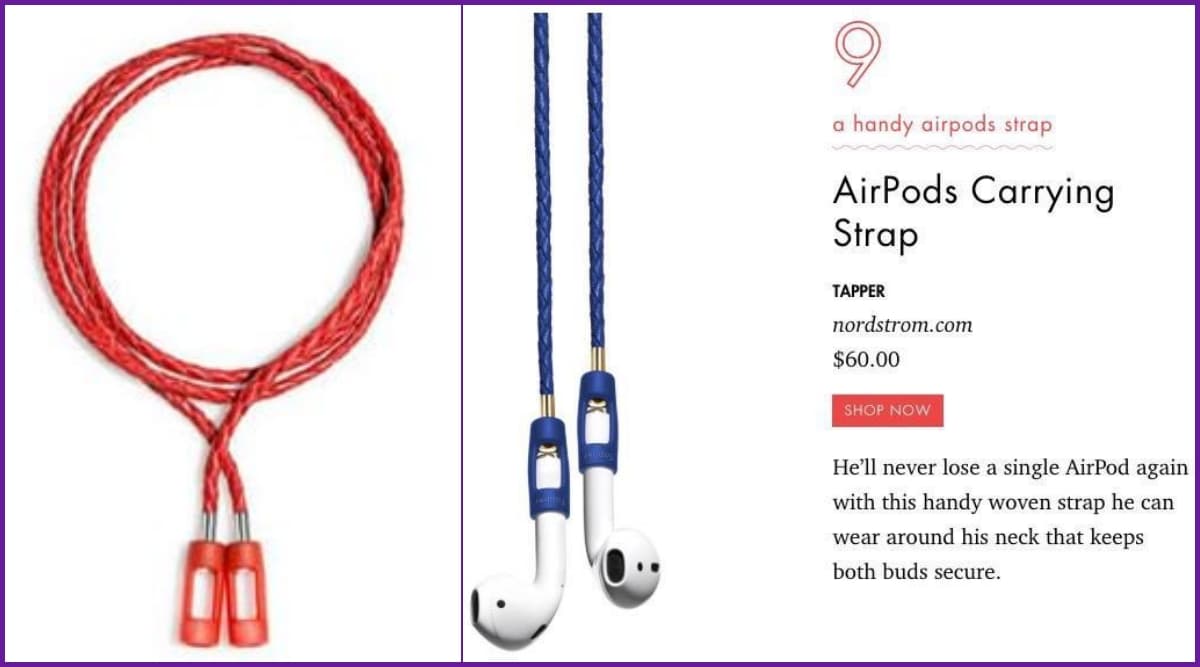 When Apple introduced AirPods the noise cancellation wireless earphones, loyalists of the brand went crazy. Apple product owners did not mind being spendthrifts to own these earphones. But one cannot ignore the constant fear of losing them if they happen to fall by mistake. And now to deal with them, a company ahs introduced AirPod straps! These straps are similar to those that are available for one's glasses. But they clear out the whole purpose of these wireless earphone and netizens are not impressed. Netizens are making fun of this new product which has been selling online. Apple AirPods Pro Funny Memes Are Here! New Product Gets Compared to Pokemon, Cartoons, Game Characters, Blow Dryers and What Not.
These AirPod straps are basically wired straps which hold these pods and they look just like regular earphone wires. So basically, now the wireless pods are no more wireless with this hanging strap around. While someone who lives in the perpetual fear of losing their AirPods might even want to buy these, it just messes up the whole purpose. Netizens are expressing the same on Twitter and calling it a stupid idea. Check some of the reactions on AirPod Straps being sold online. Taiwanese Man Swallows Apple Airpod! After Passing Through Digestive System It Still Works Fine, Calls it 'Magical'.
Life's Come a Full Circle
We've officially come full circle. 🤷‍♂️ pic.twitter.com/elvWbhR1Wi

— Yoni Mernick (@OriginalYoni) December 2, 2019
Capitalism At Work
Lol it is real. Apple removes chords to make AirPods only to charge you 60USD to get them back as the brand new "AirPod strap". 😂😂

"Capitalism at work" pic.twitter.com/bB46kAXeVf

— KA Lindsay (@KemziLinzi) December 4, 2019
Dumb and Dumber?
Me to The inventor of the AirPod strap pic.twitter.com/6qLOnPAssk

— CagyGibbon (@MonValleyAF) December 4, 2019
AirPods to Headphones Real Quick
They're selling an AirPod carrying strap which puts AirPods on strings...making headphones.

— Maura Chanz (@maurachanz) December 3, 2019
"The airpod carrying strap" 😂 oh you mean regular headphones ?

— Brandon (@WarriorLuckless) December 3, 2019
How it Works!
That AirPod carrying strap is the same as working remotely but paying to work in a coworking space

— Taylor Balding (@t__balds) December 3, 2019
Today's World
We live in a world where people will buy Airpod Carrying Strap for their Airpods. 👍

— RomanTheStreamer (@RomanTStreamer) December 3, 2019
The Funniest Invention Yet?
An airpod strap is just the funniest thing.

— ClaireShaped (@EllaThoClaire) December 2, 2019
What's even more shocking is the price of these straps. Nordstorm and Amazon websites are selling it at $60 and apparently people are buying them too. Well, those in the constant anxiety of losing these would sure grab them but then again why not just get a good pair of headphones then?