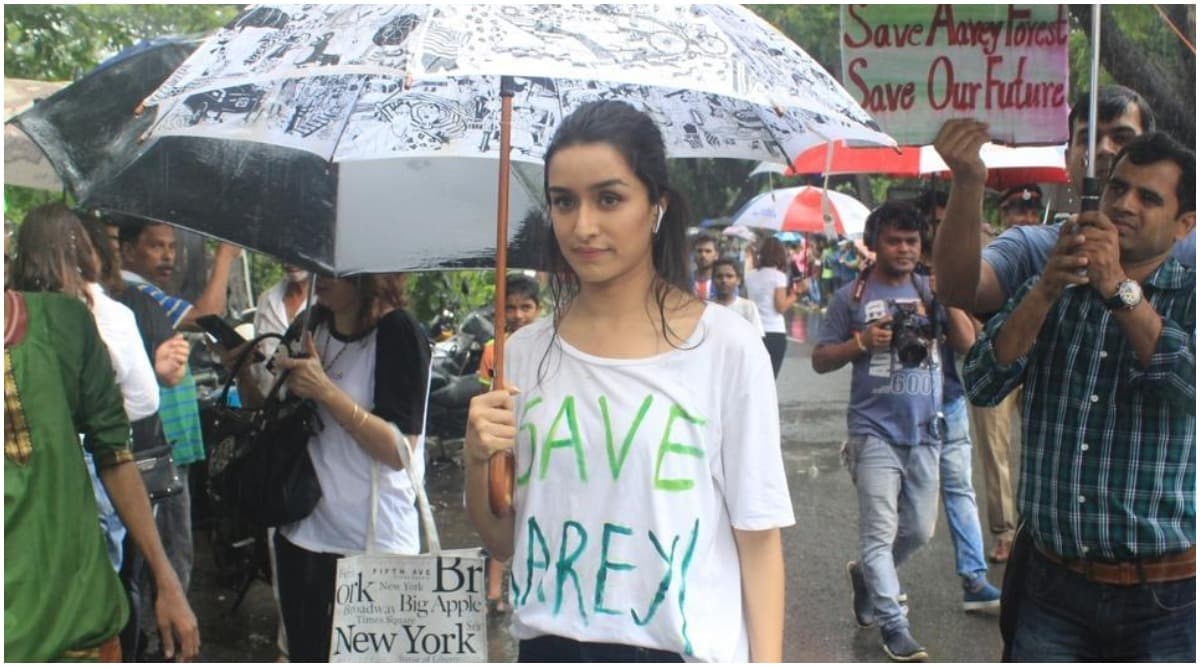 Seems like Bollywood celebs will stop showing their support to any good/bad movement in recent India. Reason? Well, the blame usually comes back to them and the intensity is even stronger some times. Recently when the entire Mumbai and celebs, in particular, expressed their anger and frustration over the High Court's decision to axe the Aarey forest, Twitterati have offered a new solution that umm... may or may not be feasible. Aarey Tree Cutting: Video Shows Authorities Starts Chopping Down Trees, Twitterati Cries Foul.
After Maharashtra government had proposed Aarey forest land as the train yard for the city's upcoming metro line, activists and supporters were quick to exhibit their anger and even demand a better solution. While some suggested constructing a yard in some different zone, others are trending #ShutdownFilmcity to save Mumbai's forest zone. Many are arguing over the fact that Mumbai's film city is 20 times bigger area than the proposed Car Shed at JVLR. So why not axe it to save everyone some trouble? The same hashtag is currently trending on Twitter and we wonder if Bollywood celebs will decide to react on this. Aarey Tree Cutting: 29 Arrested by Mumbai Police Amid Protest in Aarey Colony, Security Beefed Up; Here's All That Has Happened Since Bombay HC Order.
Check out some of the tweets here
The start of #ShutdownFilmcity campaign
Film City is deep inside Aarey and that too in 20 times big area than proposed Car Shed at JVLR. As more and more Bollywood is showing concern about environment, I will request them to join #ShutDownFilmCity Campaign.@karanjohar @FarOutAkhtar @deespeak Please RT pic.twitter.com/OzHCQia7IN

— Dhaval Patel (@dhaval241086) October 5, 2019
Thinking about the environment
The sets built at Film City are made of Plaster of Paris, Styrofoam, Wood & Plywood. Millions of liters of diesel is consumed by generators to provide power for your lights, air conditioners, digital equipment. All in the name of entertainment. To Save Aarey #ShutDownFilmCity https://t.co/ocT2PBLmcs

— Niranjan Gohokar (@NPGohokar) October 5, 2019
Bollywood celebs are being targeted
If Bollymorons indeed care about the environment , why not give up their SUVs and also #ShutDownFilmCity and instead shift it to some barren land like Rann of Kutch or Thar Desert !?? RT if you agree !

— राष्ट्रभक्त Bhushan (@bhs7rocks) October 5, 2019
Hypocrites in Bollywood they say
Bollywood is full of such hypocrite people, they don't care about anything but money. Pay them and most of them will do anything...#ShutDownFilmCity

— इंद्रजीत (@KSIndrajeet) October 5, 2019
Who knew about this?
The gaudy polyester dresses that your dance troupe wears two times at the most, is a petroleum product. How are these disposed? Have you thought of its carbon footprint? Yes. The only way to save Aatey is #ShutDownFilmCity.
— Niranjan Gohokar (@NPGohokar) October 5, 2019
Charity begins at home
No it's nt flawed argument, let's talk the way they want.

These hypocrites live their entire life in AC homes & drive petroleum based fuel cars, never seen them using public Transport expect 4 movie scenes n crying on Aarey.

Charity begins at home u knw....So #ShutdownFilmCity

— K Rai (@k_rai3101) October 5, 2019
Will Bollywood decide to speak?
Bollywoodiyas make a living off working near Aarey where they reach in their diesel guzzling high end AC cars and "pollute" the area.

Today they are against the Metro and want people to suffer.

So they should first walk the talk and #ShutDownFilmCity

DO u agreet them know? Le

— Ashu (@muglikar_) October 5, 2019
Is shutting down of filmcity even a solution?
#ShutDownFilmCity to save Mumbai from losing it's Lungs.@deespeak pic.twitter.com/hFHOvaWcUB

— Sunilkumar ಸುನಿಲ್ ಕುಮಾರ್🇮🇳 (@Sunilku00412101) October 5, 2019
Bollywood celebs including Alia Bhatt, Shraddha Kapoor, Karan Johar, Farhan Akhtar and Dia Mirza have publicly expressed their outrage over Government's decision to cut the forests. However, with Twitterati exploding against them and with his new hashtag trending, do you think, they will think twice before reacting to anything in future?