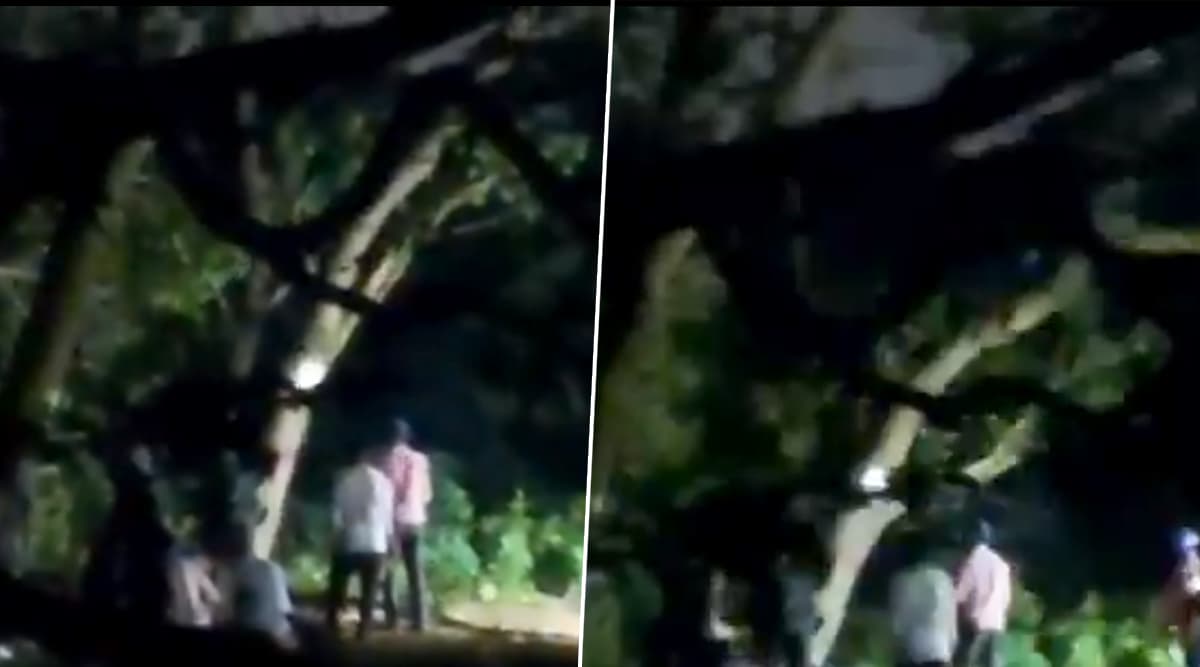 Mumbai, October 4: Hours after the Bombay High Court dismissed the petition of environmentalists saying that the "The greens (environmentalists) have failed," the authorities started with the cutting of trees. A grainy video showing machines trying to fell the trees was shared on social media site Twitter and there was a sea of reaction on the video. Many netizens pointed out that the BMC's drive was illegal as the environmentalists had 15 days to appeal in a higher court and that the BMC had not uploaded on its website that it would commence with the cutting of trees today, on Friday itself. 'Save Aarey' Setback: Bombay High Court Dismisses All Petitions Challenging BMC Decision Allowing Felling of Over 2,700 Trees For Metro Car Shade.
Earlier, the Bombay High Court refused to declare Aarey Colony a forest and declined to quash the BMC tree authority's decision allowing felling of over 2,600 trees in the green zone to set up a metro carshed. Amitabh Bachchan Faces Backlash for Supporting Mumbai Metro, People Protest 'Save Aarey outside Megastar's Residence.
First, Check the Video Below
#Breaking | Authorities have started cutting trees in Mumbai's Aarey Colony.#AareyColony #AareyForest pic.twitter.com/MJWvuMr1IP

— TOI Mumbai (@TOIMumbai) October 4, 2019
Reactions on the Video
This is illegal !! The permission to cut trees only went up today at 4 pm after which we have 15 days ! And also matters are already pending in Supreme Court

— Varun Khanna (@VKhanna86) October 4, 2019
Jibe at BMC
Breaking now: tree cutting begins in Aarey barely hours after Bombay high court verdict in tha dead of the night. Wish officials showed same alacrity in cutting down corruption as they do with trees!

— Rajdeep Sardesai (@sardesairajdeep) October 4, 2019
Video by Mumbai Mirror Below
#BREAKING: Authorities have started cutting trees in Mumbai's Aarey Colony pic.twitter.com/d7O9jETxl0

— Mumbai Mirror (@MumbaiMirror) October 4, 2019
This User Pointed Out That Felling Began Without BMC Putting it Up on its Website
Tree cutting is happening in Aarey NOW NOW!

This is being done illegally, because @mybmc hasn't uploaded the permission on the website yet, post which they're allowed to cut post 15 days. Kindly go to the site, if you can. @MumbaiPolice @zoru75

STOP THIS NOW! pic.twitter.com/ZisTvrYwVz

— Geetika Ahuja (@GeetikaTweets) October 4, 2019
Save Aarey Protestors Reach Spot to Protest 
About hundred of supporters of Save Aarey campaign entered inside Metro car depot site in Aarey Colony where MMRCL has started tree cutting in the late evening. Citizens and activists are protesting against the tree cutting.#Aarey #Mumbai pic.twitter.com/UIhMMNRodm

— laxman singh (@Laxmantweetsss) October 4, 2019
Prominent Personalities Raising Voice
What a shame. Authorities cutting trees at #Aarey in #Mumbai. All world cities have so much green space. It's a pity that the Mumbai govt doesn't care👎 @Dev_Fadnavis pic.twitter.com/EZ3JJF7tH8

— Priya Gupta (@priyagupta999) October 4, 2019
Questioning the Move
Like cowards and burglars who operate at night @MumbaiMetro3 starts cutting trees in the dark. What happened to 15 day waiting period? pic.twitter.com/NvdPp9x3sl

— AareyConservationGrp #VoteForAarey (@ConserveAarey) October 4, 2019
The court also imposed a cost of Rs 50,000 on Shiv Sena corporator Yashwant Jadhav, who opposed the approval given by the BMC tree authority, of which he is a member, for hacking trees in the green belt. A division bench of Chief Justice Pradeep Nandrajog and Justice Bharati Dangre dismissed four petitions filed by NGOs and environmental activists on issues related to Aarey Colony in Goregaon, a major green lung of Mumbai.
Many Twitter users are tweeting against BMC's action. Scores of them are also tagging Shiv Sena leader and Yuva Sena chief Aaditya Thackeray in their tweet as Thackeray had tweeted showing interest in saving the trees. However, people looked disappointed after BMC's action and expressed their displeasure on Twitter. (With PTI Inputs)