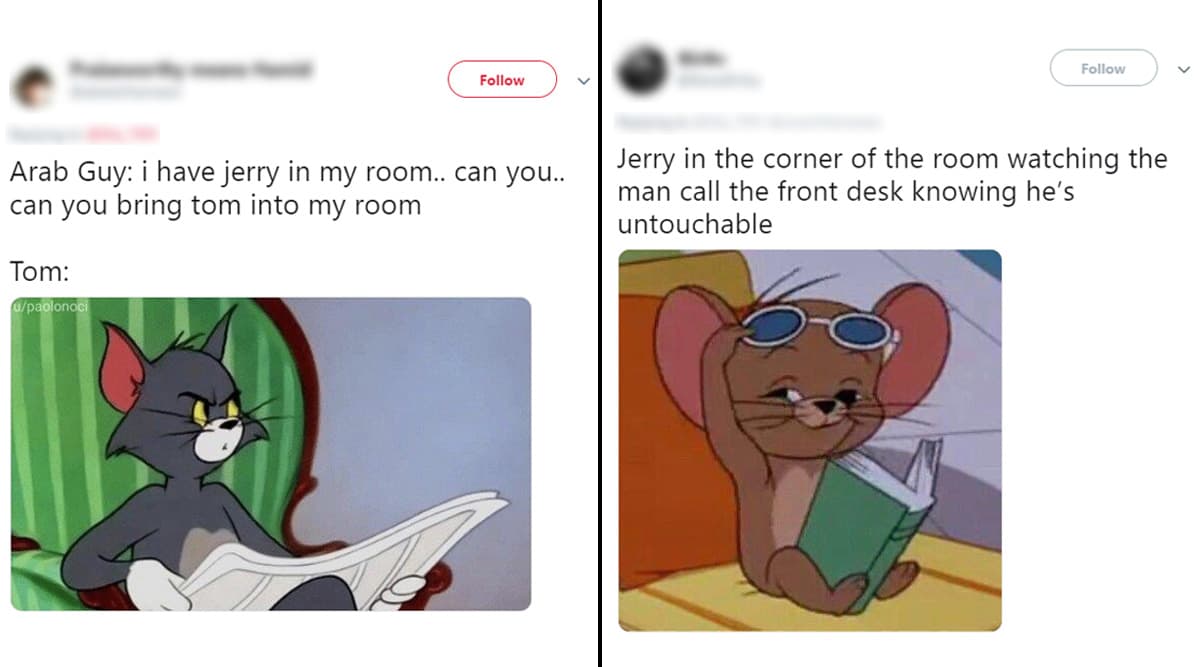 English may be a widely spoken language around the world, but it need not mean everyone's fluent at it. And when you don't know a certain word, you find the closest replacement to convey it. An Arab man wanted to complain of a mouse in his hotel room to the reception but did not know the exact word, so he used Jerry from Tom and Jerry as a reference. That wasn't all, he asked the reception person if they could get a Tom to the room to deal with the mouse! A hilarious clip of this man conversing on the phone is going viral on social media. And people have some of the funniest reactions to it, some even sharing funny memes. Best Hotel Room Hacks: Man Shows How to User Hanger to Clip Curtains; Netizens Share More Useful Tricks For Hotel Stays.
Twitter user @Ella_7991 shared a funny clip which has recorded the conversation of an Arab man speaking on the phone with the hotel reception. He mentions that his English is not that good and goes on to complain of seeing a 'Jerry' in his room! It just begins to get funnier as he further says, "When you come here, bring a Tom with you." The hotel reception guy mentions that they do not have a Tom in here. It is just a 42-second clip but has got over 10 million views because it's just so funny!
Watch the Viral Video Here:
This Arab guy calls the hotel reception to complain about a mouse in his room. Listen to how he describes the situation 💀💀💀😂😂😂 pic.twitter.com/feObtAj9Bp

— Arab Brincess (@Ella_7991) January 17, 2020
The video has been retweeted over 2 lakh times and 7 lakh plus likes. People on the internet were left laughing and some made funny memes using Tom and Jerry scenes as reactions too. Check some of the funny reactions below.
Tom Right Now
Arab Guy: i have jerry in my room.. can you.. can you bring tom into my room

Tom: pic.twitter.com/PryHj4Hf8l

— Praiseworthy means Hamid (@abedolhameed) January 17, 2020
But It's Tom's Day Off!
"Bring Tom with you"

Tom when he gets that call on his day off: pic.twitter.com/RxQbWAqRad

— 🇭🇳 the nastiness is extraordinary 🇭🇳 (@CoquitoMami) January 17, 2020
Jerry Fears No One
Jerry in the corner of the room watching the man call the front desk knowing he's untouchable pic.twitter.com/PIxdvCs6zz

— 𝕶𝖎𝖗𝖇𝖘 (@BasedKirby) January 17, 2020
Ooh, Tom Has Evolved!
"Bring Tom with you" 😭💀 pic.twitter.com/pfXxv0ZrIn

— YoursTruly✨ (@jesuiscynthia) January 17, 2020
Shit Just Got Real!
While in malaysia they really bring TOM! 🤣 pic.twitter.com/XxgBVBwXzC

— adrena (@AdrenaAdam) January 18, 2020
The Internet Right Now
— steven j devereux (@bettingmaster19) January 17, 2020
Come on, They Could Get Tom!
there's always at least one cat that hangs out outside the hotel and basically lives there, they could get tom

— josie lynne carter. (@lynne__josie) January 18, 2020
Hahaha, these reactions, make the video funnier! Well, we all loved Tom and Jerry and this video just brings back the cartoon to us through the video and the funny meme reactions!