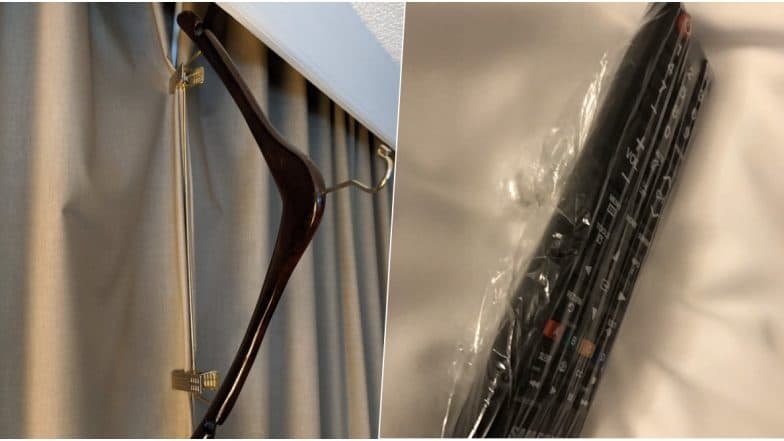 If you are a frequent traveller then over time you must have developed some own travel hacks, be it in managing budgets or time. But if you thought you know it all, then there is a Twitter thread that is going viral with some of the best hotel room hacks. It all started with a man sharing a picture of using a hanger to clip curtains in the room. Had you known of that? Netizens joined in to share some of the best hacks about staying in a hotel room, right from using the TV remote to using hair clips as a holder for wires. 15 Simple Hacks To Make Sure You Travel Like a Pro!
Twitter user Rick Klau shared a picture of his hotel room in which he used a hanger with clips to shut out the curtains. He mentioned that he saw it somewhere online and it has changed his life. As people online were also impressed with the idea, they also shared some of their best secrets on having a safe stay in hotel rooms. It soon became a thread of some of the best hotel hacks and it is indeed useful if you are a regular traveller. Packing Hacks for Clothes: US Student Fits 50 Garments and 9 Shoes in a Small Bag, Leaves Twitterati Mighty Impressed (View Pics).
Check The Viral Tweet With Best Hotel Stay Hacks:
I don't remember who posted this on Twitter a few years ago, but whoever you are: you have improved every night I've spent in a hotel since. pic.twitter.com/NpuuumqHV8

— Rick Klau (@rklau) October 4, 2019
Using TV Remotes Safely 
Best hotel hack: instead of touching the disgusting tv remote, wrap it in the shower cap!

— la espooky 👻🎃 (@melmor86) October 4, 2019
One More For The Remotes
Use the ice bag to cover the TV remote's germs https://t.co/7XeSiJBnEv pic.twitter.com/7jGBENdPJY

— 🅲🅷🅸🅿 🅱🆁🅾🆆🅽 (@ChipBrown) October 4, 2019
Keep Your Pillows Safe Too
I wrap my hotel pillow with a hotel towel. Cause I sleep on my stomach and the thought of breathing in previous hotel visitor's breath or dribble from the pillow frightens me to the core.

— Terrii (@Terrii0206) October 4, 2019
Ask For Extra Charger
My hotel hack is if you ever need an extra phone charger ask the front desk if they found one. They have a box full.

— Rabbit (@vinylrabbit) October 4, 2019
Keep the AC Air in Check
And put the chair back in front of the A/C to stop it blowing directly on you.

— Joe C 🇺🇸 (@_j_o_e) October 4, 2019
Tablet Stand
My version of a improvised tablet stand pic.twitter.com/mYFTdIfdK2

— Caligula (@Caligul74126875) October 6, 2019
Bag for Dirty Clothes
My hack is to use the bag hanging in the closet (that is there for dry cleaning) for dirty clothes or anything that might be wet or leak when packing to leave.

— Liberty 🍑🆘 (@LibertySJustice) October 4, 2019
Hair Clips are So Useful
Throw a handful of these into your luggage. They can also be used to hold steaming shirt collars in place to hold shape & manage cords. pic.twitter.com/BNJVe5dFWV

— kay (@kay646464) October 5, 2019
Removing Creases Without an Iron
My hotel hack is hang your shirt up on a coat hanger on the back of the shower door. The steam will help the creases fall out from it being in your case.

— Chris Spencer (@DrCSpencer) October 4, 2019
How many of the above-mentioned hacks were you aware of? These are some of the best travel hacks regarding stay in hotel rooms. It is nice to see all the frequent travellers sharing their bits of advice to others and some of them are quite useful. So the next time to have a stay in a hotel room, remember these tips and tricks to have a safe stay.