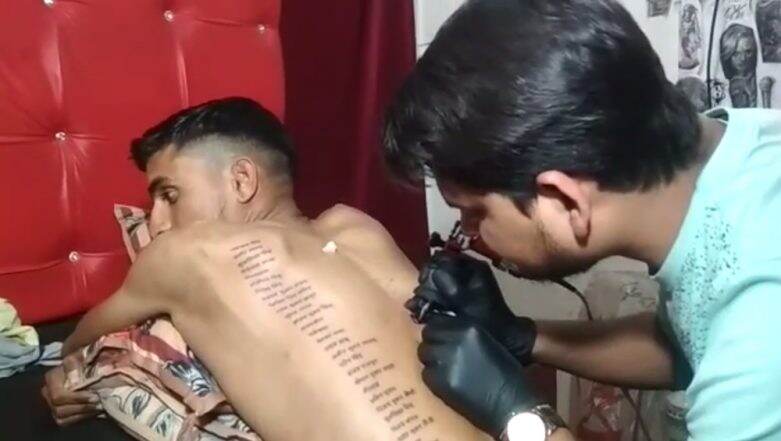 Our soldiers are constantly putting up a brave front at the borders to ensure we live a safe life every day. Any amount of gratefulness to what they do will not be enough. The recent Pulwama terror attack in Jammu and Kashmir which martyred at least 40 CRPF soldiers is said to be the deadliest one of the attacks. The entire nation is still mourning at the loss of these brave soldiers and there continues to be rage and hate against the terrorists. People all over the nation have their own ways of showing solidarity and support. But a youth from Bikaner surpasses them all. Gopal Saharan has tattooed names of 71 soldiers on his body along with the Indian national flag. He has also included the recently martyred jawans in the Pulwama terror attack. Pulwama Terror Attack After-Effects: Chhattisgarh Food Vendor Offers Rs 10 Discount on Chicken Leg Piece to Customers Shouting 'Pakistan Murdabad'.
A resident of Sridungargar in Bikaner, Gopal has etched names of 71 martyrs to "to pay homage to the gallant soldiers". A member of a patriotic group called Bhagat Singh Youth Brigade, he wanted to do something unique to pay his tribute to the nation and those who bravely fought for it. He wants others to get inspired by him too. 'Pakistan Murdabad!' Man Shouts Slogans to Protest Pulwama Attack and Sell Shoes at the Same Time.
Watch Video of Youth From Bikaner Tattooing 71 Names of Martyrs on His Body
The entire nation is fuming after the Pulwama attacks and people have developed a strong hatred against Pakistan. While the government has ensured the army will seek its revenge soon, the citizens of India have launched protests in different forms to condemn the attack. While some took out candle marches, in some places Pakistani flags were burnt down.