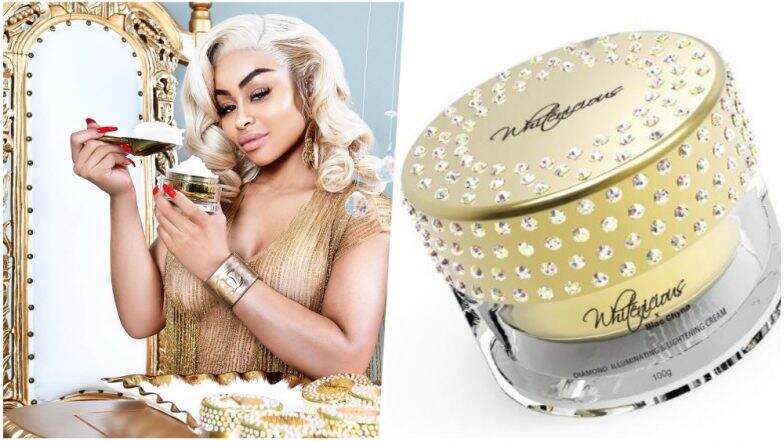 Celebrities and their brand endorsements can leave a huge impact on their fan-following sometimes. With products like fairness items or skin lightening creams, there is always a risk. Blac Chyna is the latest one who has come under fire for endorsing Whitenicious, a skin lightening cream. The reality star announced her collaboration and invited people for the official launch of the face cream which will take place on November 25 in Nigeria. Fans were enraged with her latest deal and called her out on social media, for the idea and also the venue of choosing Africa for the launch. Fairness Creams Are Not Safe? Government to Ban Over-the-Counter Sales of Steroid-Laced Creams. 
The face cream is so luxurious that even its packaging screams fancy. The cream jar is handcrafted with Real Swarovski crystals and thus costs $250 for 100g. Chyna's reps told the TMZ that the star has been using the cream for years, "She has been using Whitenicious dark spot corrector for a few years to deal with her hyperpigmentation. She felt this was a good deal for her because a lot of women of colour suffer from skin issues." Fans were clearly not happy with the kind of message she was passing on. Can Your Fairness Cream Cause Cancer? 8 Body Care Products That Can Harm You. 
Check Black Chyna's Post about Whitenicious Skin Lightening Cream Launch in Nigeria
Check Tweets Slamming Black Chyna for Endorsing Skin Lightening Cream Whitenicious
The fact @BLACCHYNA is going Africa to sell bleaching cream makes me sick. People like her is whats wrong with the world. No morales *disgusting* call yourself WhiteChyna at this rate

— Meeks (@MeeksCandiace) November 20, 2018
The Place of Launch is a big problem here
Blac Chyna is really going to launch her whitening cream in Nigeria 🤦🏿‍♀️ On her first ever trip to Africa 🤦🏿‍♀️

Ata PR foreplay atleast..? pic.twitter.com/uy6U5NU4VL

— breezy (@breegathoni2) November 20, 2018
I love how #BlacChyna is going to Africa to sell her stupid ass lightening cream. That shit is poison, Africans need to wake up. You don't look cute walking around looking like a damn leopard. Smfh

— ✨𝕰𝖉𝖒3✨ (@Deeyaloo) November 20, 2018
Blac Chyna launching a skin bleaching cream is just Blac Chyna doing Blac Chyna things...the real issue here is that it's being targeted to the Nigerian market and the fact that the villainous product will most likely sell out in Nigeria.

— Ibadan Lord 🇳🇬 (@degosTee) November 20, 2018
Comments off? Was she sure of the backlash?
So Blac Chyna is going to Nigeria to promote a bleaching cream, wow. All the comments are turned off lol. I would really have loved to read them all.

— Princess (@ElmaGyan) November 20, 2018
The whole problem with the fairness creams
"Fair & Lovely"

"Whitenicious"

All these names suggesting the lighter you are the more beautiful you will be.

— Kelechi Okafor (@kelechnekoff) November 20, 2018
That is the entire problem with such products, which encourage a skewed idea of defining beauty. Meanwhile, the description of the product on their website states, "This protective illuminating product helps restore radiance and moisture while providing UV protection." Fans were clearly not happy with the idea and even the venue chosen for the launch. As they have made their displeasure clear wonder if Blac Chyna has any reaction to defend her?