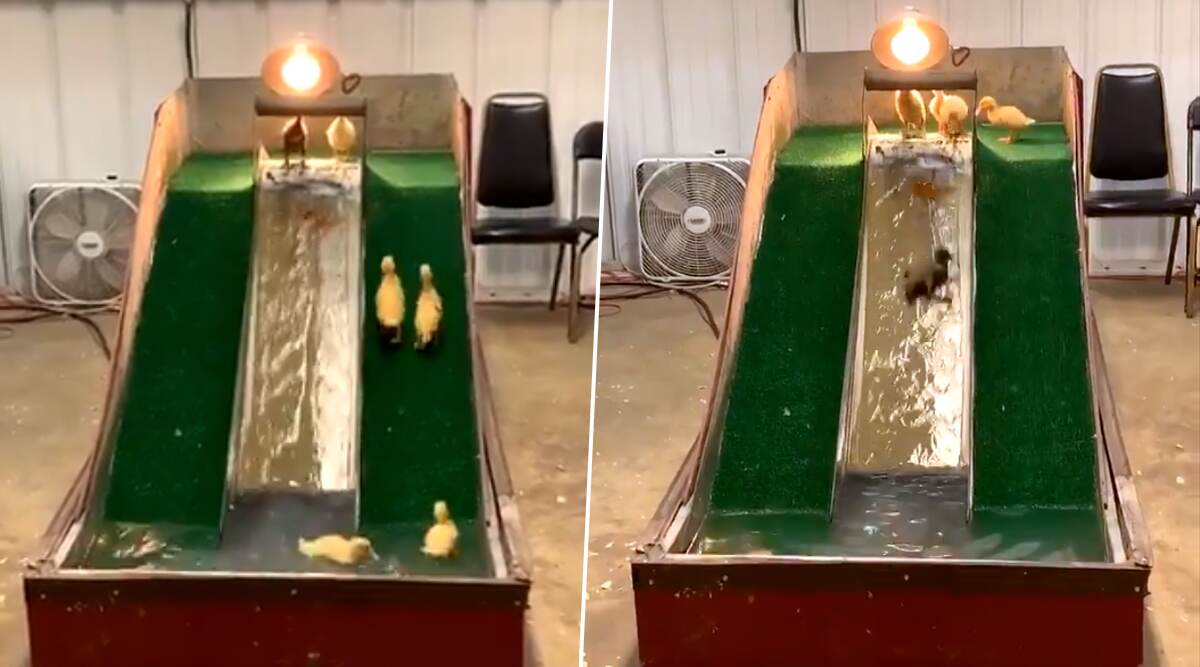 Water slide for little ducks? Cannot imagine a better sight. Whoever came up with such a brilliant idea, is undoubtedly a genius. A video that has been recently going viral features a few baby ducks sliding off a water-slide and it has been making the internet go aww. The video has been taking Instagram, Twitter and Facebook by storm. It is unbelievable that someone thought of making water slides for little ducks to play with. The ducks in no time can be seen catching up with the game, walking up the slide from the dry side and them sliding off from the slide side, where water is flowing. It is not clear in the video who the ducks belong to or who made the water-slide for them. But whoever did, has proven their love for animals.  People have been gushing over the viral video of the little bird. Take a look at the video:
Incase anyone was having a bad day :) pic.twitter.com/zLAbjRAMmb

— Alexandra Morrison (@alex_v_morrison) October 19, 2019
People are going gaga over the video and sharing all kinds of happy reaction. Check out the reactions:
Me heading back to my bad day pic.twitter.com/qoTEzW6fgs

— IG: @TLXPrimary (@tlxprimary) October 21, 2019
Yaaas!
I immediately looked at my boyfriend and said "can we get one???" And he said "*sigh* if we have room" ITS A GO LADIESSSSSSSS

— Halloween Mask (@tifmask) October 20, 2019
FRIENDS
This is what was missing from Joey and Chandler's apartment. pic.twitter.com/zia11VbAL3

— Rebecca F. (@hermione278) October 20, 2019
So Cute
What is this duckery pic.twitter.com/c0NIM3xvni

— Jordan Woodard (@jwood__10) October 20, 2019
Ducks are the cutest creatures. There have been several incidents in the past where ducks have taken over the roads and halted the traffic in no time. In August, Biddeford, Maine saw an amazing sight of over dozens of ducklings creating the best traffic jam in the world and the video went viral.
Animals and birds are just better than us. They have emotions and even make better friends. Just earlier this year, a cute friendship of a horse and a ram took over the internet. I mean who could've ever imagined, until actor Sam Neil living in New Zealand showed the world how his horse, and ram are best friends, better than anyone can ever imagine! Their cutest friendship was going viral on the internet and the pictures were breath-taking.