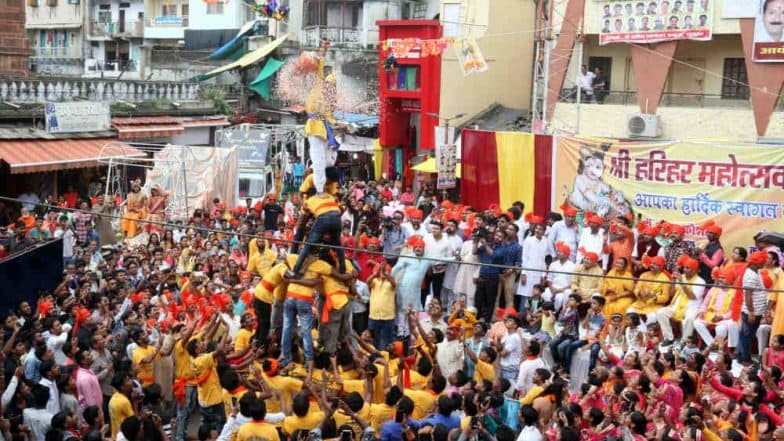 Krishna Janmashtmi or Gokulashtami celebrations are incomplete without Dahi Handi. People across the country are forming human pyramids to break the earthen pot filled with curd, turmeric and other things hung on a height with a rope. With the festive mood, here are some safety measures for Govindas participating in Krishna Janmashtami celebrations.
Twitteratis are sharing their Dahi Handi moments- with some being Govinda while others being a spectator. The enthusiasm and craze not only limit to common people, but even King Khan and AbRam cannot keep themselves away from celebrating this festival.
Among others, a video of Dahi Handi celebrations in the Mumbai local train is also going viral.
Festivites all around. #DahiHandi celebrations in Mumbai local. pic.twitter.com/h4rvRD09WD

— Mumbai Live (@MumbaiLiveNews) August 24, 2019
A group also tried to form the fastest human pyramid
केवल 5 सेकंड में पांच मंजिला फॉर्मेशन और दही हांडी फोड़ दी, गजब की प्रैक्टिस और शानदार कॉम्बिनेशन। pic.twitter.com/Dq0VGvSNJ4

— Akash RSS (@Satynistha) August 24, 2019
Here's how Twitterati celebrated Dahi Handi 2019
🕌 #Govinda Giving Salami at Makdhoom Shah Baba Dargah Shree sainath govinda patak,Bandra West always offer their salami to the Mahim Dargah #DahiHandi #Mumbai

Video - Amir Khan @bbcnewsmarathi pic.twitter.com/AFhMZ33dL9

— Shahid (@journoshahid) August 24, 2019
Railway Station Dahihandi pic.twitter.com/1UYIKYmxVV

— Palghar Mitra (@palgharmitra) August 24, 2019
#janamasthami2019 #DahiHandi #DahiHandi2019 #ThaneShahar#Thane @Allavaru @srinivasiyc @RahulGandhi @SoniaGOfficial @priyankagandhi @bb_thorat @AshokChavanINC @IYC @bbcnewsmarathi @abpmajhatv @INCIndia @INCMaharashtra @INCSandesh @JM_Scindia @kharge @BMSandeepAICC pic.twitter.com/CPu1sdT82Z

— Sonallaxmi Ghag (@sonallaxmi) August 24, 2019
#Dahihandi2019 #Mumbaikar #Mumbaispirit #Vakola #Santacruz #Shreeswamivivekanandmandal #Mahasangh pic.twitter.com/CmNRxc2BGs

— Kamlesh Singh (@kamy_kool) August 24, 2019
Celebrated the festive vibes of #Janmashtami with great joy and enthusiasm. 'Dahi Handi', a team sport was held as an Inter-house competition on this auspicious occasion.

Subhash House won the competition and Gandhi House was declared the first runners up. pic.twitter.com/V8eKmHavw5

— Modern Public School (@mpsshbagh) August 24, 2019
#DahiHandi #Govinda pic.twitter.com/dWASqEp4iC

— Satyam Raj (@SatyamRaj09) August 24, 2019
Few things match the energy and joy of the Dahi-Handi fun that marks Sri Krishna Janmashtami in Mumbai 😊 #HappyJanmashtami pic.twitter.com/ImBq6LMLuv

— Abhinandan Singh (@abhinandan_ks) August 24, 2019
#DahiHandi #janmashtami2019 pic.twitter.com/gVIweqe20J

— लड़ाकू_ विमान👩‍🏫 (@_chal_hatt) August 24, 2019
Nowadays, Dahi Handi is a huge fair with thousands of people participating in the festive celebrations. The organisers also award cash prizes to the Mandal who manages to break the pots filled with curd.