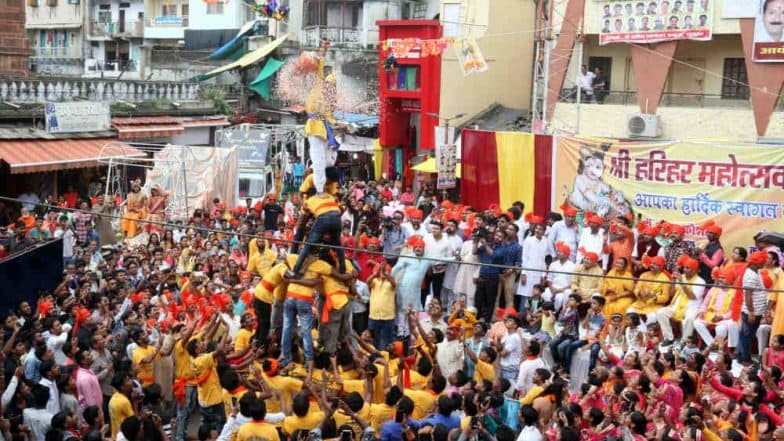 Dahi Handi or Utlotsavam is a sport observed during the Gokulashtami, which celebrates the birth of Lord Krishna who was born in Vrindavan. Dahi Handi is celebrated a day after Janmashtami. Dahi Handi 2019 will be observed on August 25. On this day, people form human pyramids to break the pot filled with curd hung on a height with a rope. While the festival shows religious belief, the safety of human pyramids, also known as Govindas, is of huge concern. Krishna Janmashtami 2019: From Hari to Govinda, Know These 108 Names of Kanha With Meaning in Hindi & English.
In 2016, the Supreme Court had banned those below the age of 18 to participate in the human pyramid. However, the minimum age was changed to 14 years. The Mumbai Police and Dahi Handi Samanvay Samiti (DHSS) have also asked organisers to only allow those mandals who have insured their members. If you are planning to participate in the Dahi Handi 2019 celebrations, here are some safety tips. Dahi Handi 2019 Date: Traditions And Festivities Related to Krishna Janmashtami Celebrations.
Stay hydrated
Dahi Handi is a physical sport and begins in the afternoon and continues until late at night. If you are participating then staying hydrated is recommended as one needs to remain strong for a longer duration.
Ask mandals or organisers to ensure first aid
Most of Dahi Handis are sponsored events. Ensure that your Mandal or the event organisers have first aid in case of any emergency. Also, check with the event organisers for ambulance service.
Ensure that your Mandal has insurance
According to the Bombay High Court's directions of 2017, mandals should have insurance to celebrate Dahi Handi. Assure your safety and check with Mandal whether it has insured itself.
Use safety gears
If you are Govinda then ensure you are equipped with helmet and knee cap. If possible, ask organisers to spread a three-inch-thick mat on the ground below the pyramid.
Don't drink and participate
If you are drunk, then don't participate in the sport. This will not only risk your life but others too.
Nowadays, Dahi Handi competitions are a huge fair with thousands of people participating in the festive. The organisers award cash prizes to the group or Mandal who manages to break the earthen pots filled with curd.