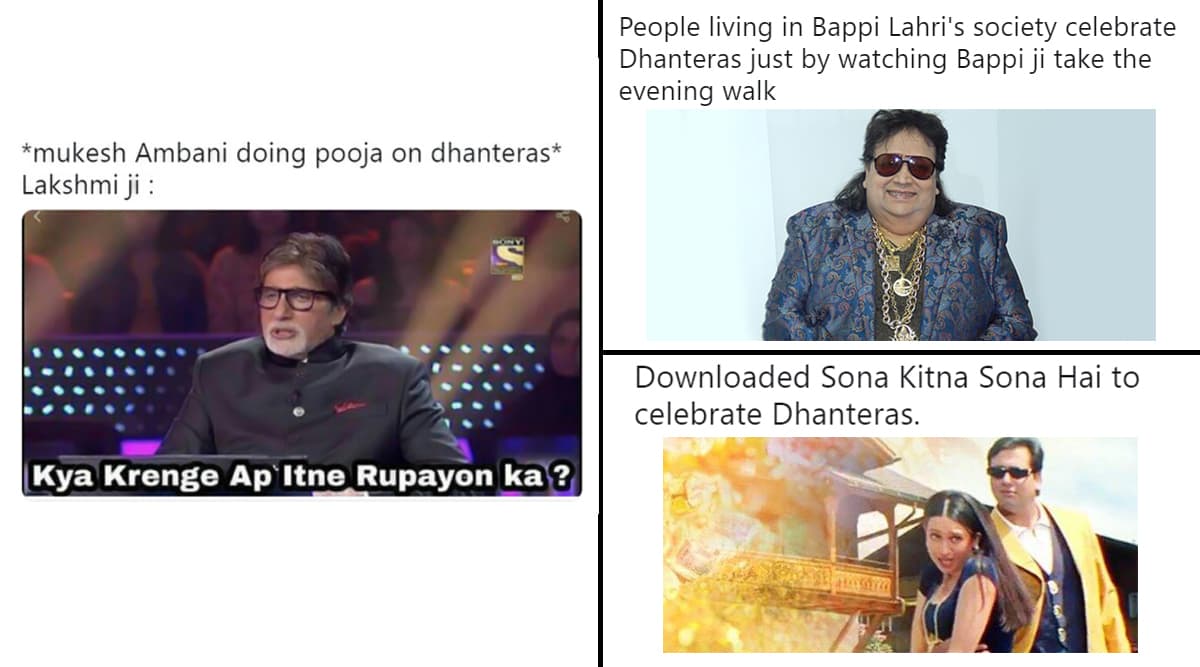 Dhanteras 2019 is almost here, and as soon as you hear the word, the only picture that pops in your head is of the Ambanis'. JK. It is all about purchasing some special and valuable items like gold, silver, utensils etc. on this auspicious day for Good luck. Celebrated as the first day of Diwali, Dhanteras is also known as Dhanatrayodashi or Dhanvantari Trayodashi. Dhanteras 2019 will be observed on October 25. But ya, it is all about the money, jewellery and everything precious. People bring home gold because it is said that you invite positive energy, home (We have no clue what the Ambanis bring home though, they legit have EVERYTHING. JK, again). However, the Ambanis do rule the internet meme world that day. Dhanteras memes and jokes are extremely popular on social media, whether it is about the Ambanis or Govinda's Sona Kitna Sona Hai songs. Dhanteras 2019: Ominous Things You Should NEVER Buy on Dhantrayodashi Diwali Festival. 
Bappi Lahiri, also known as the gold god in India, suddenly starts to pop-up on everyone's timeline on Dhanteras and for all the right reasons. Funny memes and jokes on anything to do with rich people or gold goes viral on Dhanteras and HOW! Well, with all the Diwali ki safai (there are memes for that too), you surely need a breather. Why not laugh at all the Dhanteras memes and jokes online, while you and us collect all our money to maybe buy a spoon for Dhanteras *sobs inconsolably* Check out viral Dhanteras memes:
View this post on Instagram
LOL
Downloaded Sona Kitna Sona Hai to celebrate Dhanteras.

— powarrior1 (@The_Sleigher) October 21, 2014
I'm Sure
People living in Bappi Lahri's society celebrate Dhanteras just by watching Bappi ji take the evening walk

— Champ McSwaraj (@BolshoyBooze) October 21, 2014
I Can't Even
Bappi Lahiri wishes everyone a very happy Dhanteras from the safe deposit locker he's sitting in all day long today.

— Akshar (@AksharPathak) October 21, 2014
ROFL
There is dhan and tears both in Dhanteras, dhan for wife and tears for husband.

— Professor (@BeerOholic) October 21, 2014
Somebody STAP
"Happy Dhanteras" or you can say, "Happy Bappi Lahiri"

— Virat Kohli (@TedhiBaat_) October 21, 2014
IKR?
*mukesh Ambani doing pooja on dhanteras*

Lakshmi ji : pic.twitter.com/rVdA0Ir83k

— Aditii🎀 (@Sassy_Soul_) October 17, 2017
After Jio Charging 6p Per Minute, Yeah
Ambani's on #Dhanteras be like: pic.twitter.com/I0gH4RVbkj

— Guney (@Guneygaar) November 5, 2018
Won't Disagree
Happy Dhanteras should be renamed to Ambani Day

— Shashank (@Dehadi_Majdoor) October 28, 2016
Okay.
RT @thetanmay: Dhanteras. A day of celebrating ones wealth and flaunting it out in the open. Or as Mukesh Ambani calls it, Antilla.

— Pritam Sharma (@VanDiablo) November 3, 2010
For those who want to know more about the festival, here are the dates of Dhanteras, Lakshmi Puja, Bhai Dooj and other important days of Diwali. Dhanteras traditionally sees people purchase gold, silver or utensils as it considered auspicious.