Mumbai saw heavy rains earlier this month bringing the city to a standstill. It rained cats and dogs in the city and along came fish. According to some WhatsApp messages and Facebook posts going viral, it rained fish in Mumbai! Pictures and videos supporting the claim are also being circulated on social media. Messages say that "according to BBC news", it was raining fish in Mumbai instead of "water or snow". It further states, "Scientists are still confused by this mysterious event."
However, there has been no such occurrence in Mumbai this rains. The report which the WhatsApp message quote is non-existent. The video which shows fish raining from the sky is a fake one. But, there are reports from 2016 and 2010 stating that we received fish rain on Mumbai Pune Expressway and Varanasi respectively.
Check out the fake video of 'fish rain' going viral on social media:
It rained fish in Mumbai today, according to BBC news. Instead of a rain of water it was a shower of fish.

The explanation for this phenomenon is known as waterwheel, a tornado hits the sea and sucks everything in its path, unloading it in the place where the tornado dissolves. pic.twitter.com/m1QeGkNoAx

— Tajdar Zaidi (@ZaidiTajdar) July 27, 2018
Here is the WhatsApp message: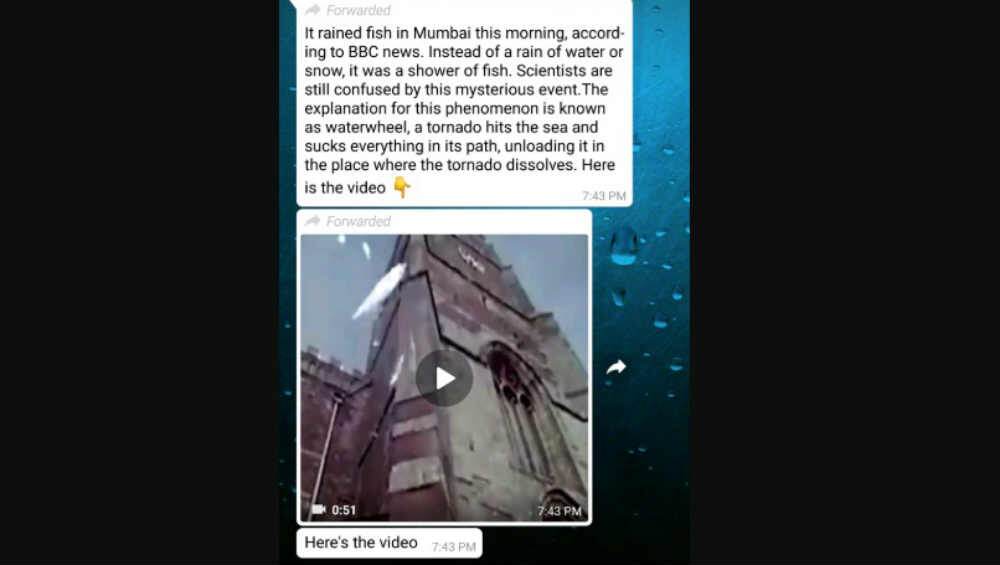 Here is a 2016 post:
But does it rain fish? While fish may not fall down on earth from rain clouds, there have been cases when people say fish in their courtyard and on roads after a heavy downpour. According to scientists, this is a rare phenomenon and occurs when a whirlwind or tornado is formed. It pulls out the fish and other animals and throws it to a distance where a wind is travelling. So, when the wind gradually loses its speed, these creatures fall to the ground. Frogs and other small amphibians also get carried away similarly. For somebody enjoying in the rain, it could be quite a nightmare and for others quite an easy catch.
(The above story first appeared on LatestLY on Jul 30, 2018 10:55 PM IST. For more news and updates on politics, world, sports, entertainment and lifestyle, log on to our website latestly.com).