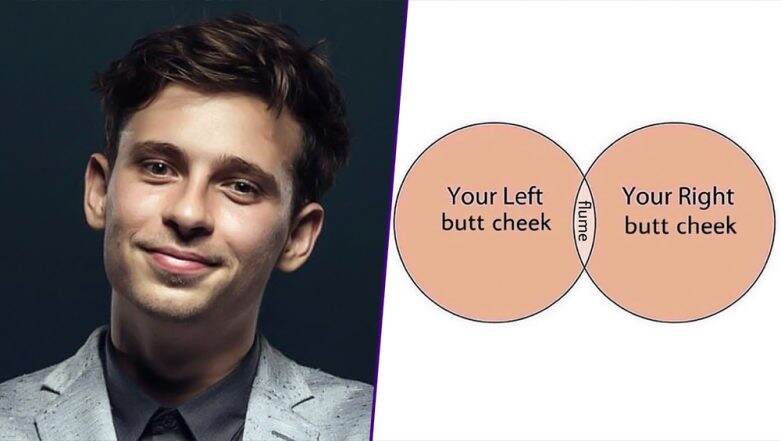 A viral video featuring Australian DJ and producer Flume going sexual has the Internet occupied. At the Burning Man festival in Nevada, Flume was seen what is being called, "eating ass" mid-set. The graphic sex act on stage was shared on Flume's girlfriend Paige Elkington's Instagram account and then was deleted in some time. However, the swift netizens captured the video and shared on Twitter. Ever since, the video has been shared #Flume has been trending everywhere. Festival-goers are criticising the vision of Burning Man, and we can say that could be the reason behind the video being deleted most weirdly. However, Twitterverse is still not able to digest the footage and is having a meltdown.
However, Burning Man ended yesterday after the ten days of extravaganza at Nevada desert. However, not everyone is awe of the memories the event gave away. The Internet cannot get over the video of Flume eating his girlfriend's ass. The video of him sticking his nose in her ass is undoubtedly going to stay in the talks for quite some time. Not to forget the EDM DJs, in particular, filled Twitter with their reactions on the Flume video and you have to check them out!
But before that, watch the video here on Reddit.
Reactions on the Flumes Ass-Eating Video:
all hail the mighty @flumemusic and his trending post burning man monday moment. i'm living for it! YOU GO BOI 🍑

— ooah (@ooah) September 2, 2019
LOL
why yall trippin about flume eating his girls ass at one of the most freeing and liberating expressive art parties that exist. we all know you would too. let the mans eat

— ooah (@ooah) September 3, 2019
ROFL
Every manager to their artist RN: Yo so do you eat ass/dick/lick feet? I have an idea ..

Every girl to their boyfriend this weekend: Yeah but Flume eats ass!

— Naderi (@itsnaderi) September 3, 2019
Right
DTF?!

down

to

flume

— protohype (@Protohype) September 3, 2019
Can't Stop Laughing
🤷🏻‍♀️💁🏻‍♀️ pic.twitter.com/R9Fq2oMkrR

— bebesita ✨ (@brownsugaluna) September 3, 2019
Somebody Stop
eating ass at burning man seems unsanitary flume

— 😛 (@joshpan) September 2, 2019
Umm
seeing Flume is trending on twitter vs seeing why Flume is trending on twitter pic.twitter.com/NEBow5z3cp

— VV (@vevevazquez) September 2, 2019
Whaaat
Me after finding out why Flume is trending pic.twitter.com/MkQCKCWONG

— Ely J (@iamelyjones) September 2, 2019
Aren't these just hilarious? And for all of you who don't know about his girlfriend, Elkington, is quite famous on Instagram for selling temporary tattoos on her online store. She became a meme in 2018 after a photo of her and Jeff Goldblum went viral.