Is Plastic ban going to be postponed in Maharashtra by three months? No. The messages circulated on WhatsApp, Facebook and other social messaging applications state that the recently implemented statewide plastic ban in Maharashtra is going to be postponed by a period of three months, are fake! The message is a hoax, and there is no such notification issued by the government or any authoritative official in the context.
The message that is going viral on WhatsApp and other chat applications read, 'Good News…Plastic ban to be postponed by three months!!! Govt to come out with notification soon." Also, it has a picture of Maharashtra CM Devendra Fadnavis in it, to give it a more authentic look. However, it is not!
See Screenshots of Plastic Ban being Postponed Circulated on WhatsApp & Other Apps: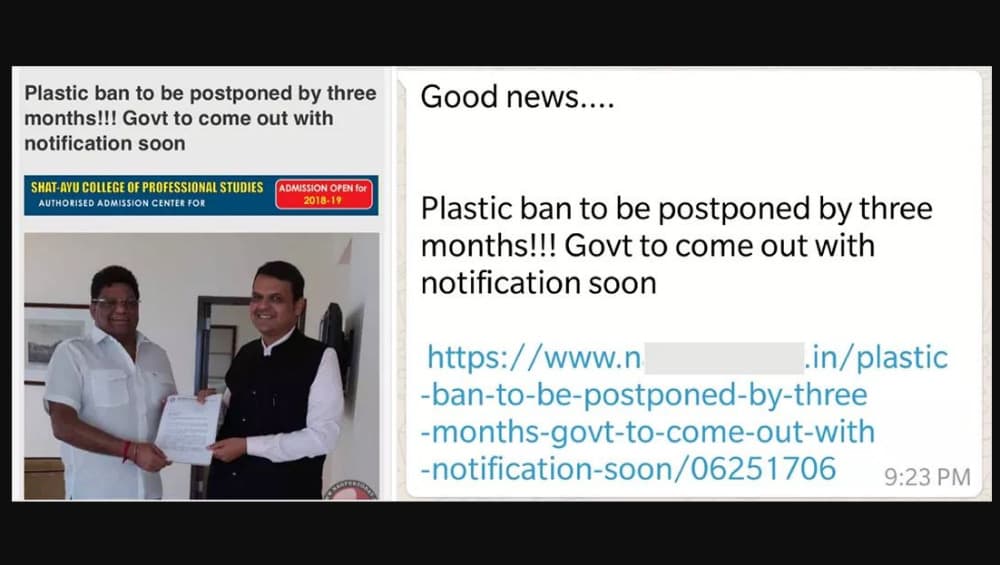 Recently, the Maharashtra government had introduced the plastic ban across the state starting from April. However, the government has issued strict guidelines for the people of Maharashtra to adhere to it. Not only that, the plastic ban has brought in severe fines and heavy penalties if somebody is found to flounder the set guidelines.
In Mumbai, the municipal body – BrihanMumbai Municipal Corporation (BMC) has taken several initiatives heading into the plastic ban overdrive in the state. It is reportedly being said that the municipal body will be organising a three-day long exhibition at the National Sports Club of India (NSCL) in Worli, starting from June 22.
With all said and done, there is no stop to plastic ban just yet. The messages you are reading on chat platforms are all hoax and holds no truth. So next time you think to flounder the rules and guidelines, in context of plastic ban, think twice!
Fact check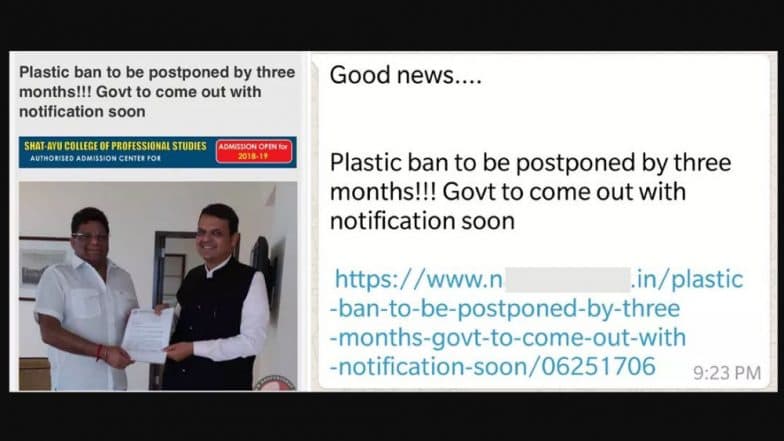 Claim
Plastic ban in Maharashtra postponed by three months.
Conclusion
The WhatsApp messages are fake and is a hoax. There is no such notification issued by the government or any authoritative official in the context.