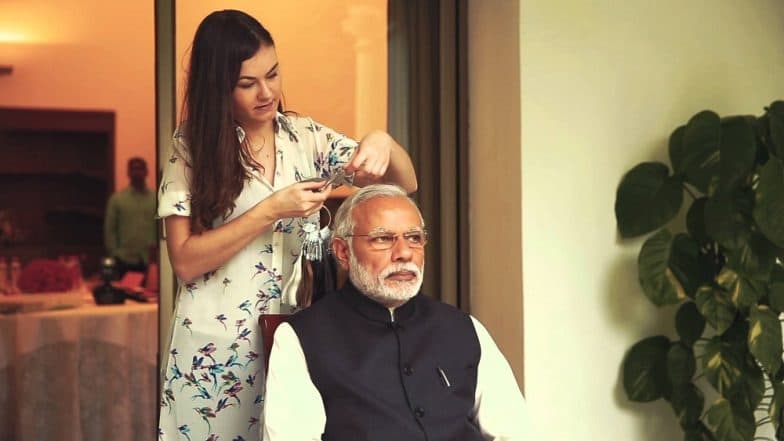 New Delhi, October 25: A hoax has went viral on social media claiming that Prime Minister Narendra Modi has hired a makeup artist for Rs 15 lakh a month. The post, uploaded by one Aditya Chaturvedi, had gained over 15,000 shares and 700 reactions till it was last visible on Facebook.
The fake news is based on the image which shows a woman measuring PM Modi's face. While several on social media thought she is a makeup expert attending to the Prime Minister, the truth is contrary. The woman in the image is an employee of the Madame Tussauds museum in London, who was noting the facial features of Modi in 2016 for his wax replica. WhatsApp Fake News: ayushmaan-bharat.in Is Not the Official Pradhan Mantri Jan Arogya Yojana Health Insurance Website.
"Mr Modi's figure is dressed in his signature Kurta in cream with jacket and he is featured in a traditional pose making a namaste gesture. London's figure is one of four created of the statesman, with the other three taking up residence at Madame Tussauds attractions in Singapore, Hong Kong and Bangkok. Each figure took a team of talented artists four months and cost £150,000 to create," Merlin Entertainments PLC, the company that operates the Madame Tussauds franchise, said in a press release in April 2016.
Here is the screengrab of an archived version of the fake news post: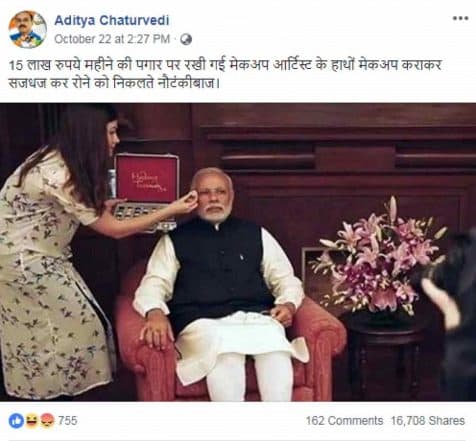 Fake news has emerged as one of the most challenging issues before Facebook. The social media site has been rapped by the US Congress for failing to tackle the propaganda unleashed by Russian intelligence to influence the American voters ahead of the 2016 presidential elections.
Facebook CEO Mark Zuckerberg has assured that social networking site is adopting measures to identify and block users and pages which are peddling fake news, communal, fascist, racist and other unethical propagandas.