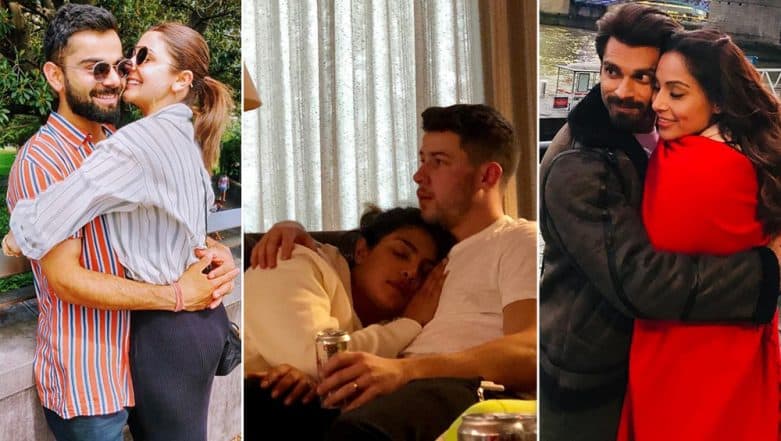 Bollywood has been a source of depicting romance for so many years successfully. Leaving behind the modern romance tales for a while, we have seen a hero and heroine running across the fields to hug tight or turning around to say 'bye' once again as clichéd romance scenes on the big screens. Not just the reel, celebrities have been able to epitomise romance even off the screens on their social media accounts. DeepVeer, Virushka, NickYanka have been giving the #RelationshipGoals with almost every picture together. Celebrity couples uploading 'perfect' pictures on their Instagram, has all of us wondering collectively, "Who clicks these pictures?"
Of course, the paparazzi follow you everywhere, but cosy shots from bedrooms to vacations, also makes us wonder, why don't our friends take some cues. Forget couple pictures, at least take a decent, non-blurry candid of me! We normies have started to unfortunately, look up to them for poses and commenting. I am sure Ranveer Singh has planned his comments first, even before wife Deepika Padukone uploads a picture. But why can't our fellow friends take some inspo, when it comes to clicking us at our best? I mean I am definitely nowhere close to being a celebrity with no fashion and make-up on point, but hey, I deserve some amazingly cute and candid pictures too! Ranveer Singh Posts Heartfelt Message on Wife Deepika Padukone's Website deepikapadukone.com, Says 'She is True Light of My Life'.
It is not one case instance, but these celebrity couples can get their posing game too well. And let us not get to the dreamy wedding pictures. But guess what's better for them? Of course, the photographers around.
Priyanka Chopra With Her Home
View this post on Instagram
They have been giving goals once again. But here, most people were commenting about who was the photographer behind this picture. I mean, just look at it. It is so adorable and rightly timed. Kudos to you, a probable good friend who captured this.
Sonam Kapoor and Anand Ahuja
Sonam Kapoor and Anand Ahuja have a good selfie game for sure but look at them being captured in cute candids. The fashionista definitely has the paps following her everywhere, because she's such a perfect muse. But well, they too have some good folks to capture the couple in their element.
Bipasha Basu With Her Monkey Love!
Bipasha Basu and Karan Singh Grover's monkey love melted many hearts on social media from their days of dating. Their sexy holiday pictures were bound to make anyone jealous. Posing for snuggles is passé, it is the candid ones captured that make you go all feel awww! Can someone please learn to click me, while I might just hug myself, without making it look possessed? Bipasha Basu Hugging Hubby Karan Singh Grover Will Make You Believe In Love All Over Again! View Pic Inside.
Vacationing With a Personal Photographer, For Sure!
View this post on Instagram
Forever Smiles!
 

 

 

 

View this post on Instagram

 

 

 
We know your loved one is supposed to make you blush, but dear Anushka and Virat, who are these perfectly-timed photographers around you again? This couple sure has a photographer around them, while they travel around the world. Clearly, because I try to laugh for a pose and get a blurred picture, wow! Anushka Sharma 'Friend-Zones' Virat Kohli As She Shares a Cute Post From Their Romantic Vacation! (View Pic).
Today we have well-advanced smartphone cameras which can totally give you the DSLR kind pictures. And here we are, still struggling to find the perfect candids and continue awwwing over the celebrity couples. Be it a bedroom or an exotic vacation, I am totally jealous of these celebrities having their perfect moments captured. Still wondering, who or how? Or maybe it is just my face? Am I only going to resort to selfies and look squint in an effort to look candid? Nope, I need better friends for company, or a candid 'third-wheeling' photographer, after all!