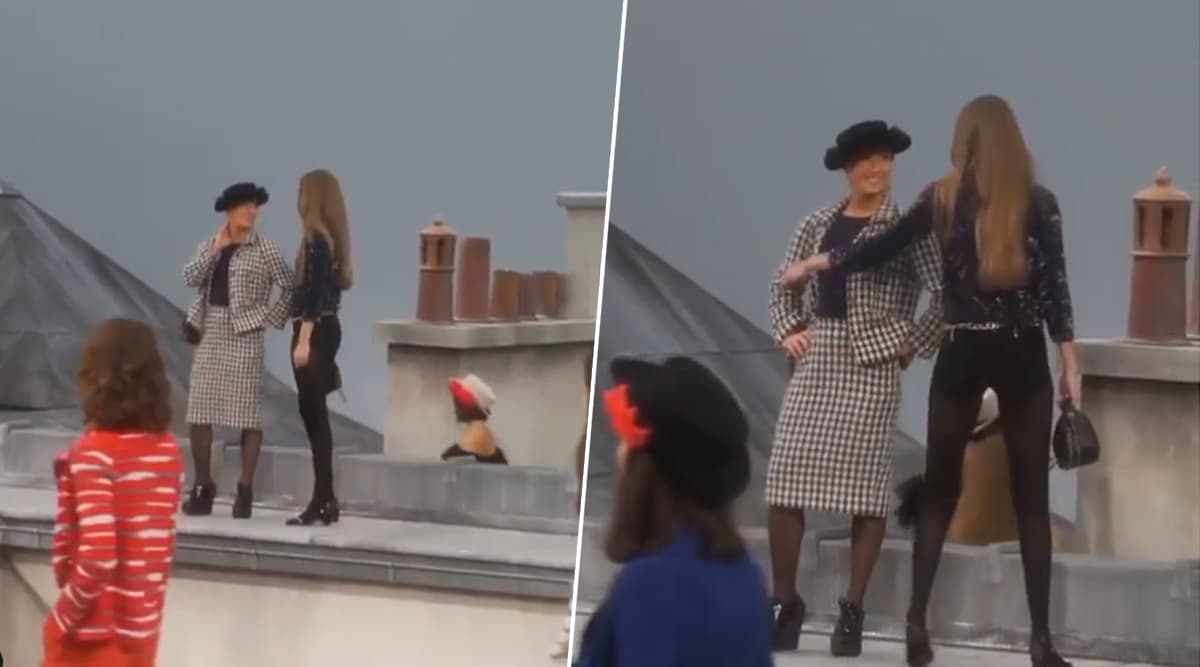 Gigi Hadid just showed the world how to tackle an event crasher like a boss at Chanel's Paris Fashion Week show, after French comedian and performer Marie Benoliel crashed the runway at Chanel's Spring 2020 event. Gigi Hadid managed to block the woman after she hit the runway uninvited. A video capturing the whole scene went gone viral in no time. The video shows how Benoliel hopped on the runway and began to walk like one of the models placing her hands on her hips. She began posing for photographs and soon took a turn where she was confronted by supermodel Gigi Hadid who stopped her and showed the way out. Gigi Hadid and Tyler Cameron Relationship Heats up as the Couple Goes out on Third Date!
Gigi Hadid got the woman off stage with the help of other models who were standing around her. One of the models who helped her was Kaia Gerber. The comedian goes by the name Marie S'infiltre on Instagram and has crashed the Etam show earlier this week. She was also in the news for infiltrating a meeting of Marine Le Pen. Benoliel was showed her way down a stairway by Hadid, finally.
The incident comes weeks after Hadid's viral moment at New York Fashion Week in September. While walking in the Marc Jacobs Spring 2020 runway show at Park Avenue Armory, Hadid's shoe broke and she continued the walk barefoot.
Watch Video:
View this post on Instagram
The video has been going viral ever since the news went out. Here are some of the reactions from Twitter:
Someone stormed the runway finale and joined the models @CHANEL watch! #pfw pic.twitter.com/Wp4L3yEccP

— @Booth (@Booth) October 1, 2019
Security Guards Couldn't Spot Her
There was a catwalk crasher during the finale @CHANEL and I couldn't stop laughing because the hapless security guards couldn't spot her in the line-up. #ParisFashionWeek pic.twitter.com/D2Wea25CIO

— Elizabeth Paton (@LizziePaton) October 1, 2019
Iconic Moment
Omg a woman literally just CRASHED the Chanel finale and @gigihadid just bounced her off stage, what an iconic moment pic.twitter.com/Rsk3dJkwKJ

— Tyler McCall (@eiffeltyler) October 1, 2019
LOL
Won't be wearing that print anymore. https://t.co/0hMCw8gmeh

— DuCH3ss GummyBunz🌟 (@MadamVnyc) October 1, 2019
True
My first thought: Awww, let her enjoy the moment, Gigi. This might be a lifelong dream for her, and you get to do it all the time. But now that I know the woman's a comedian, I guess good for Gigi for standing up for what she does. https://t.co/1x8bhDrfEJ

— Reliant Scimitar (@ScimitarReliant) October 1, 2019
You Don't
Two lessons here.

Never interfere with Chanel and don't take on Gigi. https://t.co/6n2MbZX13Z

— Julie Snook (@JulieSnook) October 1, 2019
Marie S'Infiltre took to Instagram to share a screenshot of news that covered her crash at the runway. Check Post:
View this post on Instagram
The woman has been known for making funny videos and also crashing different events in the past. However, we are sure she never expected to be tackled by the badass supermodel, Gigi Hadid. Well, she is trending on Twitter, nevertheless.