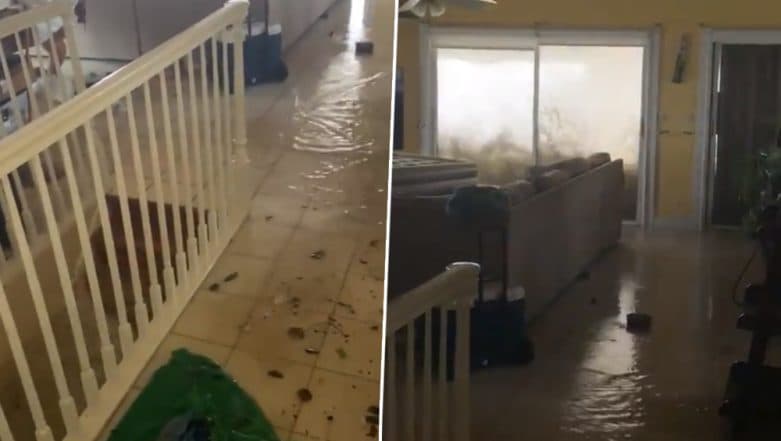 Hurricane Dorian has created havoc across the Bahamas. People are being advised to look after themselves even if it requires breaking their attics and fleeing to safety with a floatation device. The death toll has risen to five now; however, the storm seems only to be growing ever since. Uptill now, apart from the five deaths about, 13,000 houses have been severely damaged in the Bahamas. Viral videos of massive storm inundating homes are leaving watchers aghast. The water is said to have reached roofs and the tops of palm trees. Meanwhile, the prime minister, Hubert Minnis, described the hurricane as a "historic tragedy in parts of our northern Bahamas." Dorian has been downgraded to a category 3 hurricane earlier today; however, Bahamas will still face winds at 120mph speed. Dorian Triggers Massive Flooding in Bahamas; at Least 5 Dead.
However, amidst all this, a video showing the hurricane hitting the second floor of a building is going viral. The person filmed water lashing against the windows of the bedroom on the second floor. Shared by a Twitter handle @6INNER the video is freaking netizens out. The video shows strong waves hitting the second floor of the building.
Take a Look at The Video:
The 2nd floor. the 2nd fucking floor. pic.twitter.com/PtqeAnFEGX

— 600 (@6INNER) September 2, 2019
People Are Horrified, Here Are a Few Reactions:
Get in safe zone if u can attic?

— 🌬️🍂🍂🍁OceáN🌊 (@deafstrong71) September 2, 2019
It is Scary
So my wife says, "Look at those waves!"

"Yeah and it's the second floor," I say.

It doesn't quite register and she says, "No, look at all that water!"

"It's the second floor!"

"Oh fuck."

— Chris Richards, One of the Squad 🌹🍑❤️ (@EclecticRadical) September 2, 2019
Really
I'm just sitting here watching this like,hmm ???? Why didn't they leave before the storm hit???? Like wtf pic.twitter.com/HR9YBJxy54

— Sherlock Jones (@marcjack845) September 2, 2019
Pray for The Bahamas
Amen Bahamas pray the Father king David and his son you have our blessing Amen pic.twitter.com/zIMr9IEUmw

— Paul (@Paul71965591) September 2, 2019
Stay safe
Dawg, if that's your video.. better start making a hole in the ceiling. Stay Safe!

— Im_The_Dude_Man🖕 (@ImTheDudeMan1) September 2, 2019
In Freeport, Dave Mackey recorded a video showing water and floating debris surging around his house as the wind shrieked outside. "Our house is 15 feet up, and right now where that water is about 8 feet. So we're pretty concerned right now because we're not at high tide," he said.