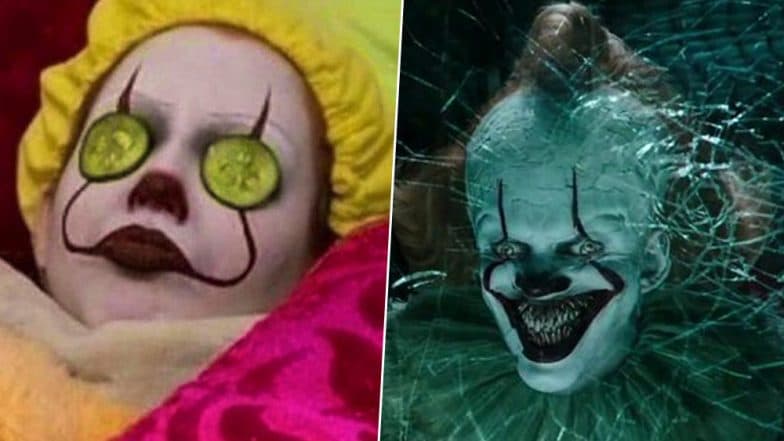 The sequel to the popular Stephen King novel adaptation, It: Chapter 2 released last week on September 6. The film opened to average reviews from critics who found the horror film scarier but weaker when it comes to the content. It: Chapter 2 takes off nearly three decades after the first film's timeline and we see the Losers Club all grown up in this film. Starring Jessica Chastain, James McAvoy, Bill Hader, James Ransome and Bill Skarsgard in lead roles, the film brings back the dreaded child-eating crown Pennywise back. It: Chapter 2 Trailer: Pennywise is Back and He Will Scare the Daylights Out of You (Watch Video).
A few reviews suggested that the film poorly uses humour as a balm to smoothe things over when the film gets too dark or intense. Audiences too have given a mixed response to the film and while some have found it scarier than the first one. Whether a film works or not, netizens always find a way to come up with memes relating to the film. Here's looking at some of the funniest memes that have made their way to the internet relating to It: Chapter 2. IT Chapter 2 Review: Did Andy Muschietti's Horror Film Manage to Impress Critics? Here's What They Say.
This Thread Says it All!
#ITChapterTwo meme thread pic.twitter.com/IL41YyQ9ji

— Floof levels at maximum capacity (@HaiMyNameIsWill) September 7, 2019
Pennywise Dances Vs The Simpsons:
In honor of #ITChapterTwo coming out, is there a way we can cross the #Pennywise Dance with this brand spanking new #Simpsons meme? pic.twitter.com/IQ9XLy0O8n

— Scott Johnson (@ScottPJThoughts) September 6, 2019
He's Always Watching:
HE IS ALWAYS WATCHING! 😅 #ITChapterTwo pic.twitter.com/f6JWQxXlAQ

— A diabled guy who makes Memes (@meatywheaties) September 7, 2019
Girls When They Think a Guy is Hitting on Them:
Just kidding. I'm not even trying. #ITChapterTwo pic.twitter.com/KDZVbHIuxF

— 9GAG (@9GAG) September 9, 2019
What Happened to Pennywise's Make-Up:
2019 vs 2017 Pennywise makeup🤡🎈#ITChapter2 #ITChapterTwo pic.twitter.com/vQjZoCg9lc

— trinity✨ (@trinsmakeup) September 9, 2019
What IT Chapter 2 is Like?
This is my favorite tik tok I've ever made 🤡 #ItChapterTwo pic.twitter.com/zhg7rFhKHr

— meg! 🎃 (@fawcettmeghan) September 6, 2019
Directed by Andy Muschietti, screenwriter Gary Dauberman returns for the sequel. The film has been produced by Seth Grahame-Smith and David Katzenberg. It: Chapter 2 released in theatres on September 6.