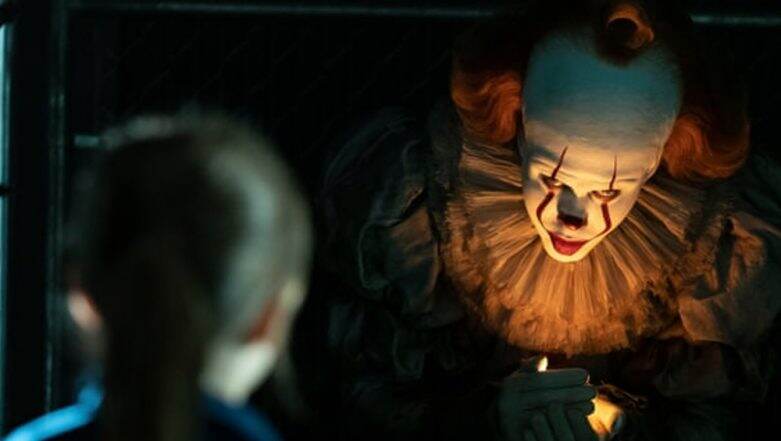 The first reviews of the horror flick It Chapter Two are here. The sequel of the 2017 film received well by the audience. It left the scope for a promising sequel. Now, that this installment is out, the true blue fans of the franchise might be much impressed with the latest reviews by the international critics. The Andy Muschietti directed supernatural film stars Bill Skarsgård, James McAvoy, Jessica Chastain, Bill Hader, Isaiah Mustafa, Jay Ryan, James Ransone, and Andy Bean in the ket roles. Did the makers manage to scare people? Take a look at the reviews. It: Chapter 2 Trailer: Pennywise is Back and He Will Scare the Daylights Out of You (Watch Video).
The Guardian: There is some lively stuff here, including a few sensational cameos and interesting ideas about confronting one's personal demons, about homophobia, abuse and depression. Your tolerance for this is tested to destruction and beyond because, unlike the first movie, it is just so pointlessly long: approaching three hours, with our heroes finally beginning to assume a glassy-eyed solemnity like Hogwarts graduates or the Fellowship of the Ring. Muschietti is even hinting at a possible third chapter.
Forbes: Despite strong acting, superb production values and the good will earned by a major studio spending around $70 million on an R-rated, three-hour horror movie, It Chapter Two is even more disappointing than the first film. Like a (stereotypical) MCU movie, It Chapter Two consistently uses humor (from Ritchie and others) as a soothing balm as if to make sure the film isn't too grim, depressing or sincere for any amount of time. Ambitions aside, It Chapter Two is not scary, lacks the rawness and ugly oomph of even the 1990 mini-series and doesn't remotely justify its length.
Rolling Stone: It: Chapter Two is an ass-numbing two hours and 50 minutes. That's a good half-hour longer than Chapter One, proving the adage that less is definitely more. The dragging pace diminishes the film's ability to hold us in its grip. There are endless flashbacks to the characters as kids, as if director Andy Muschietti and screenwriter Gary Dauberman didn't trust the audience to have seen the first film and decided to squeeze the highlights into this one just in case.
Gamespot: In terms of scares, Chapter 2 delivers about 60% of the time. Bill Skarsgard has returned to reprise the role of Pennywise the clown, and he's just as uncanny and unsettling as he was the first time around. He even manages to stay as menacing and as threatening to scare a bunch of 40-year-olds as he did terrorizing a bunch of pre-teens--so that's certainly an achievement. However, for every genuinely amazing scare Chapter 2 has to offer, there are two more marred by awkward CGI or predictable jumps.